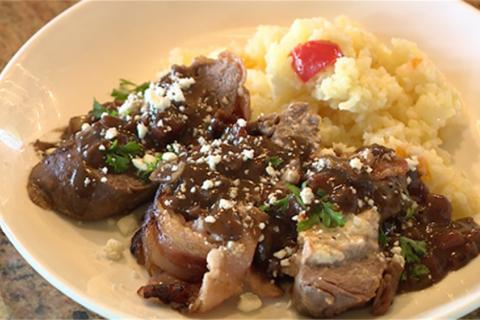 A Delicious Recipe for a Stuffed Venison Backstrap
Hannah McCauley of Whitetail Heaven Outfitters demonstrates how to make a delicious stuffed venison backstrap. Hannah uses the Speedy Plus Instant Marinater to give the venison backstrap serious flavor.
Prep Time: 1 hour      Cook Time: 1 hour      Servings: 6
Stuffed Venison Backstrap Recipe Ingredients
GRAVY
1 onion – diced (any color will do)
3 tablespoons olive oil
½ teaspoon salt
½ coarse ground black pepper
6 cups beef stock
1 bottle red wine
 ½ cup butter
½ cup flour
1 can diced tomatoes
6 slices bacon cooked and crumbled
MEAT
Cabela's all-purpose seasoning
½ Gallon milk
Soy sauce
Brown sugar
Venison backstrap
1 cup goat cheese
1 block cream cheese
6 pieces bacon
Directions
1. Soak backstrap in milk and all-purpose seasoning in the refrigerator overnight.
2. Take meat out of milk and soak in soy sauce and brown sugar for 2-3 hours.
3. Sauté onions in olive oil until translucent, season with salt and pepper and set aside.
4. Combine wine and beef broth in large pan and bring to a boil. Cover and simmer until it has reduced by half. Once reduced, stir in tomatoes, crumbled bacon and onions and continue to simmer.
5. Take the backstrap and pat it dry and season with all-purpose seasoning.
6. Mix cream cheese and goat cheese until smooth.
7. Cut a pocket the length of the backstrap and stuff with cheese mixture.
8. Wrap backstrap with bacon and sear backstrap on all sides until bacon is crispy.
9. Transfer meat into a 350-degree oven and bake for 15-20 minutes.
10. Mix butter and flour to form a paste and whisk into gravy and simmer to desired thickness.
11. After resting the meat for a few minutes, slice and serve with gravy and enjoy.