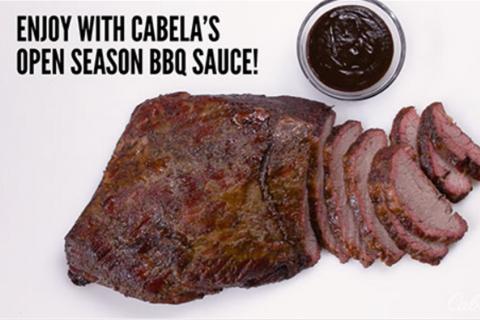 3 Easy Ingredients for Grilled Beef Brisket
Whether cooking slabs, slices, or steaks, you can't go wrong covering them with the delicious flavor of the Cabela's Competition BBQ Rub. And, if you're serious about your barbecue, you have to be serious about the wood grill pellets you use. This easy grilled beef brisket recipe has both! Enjoy!
Beef Brisket Recipe Ingredients:
Cabela's BBQ Wood Pellets
1 Cup Cabela's Competition BBQ Rub
Beef Brisket
Tip: Cabela's BBQ Wood Pellets are of all natural, dried woods, these easy-to-use pellets deliver an even, consistent burn for great performance and taste. You'll enjoy mouthwatering flavor and wonderful wood smoke aroma into every piece of food from your pellet-fired grill. These BBQ wood pellets are natural for pellet-fired grills and smokers
Preparation Directions:
1. Add pellets like Cabela's BBQ Wood Pellets to your pellet grill.
2. Adjust the heat on the display to 225 degrees.
3. Season your brisket with Cabela's Competition BBQ Rub.
4. Once the grill has reached temperature place seasoned brisket fat side up on your grill.
5. Once the brisket has reached on internal temperature of 160-170 remove it from the grill and wrap it in aluminum foil to keep the juices secured.
6. Return the wrapped brisket to the grill, continue cooking until the internal temperature reaches 190 degrees.
7. Remove the brisket from the grill and let it rest for 30-45 minutes.
8. Unwrap and slice your brisket, serve with your favorite Cabela's Open Season BBQ Sauce.
Click here to print or download Cabela's Pellet Grill Beef Brisket Recipe