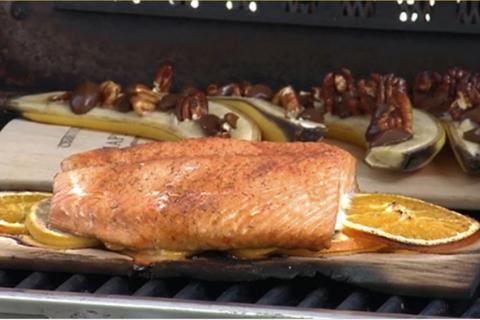 Add Smoky Flavor to Your Fish by Cooking Fillets on Wood Planks on the Grill
Recipe Ingredients for Cedar Plank Salmon
1 orange, sliced
1 lemon, sliced
1 fish fillet
Cabela's Open Season Salmon/Trout Seasoning
Preparation Directions:
1. Presoak plank for around 1-2 hours.
2. Cut orange and lemon into slices.
3. Place citrus slices on presoaked plank, and set the fish fillet, skin side down, on top of the citrus slices. Then coat with Cabela's Open Season Salmon/Trout Seasoning.
4. Put on the grill for 15-30 minutes. The plank will begin to smoke and possibly catch fire which is normal. Use a spray bottle to douse any flames, lower the heat and continue to cook. Use a thermometer to determine when the meat it thoroughly cooked.
Click here to print or download the cedar plank salmon recipe