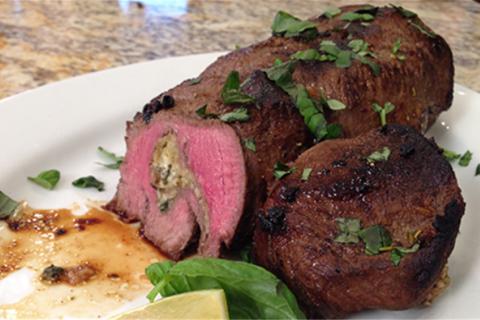 Here is a tasty meat for any occasion, a stuffed venison backstrap. Use deer or elk meat and marinade for a delicious flavor and tenderness. Use what Cabela's uses to spice up all of your favorite dishes with the Premium Gourmet Spices.
Prep Time: 2 hours,   Cook Time: 25 minutes,   Servings: 5
Stuffed Pesto & Cheese Venison Backstrap Ingredients
Venison backstrap
Butcher's twine
Venison Backstrap Marinade:
Juice of 1 lemon
½ cup soy sauce
¼ cup red wine
 3 tbs vegetable oil
2 tablespoons Worcestershire sauce
1 clove worth of minced garlic
Pepper
Cheesy Pesto Bread Stuffing:
½ cup bread crumbs
½ cup olive oil
½ cup chopped basil
2 cloves worth of minced garlic
½ cup pesto
1 cup mozzarella cheese
Directions to Prepare the Stuffed Venison Backstrap
1. Roll cut loin to ½".
2. Mix marinade ingredients into a large Ziploc Freezer Bag and insert loin.
3. Marinade for 6-8 hours.
4. Mix all stuffing ingredients 30 minutes prior to use.
5. Preheat oven to 350 degrees.
6. Take loin out of marinade and lay flat on table and add stuffing evenly across.
7. Roll loin and secure with twine.
8. Generously apply olive oil to the loin and season with Cabela's Open Season All Purpose Seasoning.
9. Add 2 tbs of olive oil to skillet and heat medium high.
10. Brown loin in skillet on all sides. Should take about 10 minutes.
11. Transfer to oven and cook for 10-20 minutes depending on doneness desired.
12. Garnish with chopped basil and lemon.
Click to print or download the Stuffed Pesto & Cheese Venison Backstrap recipe