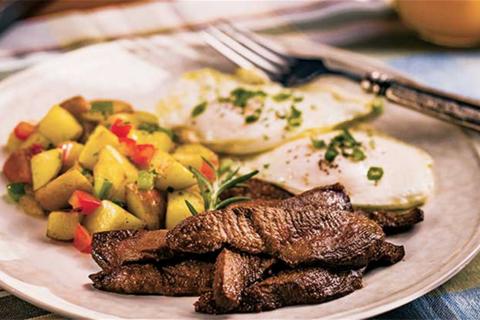 A sportsman's breakfast. Wake up to this lean, mean, hearty venison breakfast dish at camp or at home. Great for deer, elk, or moose meat marinaded for taste and tenderness.
Prep Time: 20 minutes (8-24 Hours to Marinate),   Cook Time: 10 minutes,   Servings: 3-4
Venison Breakfast Recipe Ingredients
1 LB. VENISON ROAST, CUBED OR SLICED IN THIN STRIPS
2 TBSP. REAL MAPLE SYRUP
1 TBSP. SOY SAUCE
1 TBSP. WORCESTERSHIRE SAUCE
1 TBSP. CIDER VINEGAR
1 TBSP. BROWN SUGAR
1 TBSP. OLIVE OIL
1 TSP. GRANULATED ONION
1 TSP. GRANULATED GARLIC
1 TSP. SMOKED PAPRIKA
Recipe by: Tiffany Haugen
Directions:
1. Combine marinade ingredients and cubed or sliced meat in a sealable plastic bag or airtight container.
2. Place container in a cooler to marinate for 8 to 24 hours.
3. Heat a skillet on medium-high heat.
4. Fry marinated meat to desired doneness.
5. Serve with eggs as a side or in an omelet.
6. This recipe also makes a great addition to beans and rice or chili.
Click to print or download the Venison Breakfast Dish recipe