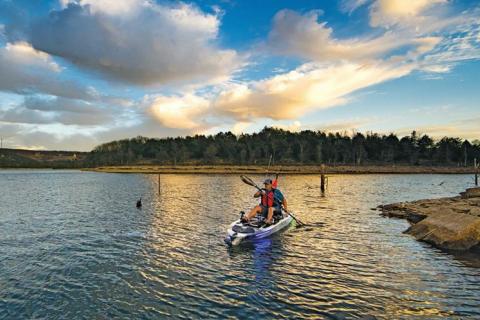 The Ascend 128T sit-on-top kayak is the flagship of the Ascend fleet, considering that it's the longest and best equipped. I own an Ascend 128T and needed to customize my rig to fit my preferences for kayak fishing. By adding these four basic fishing enhancements, I made my 128T kayak even more fisherman-friendly.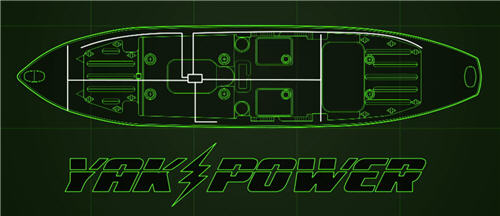 The
Ascend 128T kayak
c
omes with a Yak-Power system with wiring harness, master controller, and 3 strategically placed power plugs.
Equipped with the Yak-Power System that includes a wiring harness, master controller, and 3 strategically placed power plugs to make it quick and easy for you to add and control 12V electronics on your kayak. This unique fishing kayak combines stand-up paddleboard characteristics with a sit-on-top kayak fishing platform to provide stability whether you're standing, fishing, or paddling.


Connect your fishfinder, bait well pump, LED lighting, phone charger, and any other 12V accessory you need on the water—and there's no cutting or splicing required. Yak-Power lets you spend less time wiring and more time enjoying the trip.



Tip: Check this review of two Ascend fishing kayaks including the Ascend 128T here


This is YakPower on the Ascend 128T Kayak Video
1. Steady Your Kayak With an Anchor Trolly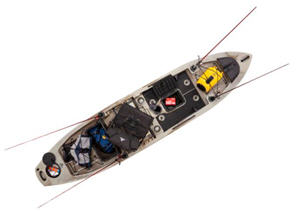 Ascend 128T Sit-On Kayak has recessed bow & stern open storage areas w/flush-mounted bungees and mid-ship & aft weather-tight storage.
First, a kayak has a fragile connection to the water. The slightest breeze will move it, and something like reeling in a crankbait will turn the kayak toward the line of the retrieve.


Of course, it's the ease of movement that makes a kayak so much fun to paddle, but it's a pain when you're trying to fish a specific area.  There is a cure: a kayak anchor trolley.


The trolley is simple: it is a pulley mounted on each end of the kayak, along with some guides, trolley ring, and rope. The rope makes a continuous loop through the fore and aft pulleys and comes together in the trolley ring.  The ring can move freely from pulley to pulley.


Thread the anchor rope through the ring and then adjust the ring's position to lock the kayak in place. That way the boat and the wind or current come into equilibrium making casting and fishing a lot easier.


The neat thing is that the trolley can be used with a stakeout pole in shallow waters or a drift sock to slow the kayak's drift in open water by adjusting the amount of line and the position of the trolley ring.



Tip: Anchor Trolley System for Kayaking - Do I Need One?
2. DIY Above Deck Kayak Tackle Storage is Much Easier
Another thing that makes any kayak, not just the 128T, a better fishing tool is tackle storage, and one of the easiest ways to get handy storage is to build a crate.  While this boat has plenty of below deck storage, it is much easier to grab a box or bag from a container.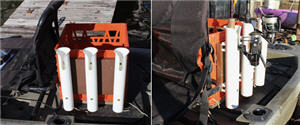 While tackle crates originally were made from purloined plastic milk crates, they became popular enough to be readily available from a variety of stores. 
Building a DIY crate to fit your needs is relatively simple. One of the most used tackle storage additions to make is a set of PVC tubes to hold fishing rods—or you can buy a set of rod holders to bolt to the outside of the crate. By doing so on three sides (leaving the forward side without), you can store 9 or more rods rigged and ready for action.


(Note: the plastic fishing rod holders are available from Bass Pro Shops if you search 'kayak crates.' You'll also find Plano versions.)


Another great addition is some holder for the anchor. If you use a folding anchor, then a large tube (PVC, plastic carton or whatever) lashed to one corner of the crate is a good fix.
Next comes tackle, and this perhaps, is what the crate system does best. It holds a series of plastic utility boxes for lures, terminal tackle, or whatever fits the fishing situation.  Because the crate is open, all the boxes-- or bags-- are visible and easily reached.


And if you like, throw your lunch in on top.


The crate system does a great job of making tackle accessible—you just turn around and reach for the box you want. A crate fits well behind the seat of the Ascend 128T, and it's easy to lash it to the deck with the installed D-rings and short sections of cord.


It's worth noting that several tackle and accessory companies offer their versions of a crate, and Plano is one of them that most fishers recognize. It has two storage systems built for kayaks that are expansions of the crate theme. It's also a good source for the plastic utility boxes.


(As noted above: Plano's two kayak 'crates' are available from Bass Pro Shops.)
3. Rod Holders Make Trolling for Fish Easy in a Kayak
Kayak fishers frequently spend a lot of time paddling between fishing spots, and it makes sense that the paddling time is spent looking for the best fishing. And dragging a lure behind the kayak—trolling-- is a great way to maximize fishing time.  


However, the 128T isn't set up to do that without a little help.  Rod holders make trolling easy.  Tracks for mounting rod holders and other accessories are standard on the Ascend 128T. They're located on the top of the gunwales just forward of the seat.


(Railblaza R rod holder with StarPort HD mount and locking slide is sold by Bass Pro Shops.)


Railblaza and the popular Scotty Baitcast / Spinning rod holder both make rod holders designed to use the tracks.  You slide the metal widget—it's a flat, weird-shaped nut—into the track and then twists the holder base to tighten the widget in place. The track allows you to place the rod holder where it's handy for you.
4. A Must-Have Fish Finder
Finally, a fish finder sometimes called depth finder is one of the must-haves for fishing in lakes and reservoirs where it's often necessary to know the depth of the water you're fishing, not to mention the possibility of marking fish below the kayak. Fishing without one is like walking through the woods at night without a flashlight, as a friend described it.


While it's possible and possibly desirable to use a tracking mount and a battery hooked up to the onboard Yak Power system to run a fish finder, I've found a better-for-me solution. It's a depth finder designed for ice fishing.


The Humminbird Ice Helix 5 Chirp GPS Fish Finder  is new, and for someone who fishes from more than one boat, as I do, it's perfect. Ice-fishing depth finders are made to be pick-up-and-move portable because ice anglers frequently change holes looking to find fish.  As a result, they're self-contained with mount (stand), battery and charger, and transducer in a compact package


Because of the portability, it's easy to move the Humminbird from kayak to kayak or from kayak to small boat.  Also, as the Helix 7 Chirp is a top-line sonar, it will see duty in my big boat as well. The neat thing about this depth finder is that it comes with the cables and transducer for n open-water use as well as for ice fishing.


While it's possible to use the ice-fishing transducer from a kayak, I've opted to add a Scotty Kayak/SUP track-mount transducer mount. The base slides into the same track that holds a rod holder, and the adjustable arm holds the transducer firmly in position over the side.  And because of the range of adjustment, I can use the mount and arm in my small boat as well by merely adding a Scotty mounting track to the boat. This setup makes things incredibly simple.


50 Campfires reviews the Ascend 128T and H10 Kayaks: Best Fishing Kayaks. 
Check out this video about how the Scotty Transducer Arm Mounts telescope from a compact 11.5 inches to 18 inches when fully extended and swivel 360 degrees.
There is a lot to be said for the Ascend 128T as a fishing machine beyond the above. One of the really slick points is the Yak Power system that is standard in this kayak. The system is a network of wires and ports that let the fisherman hook up all sorts of electrical accessories such as depth finders, video cameras, lights and such.


It's also possible to add a stern-mounted trolling motor with the addition of a mount on the stern and the placement of a deep-cycle battery in the large below-deck spaces. Or you could add the small Power-Pole system.


The reality is that 128T is a great starting point for customization to make the best boat for an individual angler's needs.