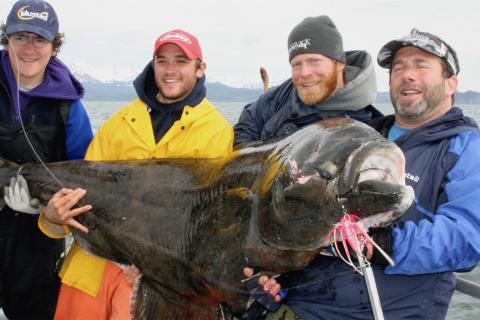 You won't find better fishing in North America than that in Alaska. Not only are there more fish, but also there is more fishing opportunity and more variety in the types of fish than you'll find elsewhere.
The thing about the 49th state is that it's big: 2,400 miles east to west and 1,420 miles north to south. Even with that size, it takes planning to get the kind of fishing that's on your bucket list. And with sports-show season underway, this is both a good time to do the research and a good time to get the best deals.
Alaska is set up for the fishing tourist, so it's possible to do everything from a fly-in, self-guided raft trip to a full-service trip that will cover every thing from airport pickup to shipping your frozen fish home.
You also can create a do-it-yourself trip where you rent an SUV and hit the road, camping along the way. And there is a lot of opportunity between extremes.
Of course, money and time enter into the calculations, and both come before anything else. Once you've determined your budget and how much time you can spend on the trip (adding two days for air travel), the rest follows a basic plan.
Tip: Shop saltwater fishing gear at Bass Pro Shops here
1. Where in Alaska do You Want to Fish?
First, do you want to fish along the coast or in the interior? The coast has the allure of saltwater fishing, and the interior brings big rainbow trout, char and grayling to the mix.
If you opt for the interior, then there is the choice between fly-out trips to lodges or daily trips by plane of helicopter.  You also can travel the road system and get into some good fishing.
Fishing along the coast gives you seasonal runs of salmon in streams as well as rainbow trout and steelhead. It also meshes nicely with trips in the saltwater for salmon, halibut and bottom fish.
There is more opportunity along the coast as far as lodges and support services than the interior, making a coast trip easier to put together in my book.
Tip: The Abu Garcia C3 round baitcasting reels are appropriate for a huge variety of gamefish, including bass, striper, catfish, walleye, pike, muskie, lake trout, salmon, snook, redfish, and more.
2. Saltwater Fishing in Alaska
Saltwater fishing trips stand by themselves because they are significantly different from fishing in rivers and lakes. They require a boat, whether one you bring up, one you rent or one that you charter. You can also sign up for fishing packages at lodges.
There are considerations.
The saltwater in the northern Pacific and Prince William Sound is a place where both the weather and water get rough—really rough—at a moment's notice.
The Alaskan Combination Salmon and Halibut Fishing Trips
Combination salmon/halibut trips often have a long run to where the fishing is hot. While it's a good time for a nap, it is a bit wearing.
Halibut fishing usually is in deep water. It's not a big deal to drop the two- or three-pound sinker to the bottom, but reeling it and two- or three-pounds of bait back up from 500 feet is tiring. It's even more so when it comes along with a 200-pound halibut. Catch a couple of big halibut in a day, and you'll sleep very well at night. It can be hard work. However, electric reels can take the pain out of it; not all charters have them, so it's best to check.
The fun thing about saltwater trips, besides the whales, seals, sea otters and weird fish is that you're likely to come back with a bunch of Alaskan fish—salmon, halibut, lingcod and rockfish. All are excellent on the table and worth many times the cost of processing, freezing and shipping home.
3. Freshwater Fishing in Alaska
Freshwater fishing generally is easier than heading out to the ocean, but it does have drawbacks. While there is abundant fishing, often enough it requires a guide with a boat to get the most of it.  Many lodges offer packages with guides or guide services they work with, and that's an easy-button alternative.
When many fishermen think of Alaskan rivers, one name is prominent: the Kenai. This river is the home of some fantastically large king salmon—kings close to 100 pounds have been caught in the past--with fish well over 50 pounds hooked each year. If you want to catch a really big king salmon, this is the river in which to do it.
However, this probably is the most heavily fished and crowded river in the state. Each fishing season the town of Soldotna swells with well over 100,000 visitors. (In the summer of 2016, there were 166,000 visitors to the Soldotna area, according to a McDowell Group survey. Not all were fishing.)
As a result, the Kenai is a busy river with regulations in place to protect the future of the fishery. The same can be said for the nearby Kasilof River, a river that does not allow motors on boats, making it a drift-boat river.
While the tourist industry is huge in the Soldotna area, the fishing still can be quite good, especially for the less popular coho salmon.That area is not the real Alaska, but you still get a good feel for the state.
Tip: Bass Pro Shops has an outpost in Anchorage. The jaw dropping dioramas representing the wildlife of The Great Land, engaged in terrific depictions of harrowing danger and amazing scenery. A local muralist Susan Watkins, and the talented Bass Pro staff, have hand painted every surface to show off the glories of the great land. Even the grasses were harvested from the onsite green belt.
The Fishing department is not to be missed, especially the White River Fly Shop. Designed to look like a Southeast Alaska Native gathering structure, its prominent feature is an unbelievable Sitka Spruce tree meant to be walked through!
Tip: Inside Canada? Find a Bass Pro Shops or Cabela's store near you here
Inside you will find everything to catch that trophy grayling or salmon. The experienced staff is there to offer tips and advice from fishing streams and rivers, to setting up a downrigger and tackle. Plus you can order your fishing gear online and pickup in store.
4. Planning the Lodging and Expenses for a Fishing Trip to Alsaka
a) Once you've settled on what kind of trip you want to take and the budget for it, then it's only a matter of choosing the one that fits you best.
b) When you've settled on an area in Alaska of interest, contact the lodges and lodging, charters and guides to get pricing and availability. The earlier in the year you do this, the better the chances you'll get the dates you want.  
c) Find out what's included in the price, as some lower-price packages don't include much. For some of the more expensive lodges in Alaska, the expenses include everything except your clothing, camera and checkbook.
d) Plan on cost to include fishing licenses and special tags, lodging taxes, taxes on each box of fish, fish processing, gratuities, food and beverages. Transport to and from the airport can be expensive, especially if a floatplane is involved. Extra expenses can shoot a budget in the, uh, foot.
e) Some lodges process your fish, including cleaning, vacuum packing and freezing as well as transport of the fish to the airport or shipping facility. Some lodges provide raingear and boots—both of which you must have in coastal Alaska. Some lodges will serve three meals, and usually the fare is top grade.
f) Some lodges offer fly-out trips or touristy-type activities if you're travelling with a non-fisherman.  And it's also possible to add a day or three to your stay and do the tourist thing. Alaska is worth it!
g) While planning an Alaskan fishing trip can be daunting at first, it needn't be. Determine what you want, what you can afford and what you're willing to do. The rest is easier than hooking your first salmon.
5. A Few Helpful Aids in Planning the Perfect Alaskan Fishing Trip
I've found these sites to be useful for my Alaskan adventures:
Travel Alaska: The Official State of Alaska vacation and travel information https://www.travelalaska.com/Things-To-Do/Fishing.aspx
---
Alaska Fishing with Mark Glassmaker: For guided sportfishing and accomodations on Alaska's Kenai Peninsula https://www.mgfalaska.com/kenai-peninsula-activities/
---
Fish Alaska Magazine: Fishing and hunting trip planning services. Find destinations, lodges, guides and charters plus flight services and even an events calendar. https://www.fishalaskamagazine.com/best-alaska-fishing-lodges/
---
Alaska.org: Plan and book your dream trip to Alaska. Services range from lodging by town to transportation, cruises & land tours, things to do, destinations to see, backcountry tours, float trips. The list is too long to mention all but here's a link to get all the information: https://www.alaska.org/where-to-stay/fishing-lodges
SIDEBAR
A word about seasickness: If you want to try ocean fishing— an excellent idea and my first choice always—and you have a history of motion sickness of any kind, or you think you might be susceptible, see a doctor. Get a prescription for scopolamine or its equivalent. Scopolamine patches have a long history of working well in Alaska. I've seen them do wonders to turn people who get sick at the dock into folks who enjoy the tossing and turning of rough water.
Over-the-counter meds could work for you, but why take the chance? The ocean can get rough, and there almost always are swells that can exacerbate that woozy feeling. Don't ruin a day or a trip because you're not prepared.
Another consideration is to find a lodge or charter service that stays in more sheltered waters—such as the Southeast panhandle or around Kodiak Island.
Have a great trip!