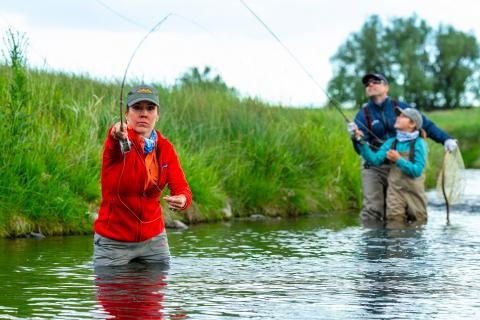 Finding the correct wader can be a difficult task for some anglers depending on what and where they're fishing. It's not uncommon for anglers to own more than one pair of waders to avoid the many disadvantages that can come with having the wrong wader at the wrong time, but unless you have deep pockets you're probably going to have to compromise in some areas to find one wader to suit most, if not all of, your needs.
 

You may need to compromise on the material, quality of construction, overall warmth, weight and shoe type. If you are looking for a product that will last you a lifetime instead of a single fishing season, you're going to have to come to terms with the fact that higher quality calls for a higher price tag. If you're playing the long game, it will cost significantly less money now than it will to repeatedly replace a pair of low-quality waders.

If you do not choose your wader type wisely, you can swamp yourself in a couple feet of water and your day of fishing will be over all too quickly. Such scenarios illustrate why it's vital to know the environment you'll be fishing in. The best way to identify your environment is to ask: What is the average water and weather temperature of the areas you fish? What is the depth of the waters you'll need to wade in, from getting in and out of the boat to the deep pools hidden along a given river?

Once you identify your typical angling environment, you'll be ready to equip yourself with the best fishing wader for your needs.
 
Why Waders?

The concept of waders was around well before the first manufactured wader hit the production line in the 1850s. Waders remain the sole solution for keeping shore anglers dry and warm after an entire day on the water.

It can be hard to justify purchasing waders in the $400-$900 range unless you understand their importance. Waders protect anglers from trench foot, a medical condition that causes the outer layer of skin to rot and deteriorate from fungal infections after standing in cold water for extended periods of time. Most people know that dreaded feeling of a sopping wet sock squelching in and out of their boot with every step, or actually feeling their feet sucking up river water as they wade along the shoreline.
 
The Big Three

The three most important considerations to make when selecting a fishing wader are the comfort, durability and breathability.

Comfort

Every product will fit differently, so don't plan on finding your one size across all brands. Always use the brand's sizing guide and be sure to check online forums or reviews to better understand the fit of the product. It is possible to buy fishing waders online, but you run the risk of buying the wrong size. Your best bet will be trying different products on at a local outfitter before ordering online.
The measurements you should be concerned with are your inseam length, maximum girth diameter and shoe size. For maximum comfort and overall longevity of the product, take the time to find a pair of waders that covers all three of these factors. Too small a fit will put stress on the seams, causing leaks and discomfort. Too large will allow the excess material to fold and weaken, causing tears over time.

Durability

If you plan on wearing your waders all day and possibly hike from one fishing hole to another, you need to plan on buying a wader that meets your own durability standard. Some wader materials are more resilient to scuffs and nicks than others, but a more durable material often results in a heavier or warmer wader, so find your sweet spot and stick with it. The better the quality, the longer the product will last, even with hundreds of hours on the water a year. 

Breathability

The purpose of a wader is to resist water passing through to the wearer. Waders that are waterproof but not breathable tend to get a little hot and steamy, which defeats the point of wearing waders to stay dry. A breathable fabric that is also impermeable will allow sweat to evaporate through the material keeping the user dry underneath.
Consider the warmth of the wader in relation to the breathability. The thicker the wader is, the more warmth it supplies and the less it breathes. Warm waders are best for frigid if not freezing water and weather but may be too heavy for packing.
 
Wader Types

The type of the wader you choose will be dependent on the depth of water you plan to wade in. A good rule of thumb is to add half a foot to the maximum water height to avoid flooding your waders and potentially carrying you downstream.


Hip Waders

If you don't plan on wading very deep and find yourself mostly fishing small mountain streams and shallow creeks, hip waders will provide you with the coverage you need. It is important to consider the speed of the water alongside depth. One wrong step in a heavy current can require you to drop to your knee in order to prevent full immersion, in this scenario hip waders may not be ideal for you.
Hip waders are designed for water depths that do not pass knee level. They provide a comfortable fit, especially in warmer temperatures, and are the lightest and easiest waders to use.

Waist-High Waders

The waist-high wader is the middle ground between full blown chest waders and the minimalist hip waders. These waders look like a pair of rain pants held up with a hip belt and are meant for water depths no higher than the angler's thigh.

If you happen to spend the warm summer months fishing mountain streams fed from glacial lakes or snow melt, you will be standing in freezing water for prolonged periods throughout the day. The waist-high wader is a decent option for such a scenario as it provides more coverage, increased warmth, but leaves your upper half exposed so you can stay cool on top during warmer days.


Chest Waders

Chest waders offer maximum coverage without a super restrictive fit, which is why so many anglers love them. You can layer up underneath for warmth or have extra room to comfortably use inside pockets on other garments. The beauty of the chest wader is that you'll be prepared for almost any unexpected fishing scenario, whether fighting a stubborn fish, heavy currents or sneaker waves.

An added benefit of chest waders is the maximum coverage they provide both inside and outside the water. Even the windiest, rainiest, wettest day of fishing will be enjoyable thanks to the warmth and protection of chest waders. Be warned, if you do happen to tip and fill your waders with water you can find yourself in a dangerous situation. For safety's sake, always wear a wading belt with chest waders to prevent flooding.
 
Wader Styles

Bootfoot Waders

These waders have boots built into the wader itself and do not require the additional purchase of wading boots. Since the boot is attached to the leg of the wader, this is more or less a mess free wader great for anglers who fish from the beach where sand and other debris can collect in undesirable areas.

The benefits of bootfoot waders are the ease and speed of putting them on and taking them off as well as the added warmth. Drawbacks of this style are their increased weight and inability to customize the shoe fit as there are no laces to tighten the boot around your foot.

Stockingfoot Waders

Stockingfoot waders have always dominated the market in terms of availability and selection. They require separate wading boots to be purchased, which can be a daunting task, but without the attached boot, the stockingfoot wader is much lighter and thus the better option for backpacking into fishing holes or for traveling anglers.

The perks of stockingfoot waders are that you'll have more freedom of choice when it comes to the traction underfoot. The different traction options are covered below but should always be considered in accordance with terrain.
 
Wading Boots & Soles

Rubber Soles

These soles are ideal for muddy or marshy conditions and are extremely easy to clean after a long day of fishing. These are commonly found on bootfoot waders though they are not the only wading boot sole option for that style.

Felt Soles

Felt soles have picked up quite the reputation for not being very eco-friendly as the felt can trap certain bacteria or microorganisms from one fishing spot and then transfer them to another region. Another downside of felt soles is that they inevitably wear down and need a felt-sole replacement kit. However, felt soles provide excellent traction on pesky slick river rocks that cause many anglers to slip or fall, flooding their waders in the process.

Studded Soles

There are studded soles on rubber bootfoot waders as well as felt soled wading boots. The studs provide traction on slick rocks and slimy river bottoms but are not ideal for muddy or marshy conditions as they can be a pain to clean at the end of the day. If you will be using studs in saltwater conditions, you should buy replacement steel studs for your wading boots, as they are corrosion-resistant and safe for use in the ocean.

Ultralight Wading Boots

These boots vary in sole type, from studded to rubber or felt, but they all boast a lightweight allure for the traveling fisherman without sacrificing warmth. Ultralight wading boots are becoming increasingly popular among fishermen who've grown tired of lugging around big bulky wading boots on top of all their other gear.
 
Wader Material

The material of a wader will often give the angler a slight advantage or, at times, disadvantage depending on the conditions they find themselves fishing in. When picking a material, make sure to consider the environment you'll be fishing in and how you will be spending your day out on the water.

Neoprene

Neoprene is a non-breathable but warm wader style ideal for anglers fishing in extremely cold waters and freezing weather temperatures. Because this material is not breathable, waders constructed with neoprene are limited to extremely cold water and weather conditions when an otherwise warm and breathable option won't do the trick.

Rubber

Rubber waders often use PCV in their construction and make for the ultimate waterproof product with added durability. It is rare to find a chest or waist-high wader that is 100 percent rubber as they are often coupled with other types of material or fabrics to provide added comfort and range of movement for the user. The material makes for a heavy product but its resilience to tears, scrapes and punctures makes it a strong option for rougher outings on the water.

Breathable Waders

Generally, breathable waders are made of nylon or polyester with the addition of a Gore-Tex membrane. Breathable waders are one of the more popular options among fishermen thanks to their subtle warmth, moisture wicking capabilities and overall lightweight construction. This wader is versatile enough to be worn on warm summer days spent fishing in colder waters as well as throughout the colder winter months of fishing with the addition of a couple base layers underneath. Keep in mind that breathable waders made of neoprene are not nearly as durable as their rubber/PVC counterpart and may require added reinforcement to knee or seat areas.
 
Wader Accessories

Along with purchasing your waders and, if required, wading boots, you will also find it wise to consider purchasing the following accessories. There is nothing worse than getting all the way out to the water only to realize that your waders are wet or leaking, or your felt soles need replaced. Make sure you're prepared for almost anything and stock up ahead of time.

Wader Belts

Wading belts should be worn with any pair of waders that offer belt loops. This precaution can prevent flooding and the risk of drowning. 

Wading Socks

From heavy wool socks to knee-length, cushioned wader specific socks, it's important to keep your feet warm when you're standing in frigid water for hours on end. Buy a couple pairs of warm and reliable socks designed for use in waders so that they don't bunch up; having more than one pair ensures a back up pair if you need it.

Boot and Wader Dryer

If you want to take care of your gear and make it last as long as possible, you need to remove any excess water from your boots and waders as soon as you return home from a day of fishing. Fully drying your gear with specific wader and boot dryers will prolong the life of your gear.

Wader Repair Kits

You never know when you might get a snag, hook the material of your waders or fall and damage your gear, so having a back up patch or wader repair kit is smart. They aren't expensive and normally every brand sells their own version of repair kit.
As you can see, there is a wide selection of fishing waders on the market, all ranging in material, purpose and quality. You may feel as if you're wading through a sea of options at first, but once you find the perfect fit and style you'll have a high-quality product that will last you a lifetime of fishing. An angler who is equipped with the right pair of waders can fish with confidence knowing they can get into the water and never need to worry about getting cold or wet during a long day of fishing.