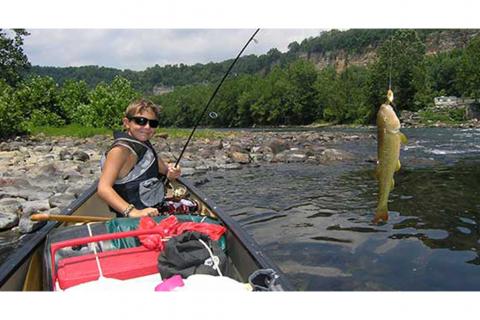 Let's be honest: It's not as simple as it sounds, even though we hear it all the time. "Take a kid fishing."
It's a meaningful mantra, and good advice.
But turning good intentions into a good morning on the water with a 7-year old isn't the easiest thing on your Saturday morning to-do list.
Here are a few ideas to make sure those first fishing trips lead to many more.
Turn your backyard into a back shop
Avoid the hour-long, enthusiasm-sapping drive around town looking for fishing worms by growing fish food just off the porch. Set aside a little-used corner of the yard, and put out a scrap of plywood, a few logs, and even a bucket of occasional compost. In five minutes you can fill a bait can or two with enough worms, crickets, and grubs for a street party at the local pond. See how it works? You haven't yet left the house and you've already caught something: bait.
Take two rods
One is for your child. The other is for when your child bird's-nests the reel beyond a quick field repair. The larger lesson is this: Don't try to fish yourself, not at first. Focus all your attention on the young angler. Explain the basics of baiting hooks, casting and playing fish, then let them have at it. It's frustrating for a beginning angler to watch the old pro succeed effortlessly, so give the kid all your attention and all the water.
Forego disaster
Smash down each and every barb on each and every hook. Each and every time.
Plan on a fish fry
Most kids will love taking a few fish home. They like to feel as if they're providing for the grownups for a change, and eating what they catch is a valuable lesson in the proper role of the ethical angler. So don't get hung up on size. I've fried up a world of 3-inch fish fingers, all to make a point. And a tasty one.
Know when to fold 'em
It's always better to leave when they're wanting more than to overstay a young angler's welcome. If you're not catching fish and your kid is getting antsy, by all means, go chase bullfrogs or butterflies instead. Some kids embrace the challenge of close-mouthed fish by trying new strategies. But others will remember a long afternoon of Dad saying, "five more minutes" for the last hour-and-a-half. Don't be that guy.