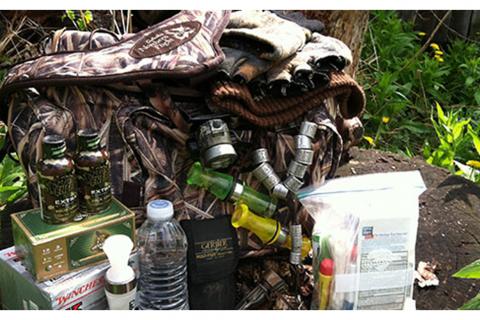 All the Hunting Essentials You'll Need for a Day of Waterfowling
Back in the day, duck hunters didn't carry blind bags into the field. I know my pop, now 75, and I didn't. And the reason was simple: We didn't need them because we didn't carry much stuff.
My dad's gear consisted of an old Olt D-2 duck call, which he never blew, a couple packs of Camel Lights, the Zippo lighter he had in Vietnam, and half a box of handloaded lead #5s. I, being a kid just into my teens, carried neither Camels nor Zippo, choosing instead to use that space for additional ammunition. Lots and lots of ammunition.
Today, though, things have changed, and duck hunters pack myriad odds and ends afield. This change created a need for something to transport all this gear. Enter the hunting blind bag.
Truthfully, just about anything can serve as a hunting blind bag. However, thanks to folks like the waterfowl experts at Cabela's, packs specifically designed with the duck hunter in mind have been created.
Tip Watch video: Make it easier to haul all your waterfowling gear to the blind and back in Cabela's Northern Flight Locked-Up Blind Bag.
What's inside these bags of mystery? Let's start with my latest pack, the Cabela's Northern Flight Ultimate Walk-In Blind Bag, and take a look at the contents.
1. Box (25) Winchester Xpert 3-inch No. 3 Steel 12 Gauge Shotshells
I'm a fan of the smallest shot size possible, without going to extremes. Number 3 steel is the No. 5 lead of today, and I like that. One of my favorites is the value-priced, high-performance steel shotshells by Winchester. The Xpert Hi-Velocity waterfowl loads. They  deliver a velocity of up to 1625 fps for an incredible boost in superior, bird-bagging performance.
2. Box (10) Hevi-Shot 3-inch No. 2 Waterfowl Shotgun Loads
If it's goose season and a honker happens  by, I want to be ready with something other than steel No. 3s. Shop HEVI-Shot Goose Loads right here.
3. Zink Power Hen Single Reed Duck Call
Great sounding, easy to blow and extremely versatile. Provides all the volume I need on windy days or when I'm hunting big water. See our full lineup of Zink waterfowl calls.
4. Duck Commander Pintail Widgeon Duck Call Whistle
Perfect for widgeon, sprig, green-wing teal and drake mallards, birds that have a tendency to ignore traditional hen-mallard quacks. Check out Duck Commander Pintail Widgeon Duck Whistle Calls.
5. Buck Gardner Canada Hammer II Call
Like the Hevi-Shot, just in case. Shop Buck Gardner Goose calls at Cabela's.
6. Cabela's Gun Dog GS-8000 E-collar and Transmitter
Although she's a good dog, Sadie Mae does need a reminder every now and again. The Cabela's Gun Dog system is easy to operate with a longer range, the Gun Dog GS-8000 Dog Training System from Cabela's helps take the guesswork out of dog training.
7. ThermaCELL Unit Mosquitoe Repeller
Early season means mosquitoes, and I hate mosquitoes. The Thermacell MR-450 Mosquito Repeller is a high-powered Thermacell portable mosquito repellent creates a 15'x15' zone of protection for bug-free comfort. These units are the best money you'll ever spend, hands down.
8. Hunter's Specialties Camo Compact Make-Up
I hate wearing a head net when I wingshoot, but I like to cover this ugly mug of mine. The H.S. Camo Compact make-up kit makes the task easy, and the mirror comes in handy when I'm trying to dig something out of my eye.
9. Sundries Kit in Zip-Top Plastic Bag Containing the Following Items:
carmex
ibuprofen
rolaids
Q-tips
assortment of safety pins
tweezers
bandages
dental floss
36 inches of No. 550 para cord
pen
super glue
small penlight and a flat roll of duct tape
Oh, and toilet paper, also in a zip-top bag. Never forget toilet paper.