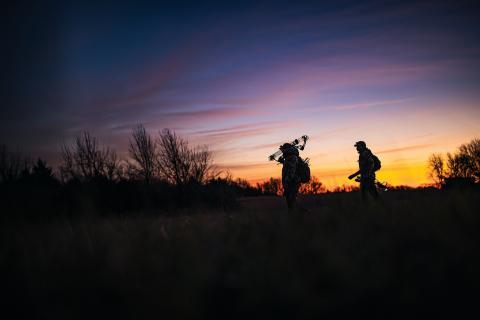 A good list of questions is as important as your tag
by Fred Eichler
As an outfitter of 30 years, as well as an avid hunter who has hired multiple outfitters to take me hunting, I've been on both sides of the equation. Like any relationship or business deal, good communication up front can help you avoid misunderstandings with an outfitter about what kind of hunt you want. Here are some of my top tips to help improve your discussions and avoid a bad experience.
How physical is the hunt?
Physical ability varies from person to person, as do the fitness requirements of different hunts depending on terrain and altitude. Even hunters in poor shape can usually walk 100 yards to a whitetail stand, whereas a high-country elk hunt may be beyond some hunters' capabilities. It's a good idea to ask how much hiking is required. It's also important to know if horses will be used. If you're not comfortable on or with horses, and the guide tells you he or she always hunts with them, you may want to look elsewhere.
What is the guide-to-hunter ratio?
One September, I was unlucky enough to have a guide try to call in elk for three hunters, including me, rather than having one caller per hunter. You can guess how that turned out. Ask detailed questions. Will you be with a guide or dropped off in a stand? Is one-on-one guiding available? Do you have to hunt with other clients?
Make sure there are no hidden costs
I always ask this question because in the past I have been burned by charges I had not anticipated. The last thing you want to hear is, "Just so ya know it's gonna cost you another 500 bucks to get that elk outta here, 'cause we have to call in some guys with horses." Or, "The guy with a fridge in town charges a few hundred a day to store your meat." Also, check if there are extra charges for a trophy based on score or points. Always best to know all of this before you go.
Can I add days if things aren't going great?
By agreeing to a price ahead of time it's sometimes nice to know if you can add days to your hunt. I have turned unsuccessful hunts into successful ones by paying outfitters to stay and hunt longer, or if I was the outfitter, by allowing my clients to keep hunting after a really rough weather week. If I have already invested a lot of money and time in the hunt and if one or two more days may get me a shot, then it's totally worth it.
What percentage of hunters are successful?
In fairness to the outfitter, I usually ask what their shot opportunity percentage is. Since many times a poor success on kills isn't always the outfitters' fault. There's no such thing as a 100% success rate with elk hunting unless you're hunting behind a fence.
Does the outfitter have any game violations?
It's good to know if you will be hunting with someone who is a legal and ethical outfitter. I often call the game warden in the area. If they say it's a good outfit, that helps me make my decision.
Get references
Most outfitters have a prepared reference list, but I will often ask for a few numbers of clients who didn't harvest what they were after. If they still give a great recommendation and everything else checks out, then I may have found my outfitter.
Contract considerations
Make sure you receive a contract before you send a deposit. Most outfitters ask for 50 percent down when you book a hunt. If the contract doesn't cover everything you discussed—like how much it will cost to add extra days, etc.—then ask for those items to be added before you sign and send the deposit. That way there are no misunderstandings.
The other side of the coin
No matter how much a hunt costs, hiring an outfitter or guide does not mean you are buying an animal. You are paying to hopefully have an opportunity at an animal. I have guided clients that filled every tag in their pocket, and I have also guided hunters who didn't harvest one animal. Sometimes it was my fault, sometimes it was the weather's fault and sometimes my client's mistakes caused them to go home emptyhanded. If you go on your guided hunt with a great attitude and enjoy every sunrise and sunset, then you will never have an unsuccessful trip.