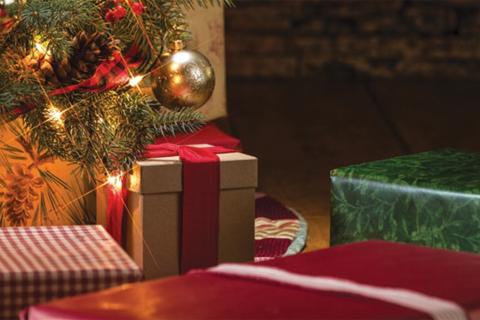 You can tell it's close to the holiday season when certain family members keep mentioning things are "cute" or "awesome" or other words that indicate the item they are talking about is certainly worthy of notice. It might even look good when wrapped up in something red or green and tied with a ribbon.
Of course for the outdoors-oriented family member, turnabout is fair play. But why bother mentioning that this item or that widget is something you'd like? It's a LOT easier to print this article and leave it lying around the house. And if you highlight certain items that appeal to you, well, you're just trying to make it easier, right?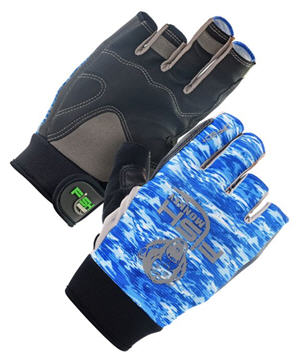 So here's a gift idea list of things that sportswomen and men and even kids might like for a special day or to find under a tree this December.
Protect 'em From Cuts and Abrasions ...
Fish Monkey added the Crusher Glove to its line of fishing wear. The glove is appropriate for serious fishing as the glove has an ergonomic design that mirrors the shape of your hands. The exposed fingers do a good job of keeping the phalanges free to tie knots, rig bait, and even operate electronic devices.
The 4-way stretch construction allows for second-skin dexterity giving the angler the agility for the next bite. The Crusher Glove is form-fitting featuring a synthetic leather palm to ensure a solid grip. Fish Monkey Gloves
Keeping 'em Secure With a Rod Saver Vehicle Fishing Rod Carrier…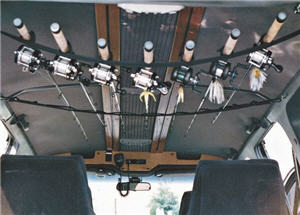 Rod Saver Marine has a vehicle fishing rod carrier ideal for trucks,campers, vans or suv. Place the rod carrier overhead, vertical or side walls of your vehicle. Loads 7 rods conveniently. Accommodates baitcasting or spinning rods as well as some fly rods from 40" to 72". Designed for quick and easy installation and removal.
One for the Kiddoes to Learn the Outdoors...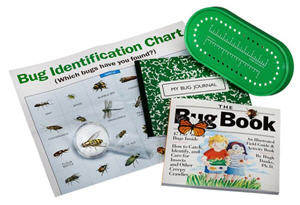 Kids exploring the outdoors means exploring the bugs too. ''The Bug Book and Bug Bottle Kit'' by Hugh Danks is a full-color book with field notes to 46 bugs. It's a perfect way to get children interested in nature and the outdoors. Kids adventures and will love this kit. because it includes a plastic bottle to catch and view insects, a foldout bug chart for quick identification plus a magnifier to see the little critters up close, and a journal to record discoveries. This paperback book runs 112 pages and is suitable for children eight years and up. 
One for the Fishes and Anglers…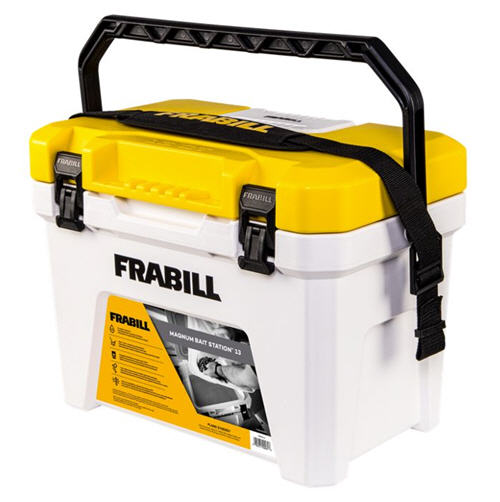 A bait station will be a great hit for fishermen who struggle to keep minnows alive on the ice or in the summer sun. Frabill's Magnum Bait Station is sized to meet any anglers needs. It is an injection molded cooler with one inch of commercial-grade insulation as well as an integral aerator that runs on 12-volt power or with two D-size batteries. No stress on the shoulder or hands with the padded shoulder straps plus full-length handle for easy transport. Freshwater and saltwater tested and comes in three sizes, 13 qt., 19 qt. and 30 qt. 
On the Edge With Prolonging the Life of Fishing Tackle…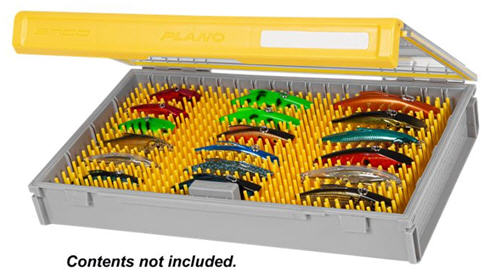 Plano's new Edge series of utility boxes will be a favorite for birthdays, special days and under the tree. Built on the now-standard 3600-3700 footprint, the boxes have a dry seal lid, Rustrictor innards and Water Wick desiccant dividers, keeping fishing lures, hooks and other goodies organized and better yet, rust free. Choose from the Plano EDGE Utility box, Plano EDGE Small Crankbait box or the EDGE XL Crankbait Utility box, Plano EDGE Terminal box, Plano EDGE Spinnerbait Utility box or the EDGE Soft Plastics and Bulk Utility box.
Just in Time for Gift Giving, the MR-6 Crankbait…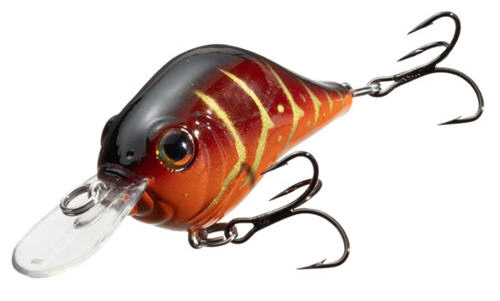 The new Bill Lewis MR-6 Crankbait is just in time for Christmas stocking stuffing. For any bass fishermen,  crankbaits are necessary.  This is one floater/diver that does every little thing right, and can be worked effectively in a wide range of situations, including the post-frontal blahs. The MR-6 Crankbait bait has a molded lip for maximum toughness and its equipped with premium treble hooks. Anglers wanting a crankbait that digs down to about 6 feet and has a balanced, near-neutral buoyancy with a slow, tantalizing rise on the pause will want this lure in their tackle box. It is also a Mark Daniels Jr. Signature Lure.
Fly With the Cabela's RLS+ Fly Reel…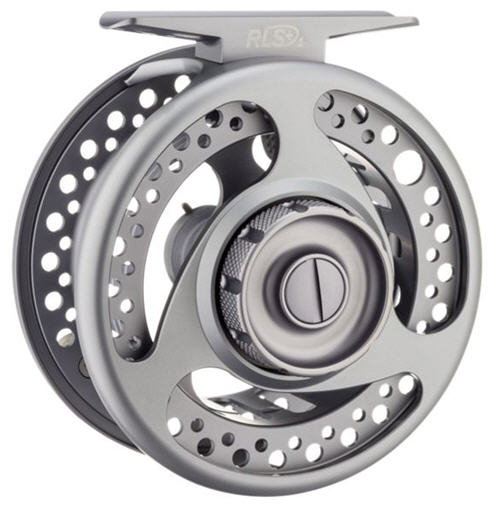 The Cabela's RLS+ Fly Reel is now even lighter in weight than ever and has the same high-end performance features as the best fly fishing reels on the market, and does so at a value-driven price. The Rulon disc drag offers smooth function and durability. Mad of machined-aluminum construction with a silver-anodized finish this reel withstands rugged use. Quick-release spool easy to convert o right- or left-hand retrieve. It is fully ported and light in weight but strong enough for hard duty in fresh or saltwater.
A Fishing Combo That Will Fulfil Any Wish…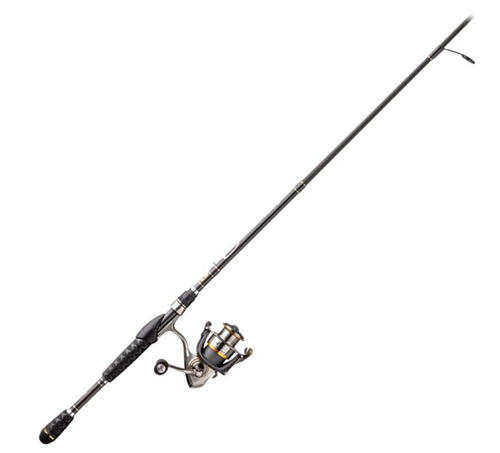 Highly rated by customers, the Bass Pro Shops Pro Qualifier 2 spinning rod and reel fishing combo has enough options in reel size, rod length and action to fit most Christmas stockings, ere, fishing situations. The spinning reel features a lightweight aluminum body, 7-shielded stainless steel ball bearings, smooth multi-disc drag and so much more. The spinning rod features a RT3 Graphite blank, fuji guides with aluminum oxide inserts, EVA grips with X-Wrap to maximum comfort in all conditions. Check it out at www.basspro.com.
Talk to the Family With a Midland Outfitter X-Talker…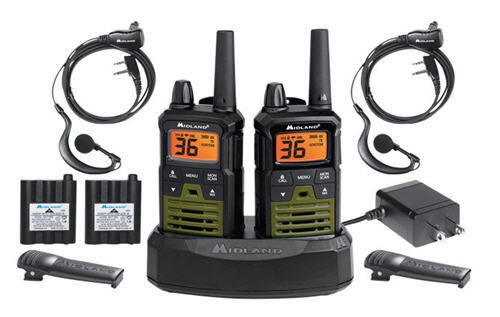 When your out hiking, fishing, camping and hunting the Midland's T299VP4 Outfitter X-Talker two-way radio pack is something the whole family can use and enjoy. Gear up for your next adventure with a two-radio set that has a 40-mile range, making it easy to call in the tribe for dinner. This walkie talkie set comes loaded with all the features to keep your group safe like 22 channels, hands-free communication, 121 privacy codes and more. A serious bonus is the NOAA Scan and Alert function that will alert you to severe weather updates. www.midlandusa.com
Warm is a Good Thing When You're Fishing…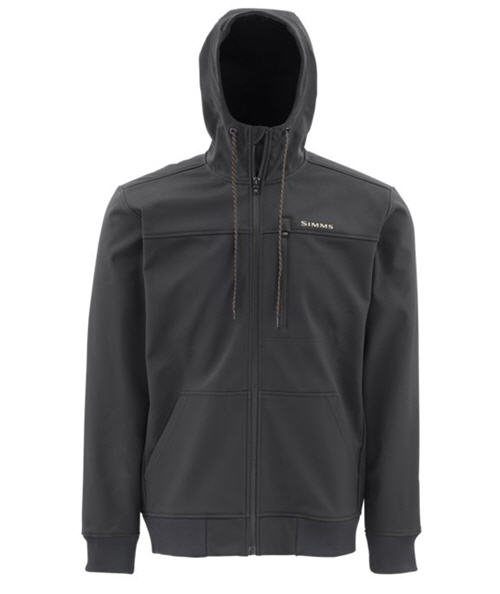 To help anglers weather the weather the Simms Rogue Fleece Hoodie is just right to keep them fishing from 1 season to the next. Or, depending upon where they live, perfect for that after-Christmas-dinner walk.
It is paired with a warm and versatile 100% polyester face and fleece back with a water-shedding DWR finish, this hoodie offers breathable warmth that shields you from the elements. The the ergonomic, 3‐panel hood flips up to protect your head whenever needed. And, the fleece-backed handwarmer pockets warm hands on cold days. Machine wash. Imported.
Switch It Up With Hunting & Fishing the Nintendo Way…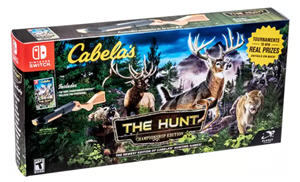 Cabela's and Bass Pro both offer games for the Nintendo Switch. Considering that they let you fish or hunt in the off-season or when you're faced with a house-load of company, they are a good thing. Of course, if you're not a video-game junkie, there may be someone in your family who is. And what better way to reinforce the fun of hunting and fishing than by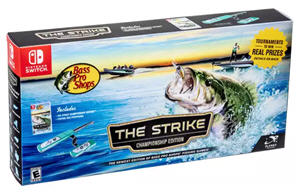 keeping the exposure going. Compete with friends in mini-games like boat races and casting challenges and more with the Bass Pro Shops The Strike Championship Edition Fishing Game Bundle. Or, encounter an authentic hunting experience before pulling the trigger and more with the Cabela's The Hunt Championship Edition Hunting Game Bundle.
Can you see…
Costa's Diego sunglasses is a recent addition to the line and features a spring hinge system and vented nose pads to maximize airflow—a good thing if you're heading to the Caribbean for a little post-Christmas fishing. www.costadelmar.com
You Can See More With the Aqua-Vu Underwater Viewing System …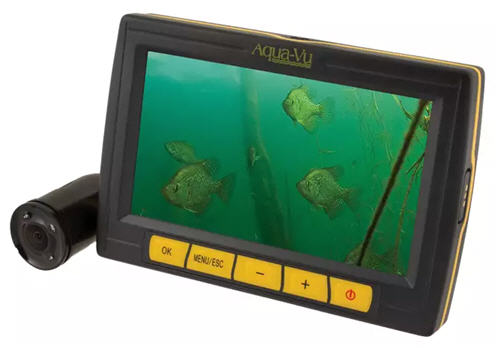 Aqua-Vu's upgraded 4.3 Stealth camera makes underwater viewing easier and cheaper, always a good thing about Christmas time. Not only is the viewing screen larger than previous models, but also it is now waterproof, easier to use and has better resolution. Hey, open the Aqua-Vu Micro Stealth 4.3 Underwater Viewing System early and watch Santa deliver presents from your bedroom!
Thinking of Spring and Bass Fishing…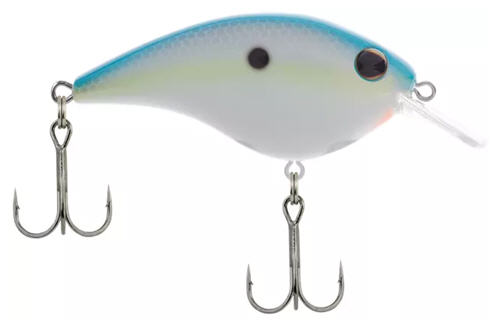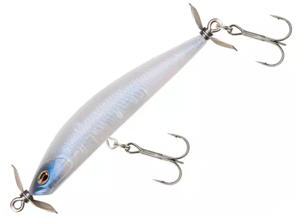 Hardwater season is a perfect time to think about bass fishing, and Berkley's Frittside crankbaits and SPY hard baits can only make a fishermen more than ready for spring.  The Frittside is a flat-sided bait that fishes like it's made of balsa but is as tough and easy casting as plastic. It's made for the early spring bite. Later, the SPY spinbait works well on suspended fish.
If You Can't Think of Spring Yet, Think of Gifts for All Seasons…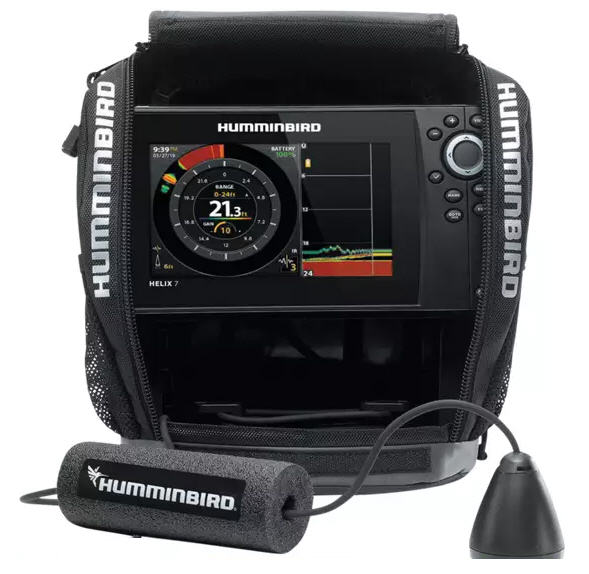 Get more fish finding power for all seasons. Humminbird's ICE HELIX G3M All Season sonar is a gift that works well all year. Not only does it work as an ice fishing sonar/chartplotter, but with the all-season accessories like boat mounting accessories, transducer,  built-in Bluetooth and the Dual Spectrum CHIRP ice transducer, the Humminbird ICE HELIX 7 is just as home on a boat, and that makes it a double-bonus gift.
Easy Opening Gifts if You Have a Knife…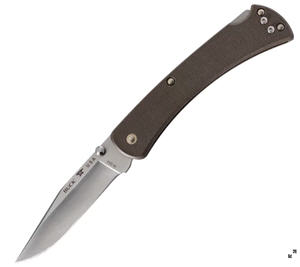 If you open Buck Knives' 110 Slim Pro present first, you'll be able to open the rest of the presents with ease. This light, slim version of the iconic Buck 110 Folding Hunter knife is a perfect knife for keeping in your pocket every day. Its nylon handle is available in four colors, making it stand out, a bonus if you misplace things. Find a great assortment of knives at Bass Pro Shops for all hunting, camping or fishing needs.
For the North Pole it Helps to Have an Ice Auger…
If you live close to the North Pole, or anywhere you have to fish through ice in the winter, Santa has a great surprise for you. It's the Strikemaster Lite-Flite Lazer Ice Drill, a six-inch auger that is not only significantly lighter than similar augers of the same size, but it also cuts a lot faster. Designed to be powered by either the StrikeMaster drill power head or any half-inch cordless drill (over 18-volts), it makes drilling holes a sleigh ride.