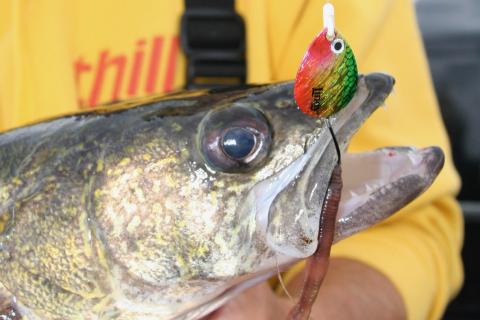 For walleye anglers, snelled spinners are very close to a silver bullet. There are few places or situations where a snelled spinner won't catch walleyes. Snelled spinner lures can be fished in lakes, rivers, and reservoirs at any depth from just below the surface to dragging along the bottom.
 
Because they are so effective, there are tons of snelled spinners offered for sale. While off-the-shelf spinners like the Little Joe Floating Worm Harness catch walleyes, chances are you'll catch more if you build your spinner to fit conditions.
 
The good news is it's easy; by mixing and matching blades, beads, and fishing hooks, you can create the perfect lure.
 
How easy? In its base form, it's nothing more than tying a hook to a leader, threading beads onto the leader and adding a clevis with a blade. That's it. The basic spinner takes two minutes to create or maybe three, tops.
 
It only becomes sorta complicated when you start to fine-tune the spinners. But even then, building the perfect spinner is a snap, and the only tricky part is avoiding addiction—because rolling your own is habit-forming.  
The First Step—Bait and the Hook(s)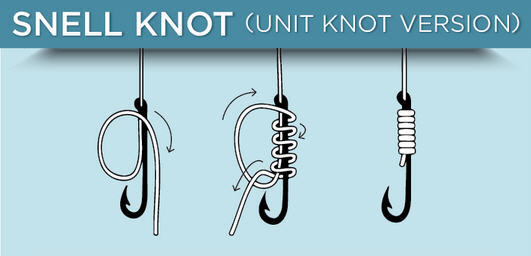 The first step is to identify the fishing bait you wish to use. Generally, there are three categories-- those that require at least two hooks (nightcrawlers as a rule) and those that only need a single hook--minnows and leeches.
 
Octopus-style hooks are preferred by most, as they can be snelled, using a knot similar to a whip finish used by Boy Scouts and boaters. A snell knot allows the point of the hook to remain in line with the axis of the spinner. For most rigging uses, a #2 octopus is about right and a good place to start with both one- and two-hook leaders.
 

Tip: Watch this video showing how to tie a snell knot
Some fishermen tie a treble hook as the trailing hook with an octopus hook snelled in the lead when fishing in open water.
 

Another option is to use one of the new "slow-death" hooks from Mustad like the Mustad UltraPoint Slow Death Hook. These hooks spin when baited with a nightcrawler or scented plastic worm. Tru-Turn long-shank hooks like the Tru-Turn Freshwater Hooks also work well used the same way with smaller crawlers.
Next Comes the Leader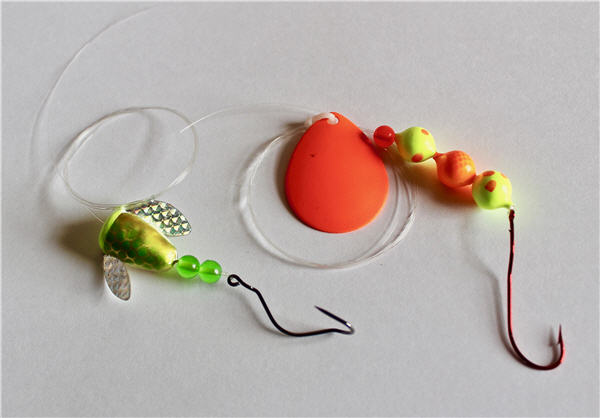 Monofilament fishing line in a 10-pound test is a good starting point with 14- or 17- pound test for those times when more abrasion resistance is needed or big fish are the rule. Heavier leaders also work better in waters with zebra mussels or other hazards.
 
Fluorocarbon line also is gaining popularity because it is a harder material than monofilament. And less susceptible to abrasion and cuts from things like mussels or rocks.
Anglers Can Get Creative
Choosing the spinner body is where an angler can get creative.  While most walleye fishers would be happy with either chartreuse or orange plastic beads, there are hundreds, if not thousands, of color and size choices in plastic, glass, and metal.
 
Some think that the color of the blade determines the overall color tone of the spinner; others believe that the color of the body is equally important if not more so. As an example, the Lindy Little Joe Crawler harnesses come in colors where both the beads and blades were picked to mimic specific baitfish.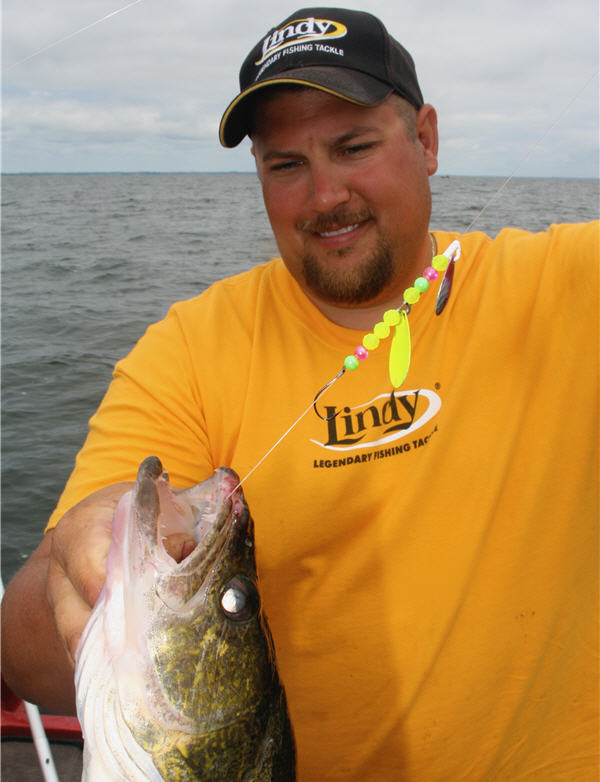 Carpet. Jason Muche (sic) of Walleye Adventure Guide Service builds larger spinners for greater impact in the large waters of Green Bay, Wis. By increasing the length of the body and adding a second blade, Muche feels that the larger overall spinner does a better job of luring big walleyes.
Anglers beginning to tie their spinners would be advised to look at the Lindy spinners to get an idea of how a spinner can be crafted/designed to meet particular conditions.
 
Since most of the time, snelled spinners are fished on bottom bouncers close to the bottom; it's a good idea to choose beads that aren't heavy. Plastic is better than glass, for instance.
 
There also are several foam bodies that work well. Worden's Bait's Lil' Corky found on www.Cabelas.com is an excellent float, and it comes in enough sizes and colors to stun your bank account.  A simpler bead is a Cabela's Rig Float or the Lindy Rig Float.
 
A slight variation worth mentioning is Yakima Bait's Spin-N-Glo. It can be a deadly walleye killer when used in place of a spinner. Slide a bead or two on a leader (as bearing surfaces), and then add a Spin-N-Glo, the original winged drift bobber. Its foam body provides some flotation, and its spinning wings (especially the Mylar wings) add flash and vibration.
 
Using floats as a body on a spinner won't cause the completed rig to float high, but it can keep snagging to a minimum. Also, the larger size of the floats provides a more visible target. The only warning is that you should use a bead or two between the float and the clevis to provide a bearing surface.
Clevis for Making Fishing Lures
Choosing a clevis is easy. It must be a spun wire clevis, a folded clevis or plastic. Avoid clevises that are made of wire (stirrup clevis) and then drilled, as they will cut through most leader materials. Several clevis styles let you change blades without retying like these Quick Changs Snap Clevis found at Basspro.com, and they are the best for on-the-water changes.
Choosing the Fishing Blade Style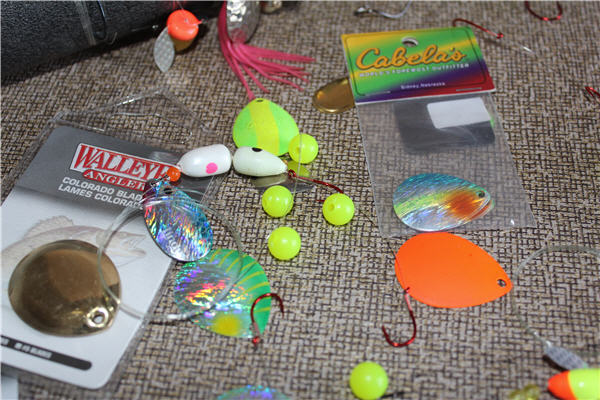 The choice of the body allows creativity, and the choice of blades—style, color, and size—accentuate it.  There are three basic styles, and the Colorado and Indiana blades cover most situations while the willow style is better suited for faster trolling.
 
But, there are so many other styles of blades made of differing materials –everything from brass to plastic to steel—so that blade choice can be daunting. For a beginner, it's better to stick to a couple of different blade types in a range of colors to suit the water. An Indiana blade is a good, all-around choice followed by the Colorado blade for use at slower speeds.
Choosing the Fishing Blade Color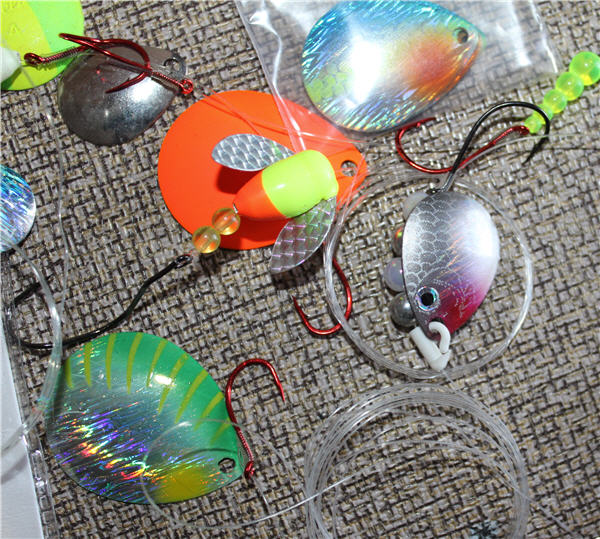 Blade color can be a head-scratcher since there are so many different colors and color combinations. It's better to pick some that work in local waters and branch out from there. For instance, chartreuse in all its variations is a go-to color in most fisheries, but so are gold and silver. Copper is a good choice in tannic waters. Any of the warm, fluorescent colors and some of the newer metallic finishes are good.
 
The question comes, though, are all the choices really necessary? Does a simple color change make a difference to the walleyes? The very short answer is, "Yes, color can make a big difference."
 
But common sense says that a fisher can't carry all the choices of beads, blades, and floats. It's enough to have a wide variety of options and let on-the-water experience be the guide. One approach to the wide choice is to carry a box with extra beads and blades so that experimentation can be done on the water.
 
That experimentation is fun, and the fact that it leads to more fish in the livewell is a bonus.