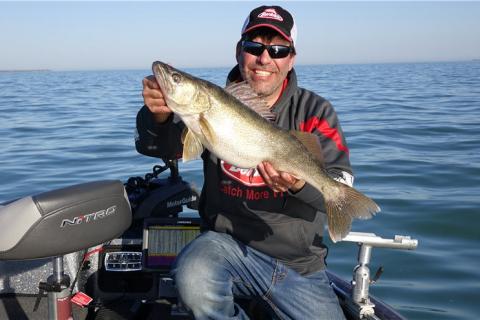 There are many different ways to get your fishing bait in front of a walleye when trolling. One method that I have come to rely on is using an Off Shore Tackle Tadpole Resettable Diving Weight (Model OR36). Just like the name implies, this weight is shaped like a tadpole, which gives it a unique ability to dive.
These diving weights work great when trolling crankbaits because they allow you to get the lure to the right place in the water column with less line than you would normally have to let out.
For example, according to the Precision Trolling App, if I let out 120 feet of 10lb. Berkley Trilene XT fishing line, with a #6 Berkley Flicker Shad, it will dive to 13 feet. By using a #1 Tadpole, I can cut the amount of line I let out in half or more, depending on my trolling speed, to get it to the same depth.
When using spinners or crawler harnesses, I am able to use shorter leads with the Tadpoles, which are more efficient than long leads when reeling in fish. Short leads are also less likely to drop to the bottom in boat surges caused by waves. This makes them less likely to get banged up and snagged.
Since this is a speed related system, if I slow down, the bait will go deeper. If I speed up, the bait will run higher. If I am running a #1 Tadpole with a spinner and let out 35 feet of line, at 1mph it will run 23 feet deep. At 1.5mph it will be 14 feet deep and at 2mph it will be 11 feet deep.
Remember to watch your speed to keep your bait in the target zone! To easily get the bait higher, just speed up. If you want to drop the bait in the water column simply slow down.
Editor's Note: If you have questions or comments on this or other articles of mine you may have read, contact me through the website The NextBite.
 
Keith Kavajecz