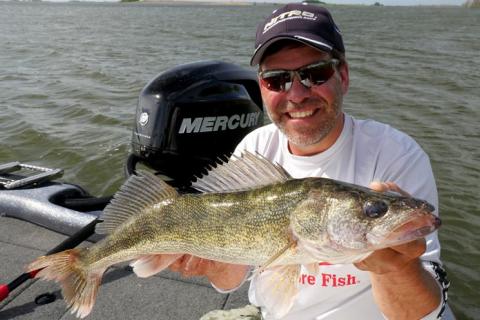 This time of year, the lakes are typically full of natural bait, like bugs, minnows and larvae. With an abundance of food, it is easy for walleyes to become lazy when looking for a meal. As a result, we often have to provoke a bite by being aggressive with our fishing presentation.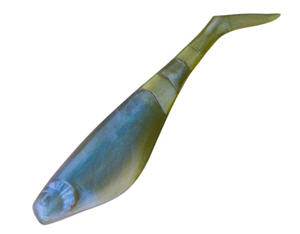 One way to do this is by jigging with artificial tails. During this time of year, fish are often relating to deep water structure, so a 3/8oz-1/2oz jig is needed to reach the bottom. For a tail, I use either a 3" or 3.5" Berkley Ripple Shad. This bait actually has "ripples" molded into the body, which make it very flexible and give it a lot of action.
The Berkley PowerBait Pro Shad is also great bait to try. The 3.5" tail has a slightly larger profile than the Ripple Shad. While the body stays stationary on this bait, the slightest movement will make the paddle tail move!
For these baits to be effective, it is important to hook the bait through the nose of the shad and have it exit through the back on the seam that is made during production.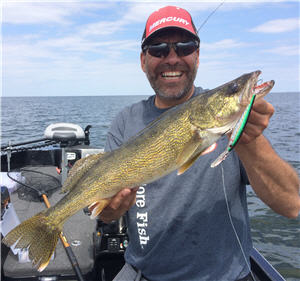 To use them, sweep the jig and tail 1-2 feet off of the bottom, then hold the rod still while the bait swims back to bottom.
If you are using a no stretch line such as Berkley Fireline or NanoFil, you will be able to feel the vibration of the baits.
Another "hands-on" technique for catching walleyes this time of year is called "Shivering", by working Mooshine Shiver Minnows on structure. To do this, I use a "walk-the-dog" type motion, followed by a glide.
It is important to work the bait close to bottom, but not actually make contact with the bottom as you work it back to the boat. When you make your initial cast, let the lure drop down, then sweep the rod up about three feet. This should be a hard sweep, almost to the point of snapping the rod, which will make the lure dart out to the side.
Follow this by immediately dropping the rod tip down. This gives the bait some slack, allowing it to turn back around and glide to center as you reel up the slack line. Right before your lure hits the bottom again, repeat the cadence 3 to 5 times.
Almost all of the bites will come on the glide, so you want to be ready to set the hook if you feel weight on the end of the line.
Editor's Note: If you have questions or comments on this or other articles of mine you may have read, contact me through the website The NextBite.