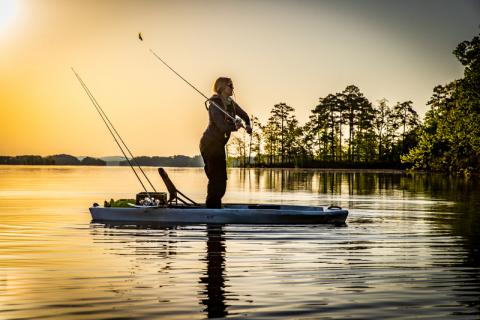 Kayaks are among the most versatile vessels on the water. The kayak's combination of ruggedness, ease of use and the ability to take anywhere, make it a favorite for families across North America. Adding to the kayak's versatility are a number of design configurations that make them even more functional and user friendly.
This kayak buyer's guide provides a breakdown of kayak models, sizes and options. With an understanding of the landscape of options, you can confidently choose the right kayak for the way that you would like to use it.
Ascend Kayaks: American Made, Highest Quality
Before getting into vessel specifics, let's talk about the benefits of choosing Ascend. Every Ascend kayak is produced in a White River Marine Group plant in Lebanon, Missouri.
The mold for every Ascend Kayak is designed in house, engineered to exacting specifications to consistently produce high quality vessels. Designs are informed by not only aesthetics, but stability and performance across models. In fact, every kayak produced meets Ascend's quality control checklist—a document that follows each kayak through every step of the production process.
Every offering in Ascend's lineup is composed of high quality, specially derived materials and manufactured in accordance with exacting standards. The results: performance and reliability across kayak style, configuration and model.
Kayak hulls are composed of high performance, uv resistant, and marine grade Aquatuff plastic. Every sit-on-top kayak is pressure tested to ensure 100% hull integrity. Foam floatation is then added to the bow and stern. This trademark attention to detail results in Ascend's status as one of the only kayak brands on the market to be certified by the National Marine Manufacturers' Association.
After production, skilled American craftsmen and women finish each kayak. This process includes the addition of high-quality finishing hardware—handles, grommets, accessory rails, etc.— and stamping each kayak with its own serial number.
Ascend's commitment to quality, performance and consistency offers a number of benefits to kayak owners. No matter which model you choose, Ascend provides:
A kayak that is proudly made in America.
A kayak that is specially designed for its intended purpose—with stability, hull integrity and aesthetics built in. Ascend's fishing kayaks make fishing easier. Ascend's recreational kayaks are purpose built to make life on the water more enjoyable.
A high-quality vessel sold at price point not matched by similarly appointed models from competing brands.
A kayak produced using high quality materials and a dedicated quality control process.
Kayak Configurations
Kayaks are largely defined by two categories: fishing and recreational kayaks. Each style features a number of attributes and components designed to increase its performance for its preferred style of kayaking.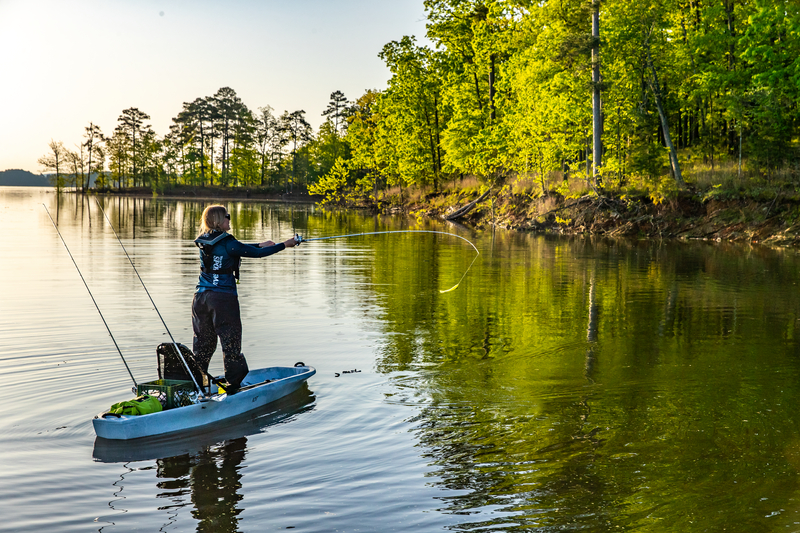 Fishing kayaks are stable enough to stand and cast.
Fishing Kayaks
Fishing kayaks are optimized for fishability and performance. Pairing the kayak's ability to access both open water and remote shallow areas with a suite of design options to increase the vessel's fishing capacity, Ascend fishing kayaks are versatile, well-appointed fishing machines. Some fishing kayaks can be equipped with a tournament power package that consists of a marine battery, trolling motor and marine electronics.
Featured Ascend Fishing Kayaks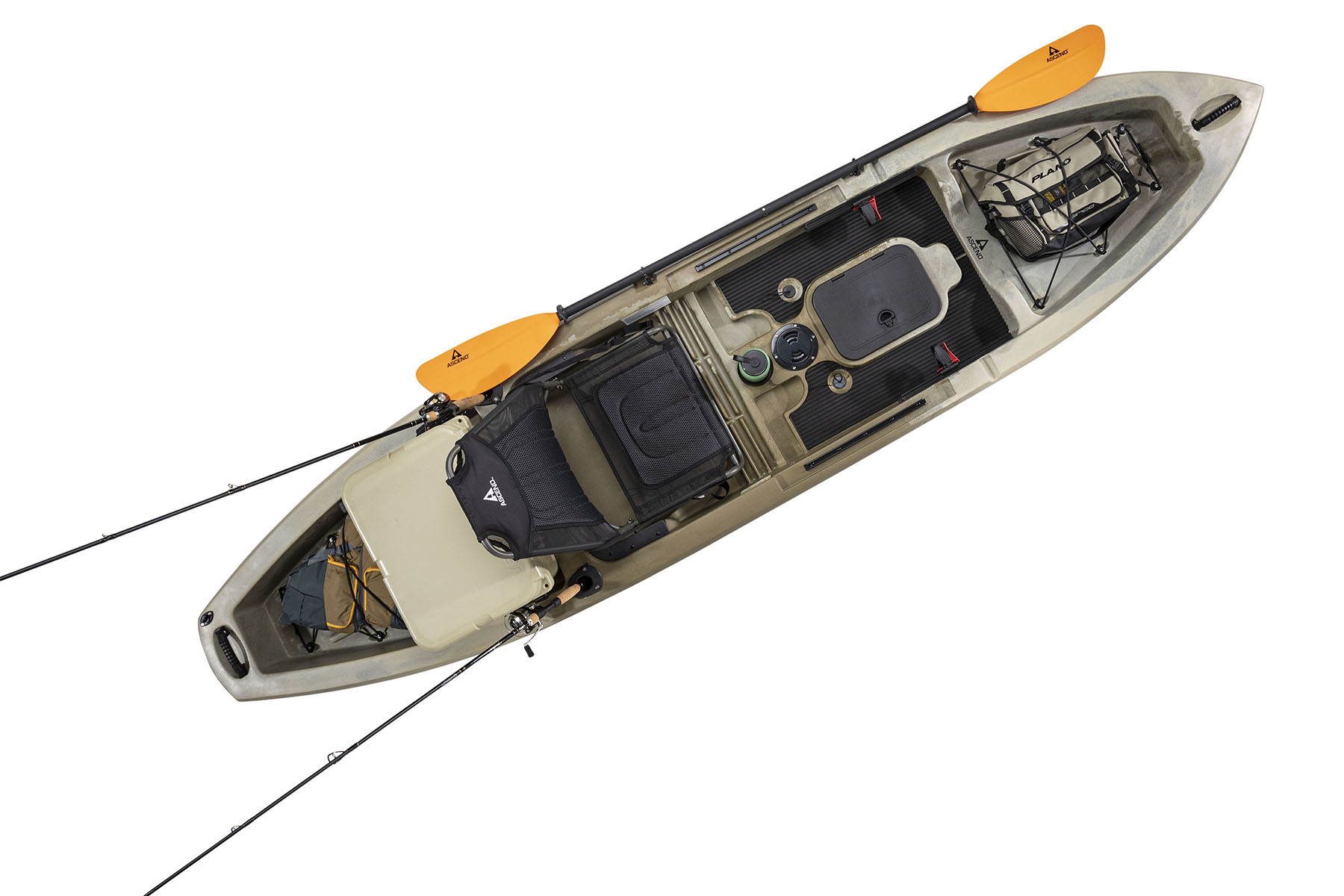 Our most popular sit-on-top kayak. Provides a high performance fishing platform that is stable and well equipped. A great all around option.
Ascend 133X Tournament Sit-On-Top Kayak with Yak Power
Ascend 133X Tournament Sit-On-Top Kayak Ultimate Fishing Package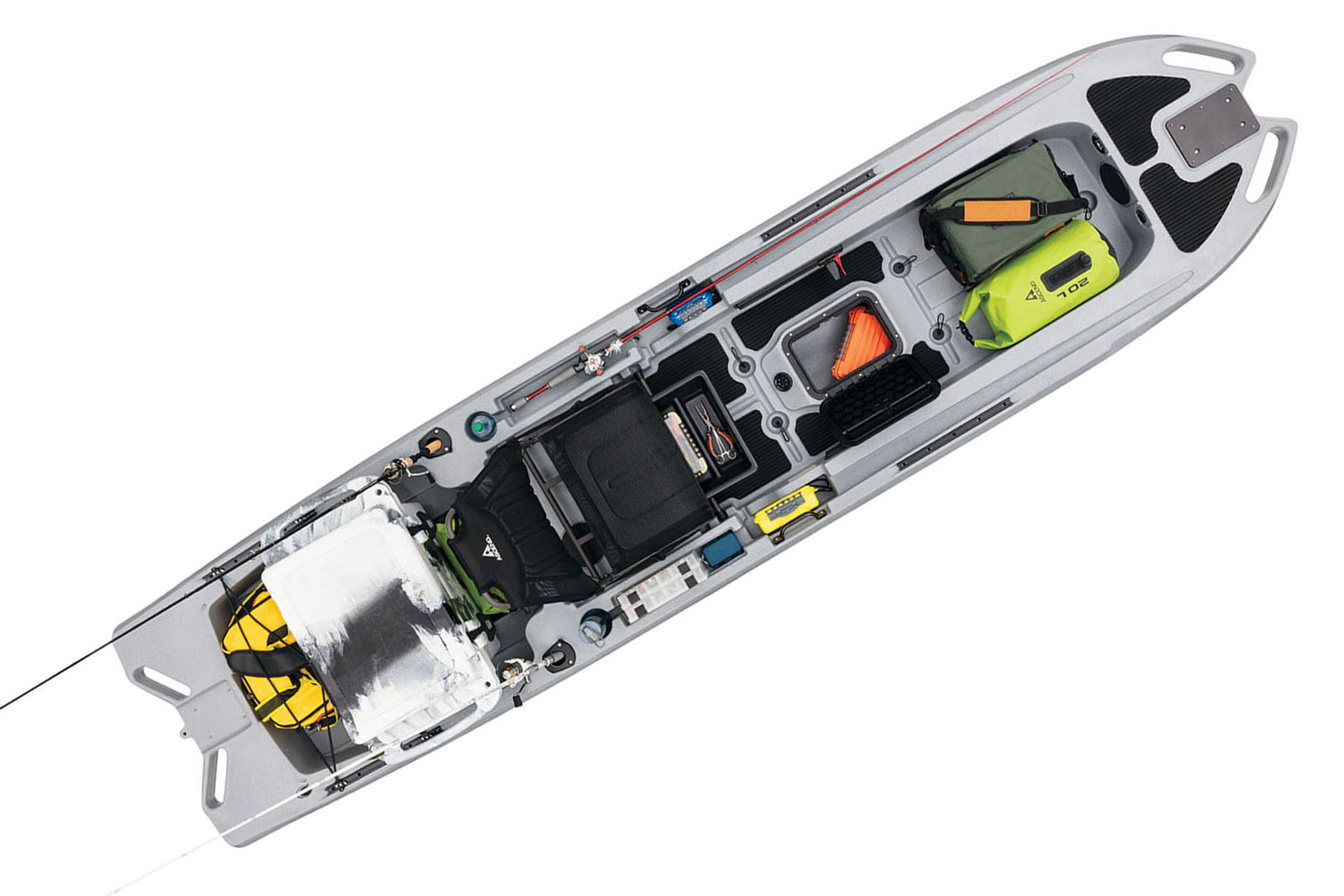 This catamaran style kayak—featuring two hulls separated by a gap—takes stability to a whole new level. Features an incredible array of fishability features, including: 4 mounted accessory rails, tank well with 9 scuppers, nonskid foam casting mat, and ample storage. Can be equipped with tournament power package, featuring: a trolling motor, fishfinder and a specially adapted kayak power package.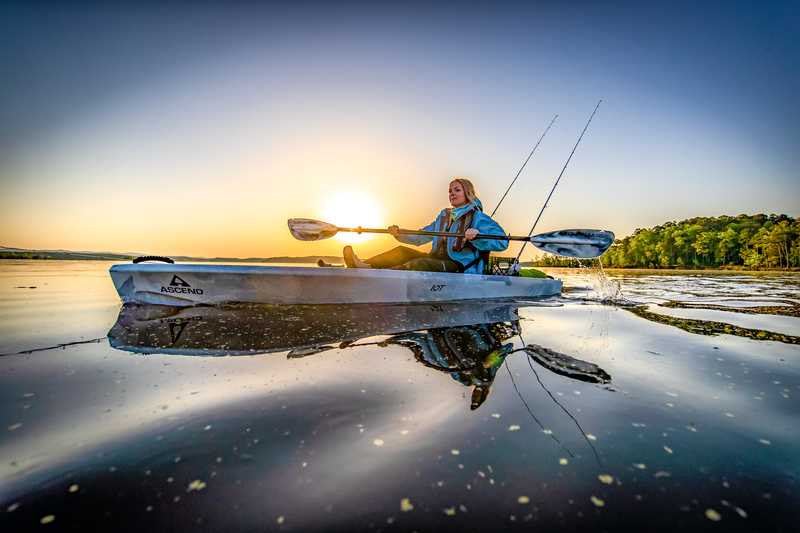 Ascend 10T Desert Storm Sit-On-Top Kayak with Enhanced Seating System Fishing Package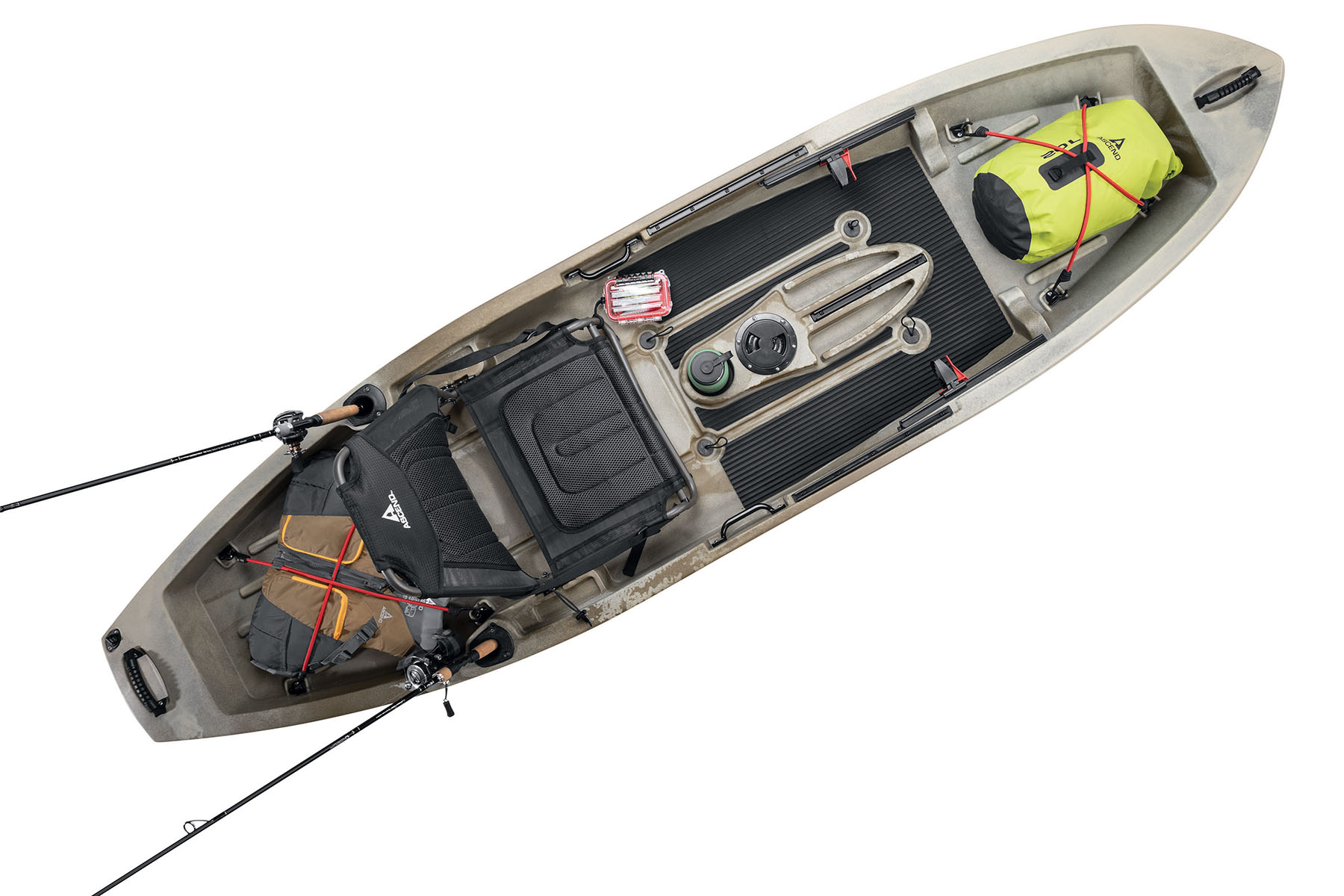 Great value. High performance. Set up for fishing and comfort. Sold individually or as a package with life vest and paddle.
Ascend makes a number of great fishing kayaks. The one that is right for you will depend on where you fish, how you fish and your budget. Here's a breakdown of what to look for in a fishing kayak.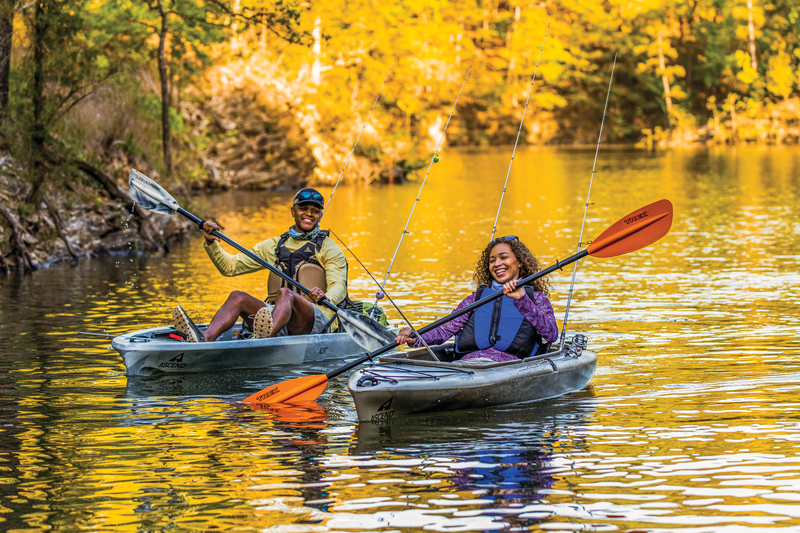 Flared bow sections and wide transoms are central to fishing kayak design.
Stability and Performance
Central to the performance and fishability are vessel stability and ample gear storage. The fishing kayak's focus on stability starts with design and vessel layout. Fishing kayaks are marked by wide transoms and flared bow sections. This design means that there is more surface area of the kayak touching the water, providing a wider and more stable base.
The fishing kayak's stable platform allows the kayaker to stand while casting and fighting fish. This not only greatly increases your casting range, but drastically expands your field of vision. Many Ascend fishing kayak models include nonskid foam deck matting that makes standing to cast more comfortable and less slippery. This stable, comfortable and nonskid platform provides a number of advantages to those who fish from an Ascend.
Fishing kayaks are designed to allow you to bring (and store) everything you need for a day of fishing.
Keeping Your Hands Free and the Ability to Multitask
Another characteristic of the fishing kayak is the inclusion of design features that free up your hands and increase your ability to do multiple things at once. Rod holders, equipped with rod leash harnesses, allow the angler to not only pack multiple outfits, but to troll while paddling and to fish multiple lines. Many models also feature flush mounted paddle holders that keep your paddles in place while casting or rigging your lines.
Mounting Rails: Customizing Your Accessory Line Up
Accessory mounting rails situated forward of the seating area allow anglers to place fish finder screens, camera mounts, and other useful kayaking hardware. The placement of these rails and their overall function is designed specifically to make Ascend kayaks more fishable—enabling you to customize your accessory package to exactly suite your fishing style.
Gear Storage: The Ability to Bring What You Need
Fishing kayaks are also generally equipped with gear storage areas. Outfitted with flush mounted bungee cords, these gear areas can accommodate tackle boxes and dry bags. Many fishing kayaks also have cooler storage behind the seat and a dry storage compartment. Ascend makes a number of accessories design to improve kayak storage, including heavy duty crates, dry bags, and small coolers.
Tank Wells, Carrying Handles, Adjustable Seats and Other Features
Many fishing kayaks also include tank well systems that can be adjusted with scuppers. These tank wells can serve as live bait storage when full or added dry storage when closed.
Carrying handles on the bow and stern are designed to make kayak transport and loading easy. Adding a kayak cart and an adjustable kayak wall cradle can help complete your set up.
Many Ascend fishing kayak models also feature removable seats. These removable seats are included with some kayak packages and sold separately. The ability to pair your kayak with a comfortable, durable, removable seat is another perk of Ascend ownership.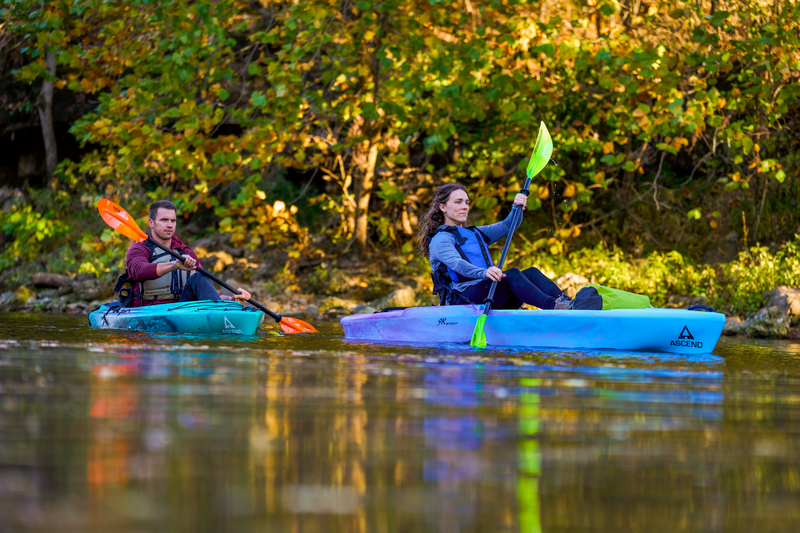 Recreational Kayaks
Ascend's lineup of recreational kayaks is marked by the same quality construction and stability as its lineup of fishing kayaks. The primary difference between the fishing and recreational space lies in the number of features and accessories mounts built into fishing kayaks (that are not present in recreational models).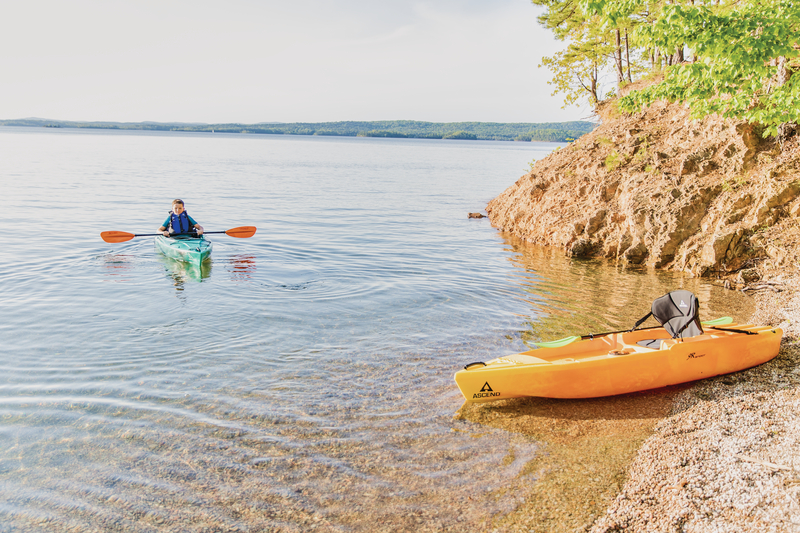 Ascend makes a wide range of kayak sizes... perfect for kayakers young and older.
When shopping for a recreational kayak it is the size of the passenger and intended use that dictates which model will be the right one. Many recreational kayaks are sit-in models, so be sure that you buy one that is big enough to accommodate you or whoever is likely to use it.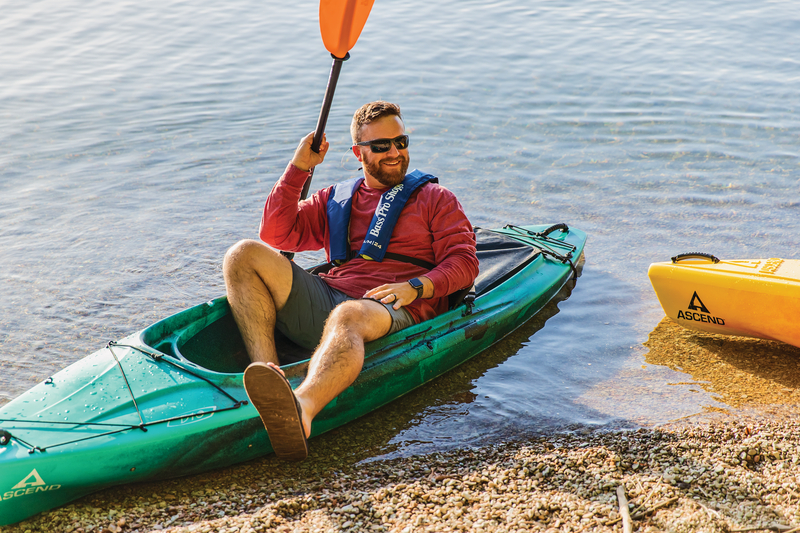 Here's a breakdown of a few of our favorite recreational kayak options.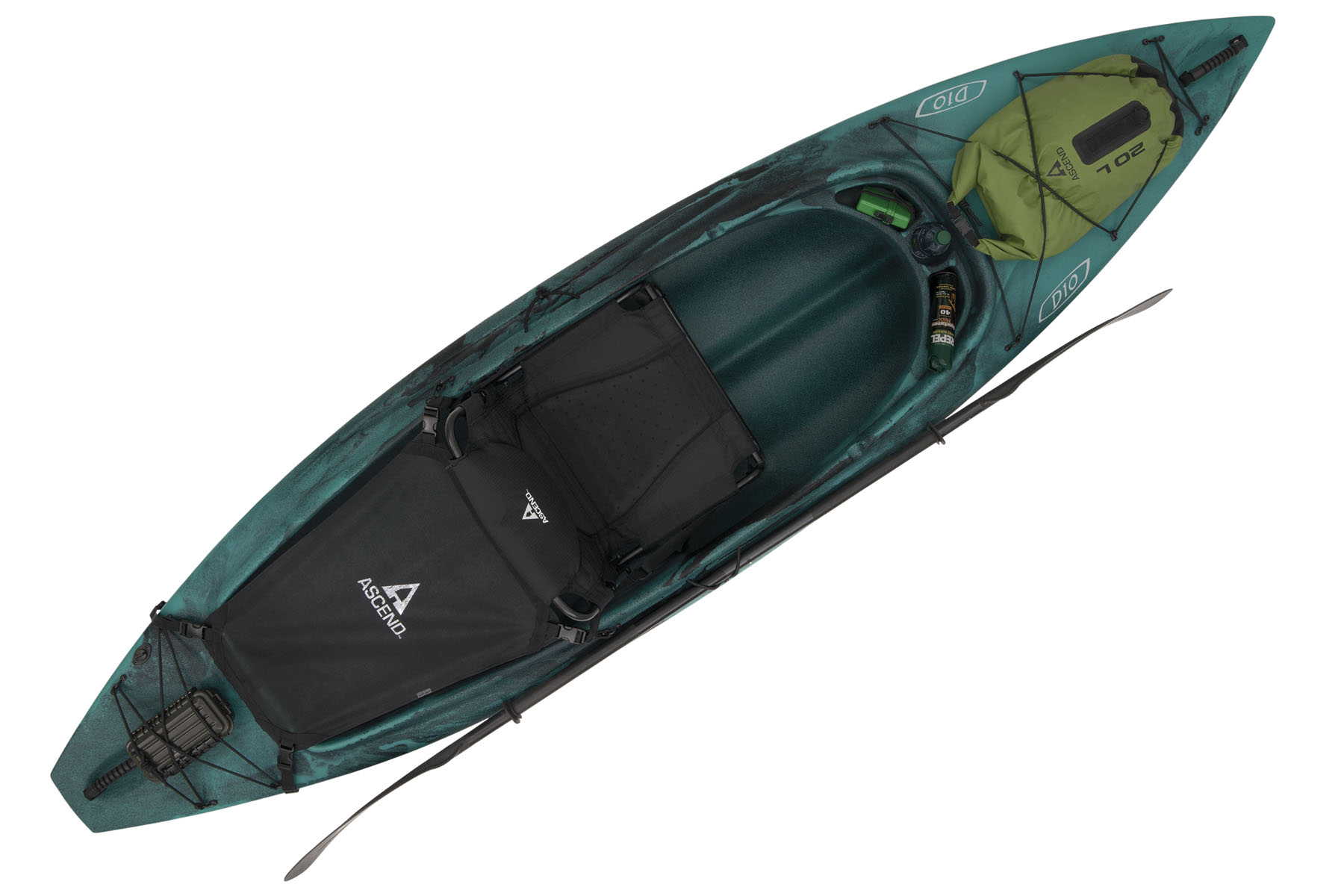 The D10 is a great, all around kayak option. Featuring a stable ride and upgraded seating system and a large, the D10's open cockpit can accommodate cargo, including coolers up to 36 quarts. The D10 is a versatile, feature rich sit in recreational kayak that is sold at a tremendous value.
Ascend H10 Sit-In Hybrid Kayak
Ascend H12 Sit-In Hybrid Kayak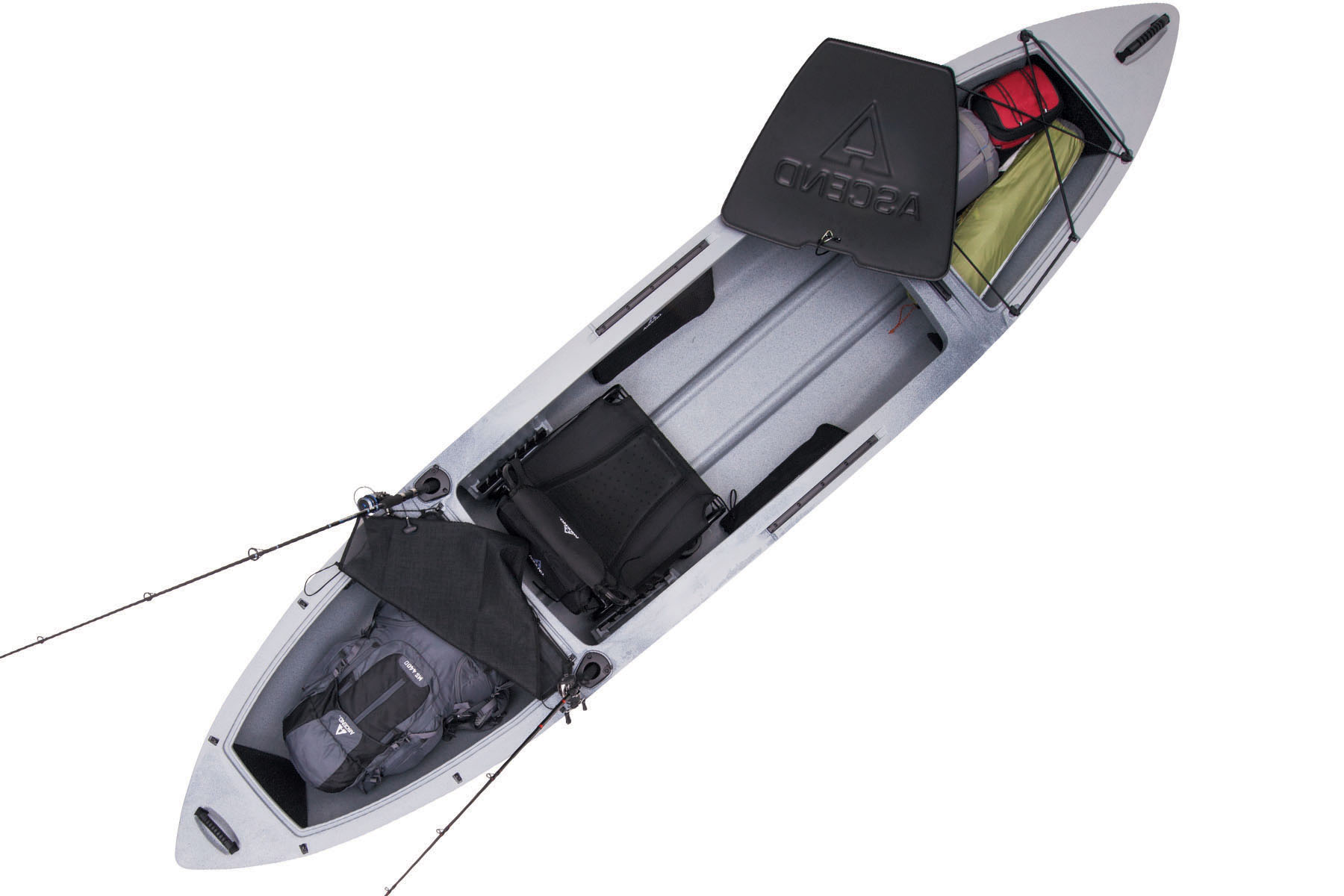 Ascend's hybrid series kayaks feature the comfort and innovation of fishing kayaks with the cargo storage capacity needed for a variety of kayak-based applications. The H12's payload capacity is an impressive 450 pounds. These are great options for all purpose kayakers, it can support kayak fishing and it's frequently used by duck hunters (who pair the kayak with a quick set up mobile duck blind).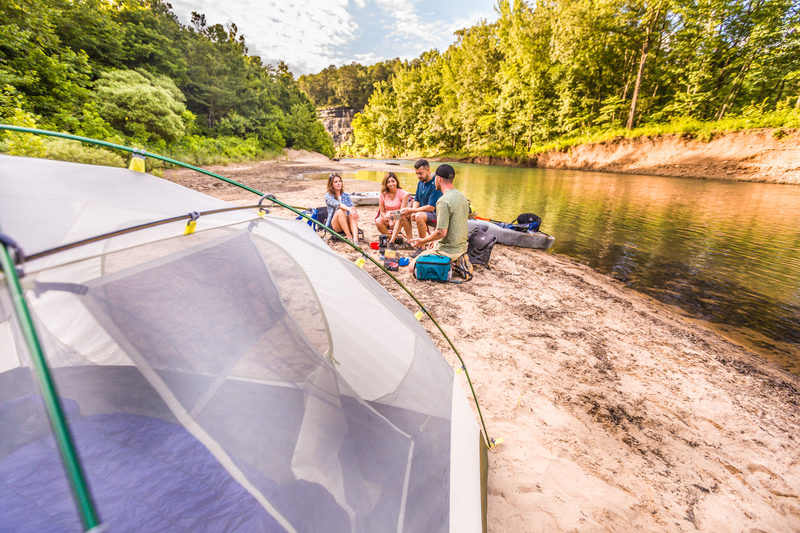 Kayak camping? Awesome.
The H12 is also a great vessel to support kayak-based camping expeditions. This fast-growing outdoor activity lets you take full advantage of the kayak's portability and ability to launch anywhere. Equipped with an Ascend H12 and an Ascend suite of adventure camping gear, you embrace a camping experience that is as remote as you'd like it to be… all made possible by your kayak.