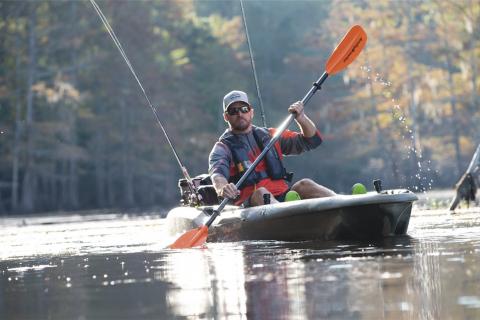 by Josh Workman, Cabela's Pro Staff and Kayak Fishing Expert
Marine Electronics Work Great for Kayak Fishing
Sonar and GPS units are not just for traditional fishing boats. With new models featuring chirp technology, in combination with GPS to mark hot spots and help you navigate, the right unit can really step up your fishing game in a kayak. You'll want to learn about each of the features available, and decide which are most important to you in the way you fish.
Tip: Find a wide assortment of marine electronics such as Lowrance, Humminbird and more at Basspro.com
When comparing, consider the screen size. The larger/higher resolution screen you get, the easier time you will have differentiating between multiple fish and structure, and you can get a great unit without putting much of a dent in the savings you'll have after getting a kayak over a traditional boat!
Tip: The HawkEye Fish Trax Kayak Fishfinder makes a perfect addition to your tackle box, kayak, or glove compartment so you always have fishfinding power ready. Great as a spare unit and ideal for an intermediate angler looking for advanced features.
Kayak Lighting When You Need to Turn Nighttime Into Daytime
When on the water in low-light conditions, the right lighting can keep you safe and able to find your way back to shore. All fishermen know that sometimes the best bite comes before the sun comes up or after it goes down.
Adding lighting to your boat gets you more time on the water, especially when the fish are biting.
Tip: Yak Lights Cree LEDs won't burn out in your lifetime, and they pierce through darkness with stunning clarity. They have a magnetic mounting kit uses a magnet rated for 90 lbs. so you can quickly and easily install it directly to your kayak or canoe. Includes a pre-wired navigation-light kit (red and green) so you can be seen from all sides. Manufacturer's lifetime warranty. Available: 1,800 Lumen.
Customize Your Kayak With Rigging Hardware
Hardware lets you truly customize your boat to your exact fishing needs. From rod holders that keep your poles at the ready to action-camera-mounting poles so you can capture all of the action, there are a variety of products to fit your needs.
However, don't overdo it. You have limited space on your deck, so use it wisely. I like to have a nice clean space up front so I only have a rod holder and my fish finder up front. The rest of my gear will be neatly out of the way. When you hook into a big fish, the last thing you want is for your gear to be in the way and cost you a fish.
Tip: Add or replace a bungee on the deck of your kayak easily with the Ascend Kayak Deck Bungee Kit.   
Tip: YakAttack's GearTracs like the YakAttack GT175 allow you to customize your boat with the things that are important. When rigging my kayak, I like to sit in my kayak and get a feel for where I want to install gear like rod holders or my fish finder. I like to rig in a way where I am able to remove and adjust based on my needs, so GearTracs are my go-to rigging option. Using a GearTrac, you are able to switch out rod holders for a GoPro camera mount very easily and are not committed to one location by drilling a mount into your kayak.
Some boats come equipped with this feature, and there are options for the ones that do not have them installed by the manufacturer.
Add More Kayak Storage Space With Gear Baskets & Crates
Baskets and crates like the YakGear Angler Crate are the go-to way to get extra storage that keeps your gear in reach while on the water. They can even double as a great place to mount rod holders. The YakGear Angler Crate starter kit can secure your essential fishing gear and personal must-haves without taking up valuable space. The crate's is a standard size 13"L x 13"W milk-crate design and fits in most tankwells and decks.
Kayak Anchors & Drift Socks
Anchors and drift socks help with boat control and positioning. Anchors like the Chene Anchor Kayak and Canoe anchor are great for when you find the fish and want to stay in a spot without the worry of floating away. This keeps you fishing without having to paddle back to your sweet spot. Drift socks like the Bass Pro Shops Extreme Drift Anchor are great for windy days when you want to keep moving, but you want control of how fast you move through the area. It also allows you to keep fishing.
An anchor trolley lets you lower and retrieve the anchor with ease. It also lets you find the right depth without letting out too much line.
Tip: The Kayak Anchor Trolley Kit is the way to go. The easy-to-use kit allows you to position your kayak anchor, drift chute or stake out pole in different positions from bow to stern to adjust for current or wind with a a simple pulley system and zig zag cleat lock. The kit Kit includes a 3/16'' x 30' trolley line, round rigging ring, zig zag cleat, two stainless steel pad eyes, two stainless steel snap hooks, two pulleys, and stainless steel mounting hardware pack. Comes with easy installation instructions and installation video.