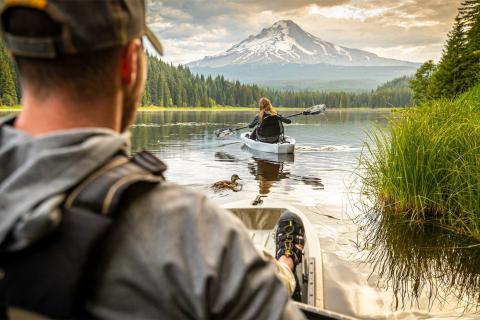 According to the Outdoor Industry Association participation report in 2018, 22.9 million Americans, or 7.6 percent of the U.S. population, took to rivers, streams, lakes, and oceans to participate in at least one paddling activity such as kayaking, canoes or paddle board.
Recreational canoeing was the original paddlesport activity, which allowed the entire family to enjoy the water together.  Recreational kayaking continues to grow in popularity and seems to be replacing many Americans' desires to canoe. Since 2013, paddleboarding has seen an increase in the participation of 1.5 million participants.
In this how-to program, we will focus on recreational kayaking and the equipment and supplies you will need to enjoy a great day on the water.
Focusing on the Basics of Kayaking
Plan ahead - Plan for the weather, pack for the trip length, research the location, etc. Discuss the route and pace with everyone going. Create a float plan. Read more on "What is a Float Plan".
Take a Course - The ACA National Paddlesports Instruction Program has courses on skill development, safety & rescue, kayaking and more. Boat-Ed.com has a comprehensive online paddlesport safety course approved by ACA. Or, seek out a local paddlesport training program in your area.
Know your Limits - Know your skill level and the skill level of everyone on the trip.
Learn how to Swim - If you don't know how to swim, you need to.  Even with a life jacket, know how to tread water will make you more confident in the water and can save your life.
Take a Buddy - The outdoors is better with others, so take someone with you. Having a friend not only makes the adventure more fun but, in an emergency they could also save your life.
Always wear a properly fitted life jacket - Life Jackets will protect you if you capsize or fall out of the kayak.
Follow Paddlers Etiquette -  While kayaking, you will encounter other boats, swimmers, and anglers. Prevent conflict among boaters by understanding natural habitat and water etiquette. After all, you and others want to enjoy the waterways safely. Keep the water and shoreline clean. Give boats and anglers a lot of room, you may be the smallest craft out there.
Pack Appropriately - Making sure you have the right safety and kayak equipment to keep everyone safe and engaged.
Watch Video: Practice the Golden Rules of Kayaking for Beginners by Paddle TV
What is a Float Plan?
As part of the float planning process, you should create a float plan and leave it with a person who will be remaining inland. This person(s) will have your return time and know the routes you are taking. They will be responsible for contacting authorities if an emergency arises. If you do not personally know anyone in the area, leave a copy with the local marina or law enforcement agency. Upon returning from the trip, be courteous and contact the person you left the float plan with so they know you have returned safely.
How do You Make a Float Plan?
Begin by making a list of important information to identify you, anyone on board or with you and your craft. Also critical is the route you are taking. There are several printable float plan templates online or you can make your own. Here's a printable float plan from NWorr.org.
Here are a few question that will be critical to a float plan
Where you will be going including route
Cell Number
Emergency Contact Number
When you are planning to arrive and depart
Who will be joining you on the trip
What type of kayak will you be using
Distinguishing features of your kayak such as size, type, color, hull
As part of the float plan, you should always take a friend and make sure that you know your limits based on water conditions. Remember water conditions will completely change based on the water level.  And, at times water passages can be impassable based on the water being too high,  too low or too swift.
A Life Jacket is Critical to Your Safety
Let's expand on critical safety equipment that you can wear while participating in any watersport—your life jacket or PFD. Wearing a life jacket will protect you when you capsize or run into conditions you did not expect.
The Ascend Paddling Fishing Life Jacket has reflective material front and back to enhance safety for peace of mind and Ventilated shoulder and back pads. The Ascend One-Size-Fits-Most Paddling life vest designed for active outdoorsmen and women who want gear that reflects their lifestyle. Side pockets hold trip supplies while small stash pockets make an ideal holder for snacks and small gear.
Tip: In 2019, the safety labels on life jackets replaced words with icons. Life jackets with old tags still meet all regulatory requirements. Learn more at U.S. Coast Guard Auxiliary here.
Steps to Follow When Purchasing a Life Jacket
There are several terms people use interchangeably to describe a personal floating device (PFD) such as life jacket, life vest and float coat. Life jackets come in a wide variety of shapes, colors and, sizes.
Tip: How to Choose the Right Life Jacket or Vest
Check Label: Make sure your life jacket is U.S. Coast Guard approved.
Look at User Weight: Not all life jackets are equal, so check the label. Children's life jacket sizes are by weight.  Adult life jackets are sized by chest size instead of weight.  Sizes of life jackets for adults range from XS to XXXL. It is important to note that life jackets designed for adults will not work for children.   
Determine Performance Level: Wearable life jackets divide into five buoyancy categories: 50, 70, 100, 150, and 275 Newtons, which is a metric measurement equivalent to pounds-force. The new system synchronizes the regulations between Canada and the United States. Choose the level of buoyancy for the type of activity.The higher the number, the more buoyant. The curved arrow indicates that it is likely or not likely to turn an unconscious wearer face-up in the water.  Be sure to check the label to ensure the life jacket is approved for your activity.
Use/ Activity Approval: This panel allows you to determine quickly the activity in which the life jacket is appropriate to participate in while wearing.
Check for Damage:  Life jackets don't have an expiration date, instead look for discoloration and visible damage to the jacket, mold, broken buckles or zipper.
Buckle and Zip: After putting on a life jacket, pull the straps, so the life jacket is snug, yet comfortable.
Ensure Proper Fit: To check for proper fit, lift the shoulders of the life jacket to make sure it does not slip over the chin of a child.
Wear It: A life jacket only works if you have it on, and you never know when you are going to need it.
Float Trip Gear & Essentials Packing
Planning also includes packing the proper gear for the trip. Your packing list will vary by the time of year, where you're floating, and the reason your going.For a short day trip, here is a handy float trip packing checklist to print out.
What Type of Kayak is Best for Beginners?
We recommend recreational kayaks for beginners. Recreational kayaks are easiest to learn in. The American Kayak Association lists two main categories for kayaks; Flat water and Whitewater. And, there are five types of flat water kayaks; sit-on-top, recreational, touring, inflatable and pedaling kayaks. We will focus on the sit-on-top and sit-in kayaks.
Sit-on-top Kayak
Primarily recreational boats for lakes and easy flowing rivers. An excellent choice for beginners as they are stable, easy to get in and out of, and with no feeling of confinement.
They are comfortable when the air and water temperatures are warm, as you will get wet. They are self- bailing with scupper holes that allow the water to drain right out.
Inside the hollow hull, they limited hard to access storage areas.
They are typically heavier than comparable.
The Ascend 10T Sit-On_Top Kayak has a unique tunnel hull design for impressive maneuverability and a stable platform for standing or fishing. The design is optimized for accessory customization and unique storage opportunities. This Ascend kayak is the best choice for adventurers and anglers seeking performance and stability.
Sit-in kayaks
They are the more traditional design.
Due to protection from the wind and water, they remain comfortable when air and water temperatures are cold. Add a spray skirt for further protection.
They offer more storage and recommended for longer trips.
Their more narrow design makes them a little less stable.
Tend to be more efficient to paddle due to a lower center of gravity.
More storage capabilities.
The position of your body and multiple points of contact inside the boat (butt, knees, and feet) will give you greater control, which is particularly useful in rough water and can also be more fun for maneuvering.
The Ascend D10 Sit-In Kayak is designed to meet the needs of all kayakers, the D10 starts with an advanced tunnel hull design for maximum stability and ease of paddling. The large open cockpit gives you greater flexibility in cargo management as well as offering easy entry and exit at the shore with little restriction of movement out on the water. The Cooler Hold Down System in the stern cockpit allows for quick access and proper storage of a cooler up to 36 quarts in size.
Kayak Performance Types & Terms to Know
Hull Type- The hull is the shape of the bottom of the boat. It can make a difference in performance and the paddler's stability on the water.
Primary stability (also known as initial stability) refers to how stable the kayak is when you're first getting into the boat. Primary stability means you're less likely to flip when you step into your kayak and sit down.
Secondary stability refers to how stable it is once you start paddling. Secondary stability means you're less likely to roll over as you start moving through the water.
What Size of Kayak Works Best for You?
Recreation kayaks are 8 to 13 feet made for small lakes, rivers, creeks, and other calm flat waters.
Touring Kayaks are 14-18 feet built to handle sizable rivers and lakes. Touring kayaks have more storage for longer trips and a thinner design to cut through the water faster.
The width will determine stability and speed. The wider the kayak, the more stable and a bit slower. Overall, recreation kayaks have a wider hull than touring kayaks.
   Types of Boat Hulls
Flat Hull: The flatter the hull, the more stable your kayak will be. Flat hull kayaks are ideal for recreational kayakers in glassy water conditions. Often the right choice for beginners.
Rounded Hull: The rounded edges of a kayak hull can increase speed and allow for less challenging travel through the water compared to a flat hull kayak. A rounded boat hull makes the kayak more maneuverable and offers more secondary stability.
V-Shaped: These hulls cut through the water and help the kayak travel in a straight line. They are ideal for touring or long-distance trips. They may feel a bit unstable at first since they provide the least amount of primary stability. However, v-shaped hulls offer better secondary stability.
Pontoon: This hull has a rounded bottom with an inward depression. They are known to be very stable because they combine the primary balance of flat hulls and secondary stability of rounded hulls. But they do tend to be slower.
Chine: The chine is the line where the boat's bottom and sides join. The chine is either hard or soft. A hard chine means a more angular meeting of the hull edges, while a soft chine refers to a more rounded one.
Hard chines are known to track slightly better and offer better primary stability balance when entering the boat. Due to the flatter surface, they are more prone to tipping in rough water conditions.
Rounded chines are better at providing secondary stability balance and known to be generally faster. They offer a more predictable response when the bottom of the boat comes in contact with shallow river bottoms.
Learning the Parts of Your Kayak
Understanding the different parts of your kayak and how they work is vital as you begin to learn kayaking skills, as it will allow you to understand the experts during the learning process.
Kayak parts
Bow - Front of the boat
Stern - Back of the boat
Seat - Like it says where you sit in the boat
Cockpit - Opening in the boat where the boater sits
Bungee cords - Storage area for cooler or other items you want to take. Bungee cords hold things in place while boating
Grab loop - Loop that you can carry a kayak, pull into the water, tie up, etc
Carry Handle - Handle to pick up and move the boat
Hull - this is the bottom of the kayak
Learn the Basics for Choosing a Paddle
When deciding on a kayak paddle, you need to consider these four basic points:
Length: Your boat width and height determine the length of your kayak paddle. (see chart)
Materials and cost: Lightweight materials improve performance, but add to a paddle's price. Aluminum paddles are cheap but also one of the heaviest. Plastic paddles are also inexpensive and popular with beginners. Fiberglass paddles are another good choice for lightweight and reasonability priced. Wood paddles are also lightweight, and the cost is low. Carbon Fiber paddles are lightweight but also more expensive and not as common. The material choice should always consider how often and how far you plan to kayak.
Blade choice: The paddle's blade size and shape affect its overall efficiency in the water. The most common blade shapes are long and narrow or short and wide. The long - narrow shape is more comfortable for most kayakers. This shape is ideal for touring and recreational paddling. The short - wide blades scoop up a lot of water and provide a more powerful stroke.
Shaft choice: Many paddlers use straight shafts; however, if you have issues with your wrists, consider a bent shaft, which puts less strain on them. A bent shaft or 'feathered paddle blades' can also improve a paddle's effectiveness and reducing wind resistance.
Using the chart, you can take the kayaks width and the paddlers height to determine the recommended length of the paddle
Read: How to Pick the Right Kayak Paddle
If possible, practice with your paddle before taking a long trip to confirm the perfect fit.
Understanding the Kayak Paddle Parts
Your paddle is the engine of your kayak and you're the energy that moves the engine. Learning the parts of a paddle will help as you learn to use it.
Shaft - Area between the two paddles
Grip - The location in which the paddler holds the paddle
Throat - Part of the paddle shaft between the grip and blade
Blade - Part of the paddle that moves the water
Learn the Basic Kayak Paddle Strokes
Learning  basic paddle strokes will allow you time to enjoying your float. These five strokes are easy to master and simple enough to remember on your next kayak or canoe outing.
Top Easy to Learn Paddle Strokes
Paddle Forward Stroke
Paddle Reverse Stroke
Paddle J-Stroke
Paddle Pry Stroke
Paddle Draw Stroke
Check out more information about these five paddle strokes and read 5 Different Strokes for Paddling Folks.
How to Dress for Kayaking
Clothing for kayaking is a lot like other outdoor activities. You want comfort while you're on the move. You don't want to be too hot, too cold, too wet, sunburned or windburned. You'll want your clothes to be versatile and durable.
Follow these general guidelines as you decide what to wear.
Dress for the water temperature and not the air temperature. While kayaking or participating in any paddlesport, you need to plan that you will get wet. In colder conditions, you may need a wet or dry suit.
Dress in layers, especially on top. The weather conditions may change along the route, so having layers you can remove or add is ideal.Avoid cotton because it absorbs water and stays wet; seek quick-drying fabrics like nylon, polyester, or synthetics. For the clothing layer that touches your skin, go with a wicking material.  Wool is also an excellent choice in cold water conditions; it dries less quickly but insulates when wet.
Wear comfortable clothes to allow you to move freely in and out of the water. Rugged fabrics that can stand up to the wear and tear of sand, water, and rough surfaces are a plus. Saltwater corrodes many metals, so sturdy plastics are a good alternative. Most metal components in paddling-specific gear are corrosion resistant.
Dress for sun protection. Regardless of cloud cover, a day on the water is a day of sun exposure. Taking a hat, sunglasses, and sunscreen is essential. Wearing clothing with UPF-rated fabrics is a plus.
How Will You Transport the Kayak?
Before purchasing a kayak an important thing to consider; how will you transport it. It is possible to carry most kayaks on any vehicle. If you have a pickup truck, carry it in the back securing it with tie downs. If a pickup is not available, a roof rack system or kayak trailer are other options.
Sunglasses Can Change How You See the Outdoor
Premium sunglasses not only provide essential protection from the elements like sunlight, wind, and debris, but they can also greatly enhance your enjoyment of outdoor recreation.
There is one feature on premium sunglasses that can dramatically improve your experience in water environments. Polarized lenses will reduce the glare from the sun on water.
Pretty amazing difference. Polarized lenses have a special filter inside the lens that blocks the bad light—glare, but allows the good light in so you can better enjoy your experience on the water.
Another fantastic feature that's only available in premium sunglass brands like Ray-Ban, Costa, Oakley, and Maui Jim is called color-enhancing lens technology.
Color enhancing lenses are changing the way we see our world by utilizing special dyes in the glass that enhance colors.
These revolutionary color-enhancing lens advancements go way beyond ordinary sunglasses that make everything dark and dull colors and even natural eyesight, to reveal Mother's natures true beauty.
If you don't have a kayak, check out your local lakes and rivers to see if they have rentals. Also, both state and national parks have lots of kayaking opportunities. Kayaking is a great way to get started, then once you are ready to purchase a kayak, check out Bass Pro Shops or Cabela's stores across North America.