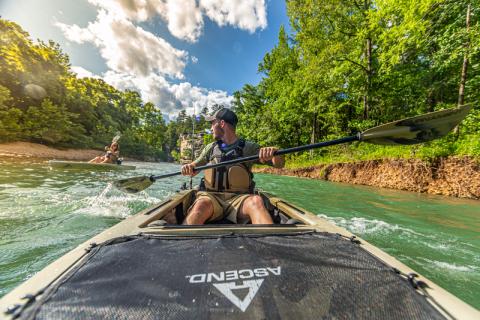 Kayaks open an incredible range of opportunities to those who use them. When paired with the right equipment, kayaks can be many things: highly capable fishing platforms, remote camping expedition vessels, or just the perfect package for a relaxing day on the water.
Getting the most out of your kayaking experience requires the right gear. Here is our take on the essential kayak gear list. It provides everything you need to get out on the water.
Kayak Paddle
The most basic kayak accessory is the paddle. Without one, you will not make it very far.
When selecting a kayak paddle, look for one that is double sided, light weight and durable. Feather shaped paddles are designed for efficiency, allowing you to maximize thrust through the water while minimizing effort needed to push it through the water.
High performance paddles will be composed of lightweight materials. Paddle shafts composed of fiberglass are a great option that combine weight savings and value.
Here's a few of our favorite kayak paddles:
Double-sided, fiberglass shaft, feather shaped paddles, equipped with drip rings and notched lure recovery hook that allows paddle to help remove snagged lures.
Great combination of performance and value. Features rubber coated aluminum shaft and fiberglass-reinforced nylon blades.
Combines value and performance in a small package. Smaller and lighter design allows kids to paddle and more easily control their kayak than when using an adult paddle.
Youth paddles pack all of the performance of adult paddles into a smaller, more manageable package.
Life Jackets
Life jackets are standard kayaking equipment. Bass Pro Shops and Cabela's feature a number of life jacket models that allow you to tailor your life jacket to the way that you use your kayak.
Some models incorporate the ability to pack and organize fishing gear. Some are designed to be compact enough that they will not inhibit your paddling motion. There are also a number of life jacket options for kids and young kayakers (outfitting your kid with a well-fitting life jacket is very important for keeping them safe and for ensuring that the life jacket functions properly).
Designed with the serious angler in mind, allows the kayaker to keep his or her most frequently used tackle close at hand.
Ascend's Deluxe life jacket is highly adjustable (featuring eight points of adjustment) and designed for comfort. With ventilated shoulders and back pads and reflective material on front and back, this life jacket combines performance and preparation.
Low profile, inflatable life vests do not impinge movement while paddling.
Lightweight and low profile, this inflatable PFD stays out of the way until you need it. The USA AMM 33 is Coast Guard approved and inflates automatically when it encounters water pressure.
Storage and Storage Accessories
Crates, dry bags and bungees... organized and ready for action!
When you take out your kayak, you'll need to bring everything you need with you. While the exact list of gear and accessories will vary with your situation, here are a few staples that will help you make the most of your kayaking experience.
Ascend dry bags keep your kayak organized and your gear dry.
Dry bags are great. They come in a variety of sizes. They are soft-sided and roll up, meaning that you can compact and compress their size to match only what you are bringing.
You can mix and match dry bags, keeping your clothes separate from your camping gear. You place a dry bag into one of your kayak's gear stowage areas, pop it into a crate or bungee it down wherever you like.
Dry bags provide lots of options for packing, storage, and keeping yourself ready for kayaking. You can even keep your fully stocked dry bags in the garage—ready for kayaking at a moment's notice.
Made of high-density plastic, the Ascend Heavy Duty Kayak Crate allows you to not only haul your gear but attach accessories as well.
On the water, you can tie the crate to your kayak with bungee cords, rope or paracord. The ribbed construction means that you won't have to worry about the crate filling with water. The crate's stackable design can help with organization and storage of your kayak gear between trips, too.
Cordage: Paracord, Rope and Bungee Cords
Rope is an essential and widely useful component of the kayaking experience. Cordage can help you hang your kayak in the garage between uses, secure it during transport, fasten your dry bags and coolers while on water, and tie off an anchor if you want to keep your kayak from drifting off your spot.
There are a variety of cordage options. They include those that are elastic—that impart their own tension—and others that are not. When considering which cordage option is right for you, consider the following variables:
Rope diameter—make sure that your line is thin enough to fit into the spaces you'll need to use it in.
Working load—be sure that your rope (or ratchet straps) are rated highly enough to safely secure your kayak before transport.
Length—be sure that your rope is long enough for your intended purpose (i.e. use as anchor line).
Elasticity/ Self Tensioning—bungee cords work great for securing gear on your kayak because they impart tension. Non-elastic rope or paracord does not function this way, but can serve the same purpose when tied correctly.
Paracord is a great option for use with kayaks. It's combination of strength to diameter makes it versatile and highly usable. You can buy a couple 100' rolls and you'll be ready for anything. You can measure and cut your dedicated anchor line, save a section or two for securing your kayak for transport, and keep the rest in your kayak bag in case other uses arise (tying off a bait bucket, tying your kayak off to a tree, etc.).
Bass Pro Shops and Cabela's carry a variety of rope and bungee options. The option that is right for you depends on the size of your kayak and other outdoor activities that you may wish to use the rope for.
The Ascend 133X fully loaded... notice the Polar Cap cooler behind the seat.
Coolers for Your Kayak
Coolers are an essential part of any kayak trip. Bass Pro Shops and Cabela's offer a wide range of coolers that work well on kayak expeditions.
What type of cooler and where you will put it depends largely on the size and configuration of your kayak. The Ascend D-10 Sit-In Kayak features an open cockpit that can accommodate coolers up to 36 quarts. The Ascend 10T and 12T kayaks feature designated storage areas in the front and rear.
To find which cooler style works best for your set up, just measure the area in your kayak where you plan to place the cooler. Then compare the footprint of your cooler storage zone to the dimensions of the bottom of the cooler.
Soft-sided can coolers are compact, easy to store and ready to go.
In addition to small hard-sided coolers there are a wide range of soft coolers and backpack coolers that work great on kayaks. While on day trips, you might opt for a smaller model, a larger 25 quart Polar Cap prepares you for kayak-based camping and other adventures.