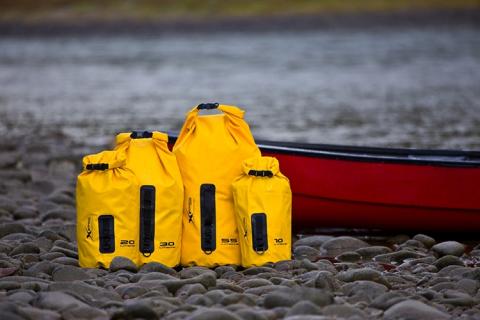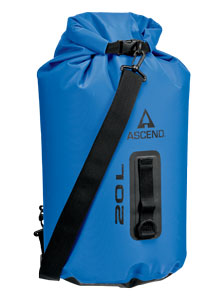 Dry bags come in a number of sizes for different needs.

For all of us that dream of floating down rough rivers, either fishing or roaring through whitewater rapids, a quality dry bag is an absolute essential. Cameras, video equipment and GPS units are just a few expensive items that can be ruined with just a simple dunk under the water.

For short or half-day outings, a small pouch dry bag can keep your wallet, cell phone and camera protected. For more extensive trips like entire weekend getaways, larger dry bags are a must for keeping food, clothing and camping gear free of dirt and water. Of all the things in the world that can ruin a memorable float trip, having your clothes and gear soaked has to be near the top of the list.

Dry bags come in a wide variety of sizes and styles depending on the item or items you wish to keep safe from the water. In all essence, a dry bag is an easy, one-bag watertight solution for your precious items.

Generally dry bags have transparent sides allow you to see the items you pack away and sit upright like a tote bag for easy access. The top of these special bags first roll and then fastens down for total waterproof protection. The fasteners on these types of bags are simply a strip of Velcro or a buckle, but with the rolled down collar, the bag becomes watertight even if submerged for extended periods of time. Large enough to hold your favorite fishing vest, raincoat and waders, dry bags are very versatile types of luggage that should be used by any serious outdoorsman who thinks they might encounter a bit of water on their next adventure.

Features of a Quality Dry Bag
Thick, high-grade tear-resistant synthetic material


Transparent outer material (to easily locate belongings)


Nice, bright visible colors (to see your bag as it bobs downstream)


Large, easy access to the inside of the bag


Water-tight seal


Sturdy D-rings for attachment to a backpack


Secure padded shoulder strap (large models)


Standard Types of Dry Bags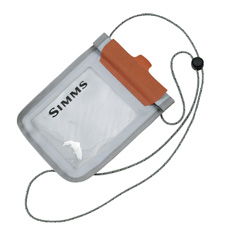 Smaller bags to house cell phones and other electronic devices can come in handy when not using a larger dry bags.
Cell phone/Camera Dry Bag: Two of your most prized possessions, your phone and camera, need considerable attention and protection from the environment. First and foremost, the dry bag that you choose will need to be able to handle a serious dunking and lots of opening and closing. Sturdy splash-proof Velcro combined with a curved shape that narrows at the top to securely close the bag is a must. Additionally, the dry bag you choose for your should be large enough so that you can add a removable interior padding to further protect your electronics from small bumps and bangs. Some sort of an attachment mechanism should be associated with the camera bag so that you can securely hook the bag to your waist or backpack. Typically the size of camera or phone will dictate the size of the dry bag but in most cases a 5.5" x 5.5" x 3" should do. Hard, waterproof cases are also available for valuable belongings.

The Roll-top Lumbar Bag: This dry bag system allows adventurers to carry extra items when you're on the water or hiking to remote sections of stream. This pack can be used as either a roll/fanny pack or small back pack. The lumber dry bag offers plenty of storage room for padding to protect cameras, extra reels and anything else you wish to protect. Lumber pack come in 13" x 6" x 5" size.

Roll-top Backpack: This special dry bag is great for carrying medium-sized items that you might need during a day's worth of floating or fishing like fly boxes, maps or extra clothes. Dry bag backpacks are large enough to store at least a day's worth of extra clothes or a picnic lunch for two. The fully-adjustable shoulder straps and buckle system built into these packs makes carrying a full or partial load, snug and comfortable even after a full days worth of play. Splash-proof, zippered outer pocket are also a good idea. A good size for a roll-top backpack is 18" x 15" x 6", but bigger models are available if they need be.

Storage Dry Bag: On any trip that is going to be longer than a day or so, many additional items are need to make your experience outside as pleasurable as possible. Large storage dry bags are great for packing away additional items that you might or might not need depending on the weather conditions. Heavy clothes, blankets and sleeping bags are few of these items that storage dry bags can be used to keep safe from the outdoors. Any storage bag that you consider purchasing should have heavy duty straps or strings attached so that you can move these bags back and forth easily.

Dry bags are one of those special items that most serious outdoorsman never give a second thought about. They can protect your most expensive gear like GPS units, cameras or just an interesting novel that you are looking forward to finishing up in the fresh air. Dry bags come in a wide variety of styles and size and can water-proof just about anything you decide to bring on your next outdoor adventure.