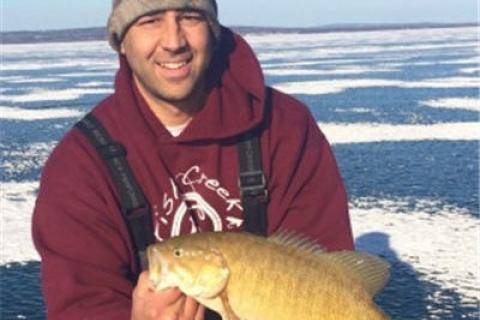 Itching for summer smallmouth action? No need to wait until ice-out to battle trophy bronzebacks. With many fish over the 20-inch mark, Lake Superior's Chequamegon Bay has some of the best smallmouth bass fishing the state has to offer.  They don't disappear when hard water shows up.  Understanding where smallies sit in the bay and the best ways to target these large predators will make your day on the ice much more successful.


1.    Stick To Structure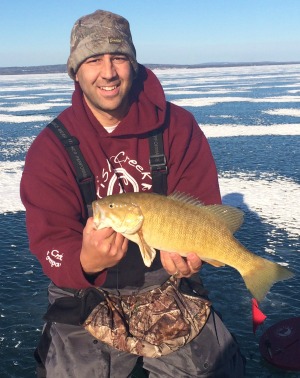 Superior Smallmouth: These bronzebacks don't disappear when hard water hits—you just have to bring the right tackle and know where to find them.
Finding fish in a body of water as large as Chequamegon Bay is not easy.  Remember to keep it simple and stick to structure.  During the winter, smallmouths tend to migrate toward isolated rocks and weed lines adjacent to deep water. Make sure to mark these hotspots on your electronics during the summer so you can find them easily after ice-up.


Rocks or green weeds in 10 to 20 feet of water will be the most productive.  Smallmouth come to these areas to feed on minnows. Mud flats adjacent to weeds in five to ten feet of water can also produce nice fish. This is typically more of a late ice pattern, but a reliable second option.


2.    Watch for Warm Days


The best time to target smallmouth through the ice is when the weather is somewhat warm and stable. The warmer the temperature, the better the bite seems to be. If temps plummet, bass will follow suit and move to deeper water.  At this point they typically become dormant and can be very tough to catch. Watch the weather and take advantage of consistent temperatures or a slight warming trend.


3.    Fish the Floor


When fishing for smallmouth bass through the ice, remember that these fish will cruise the bottom. Set tip-ups or jig near the lake floor to ensure your baits stay in the strike zone.


Spoons with an aggressive jigging action are top performers on the ice. The Northland Buck Shot Spoon or the Northland Glider Spoon (both in 1/8 ounce) are great go-to lures. Tip these spoons with small minnows or soft plastics to enhance the presentation.


The hard water season does not mean the end of chasing bronzebacks.  As fun as it is to catch these beauties in the summer months, light lines, small jigs and limber ice rods can make for a challenging adventure.