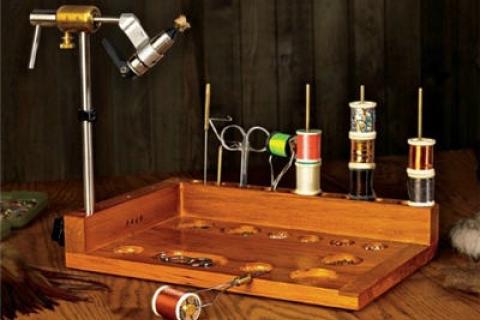 A common misconception amongst inexperienced fly tiers is that prepped materials are the only ones worthy of a place by the vice. Veteran tiers eventually learn that being creative and using unlikely materials can save money and create some truly eye popping patterns.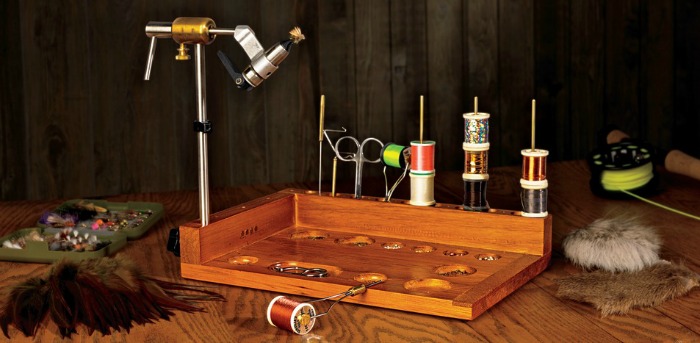 Many fly tiers limit their abilities by only using conventional materials. Use your imagination when sitting down at your fly tying vice and bring some new life to old patterns.
Over the last twenty years of tying I have come to the conclusion that, if I look hard enough, I can find tying materials almost everywhere. Here are five unlikely materials that have become some of my favorites:


1. Gift-Wrap


This is an item that you can find at almost any store, especially around the holidays. Depending on how creative you are, it has endless uses. When looking at what gift-wraps to select, remember that you need plastic not paper.  I like to use wraps that come in metallic, pearly, or transparent finishes.


Don't waste time trying to trim these materials with your scissors. Use a sharp razor and a ruler to cut precise strips.  These are perfect for body wrappings on salmon flies, added flash under hair wing baitfish, shellbacks for scuds, and underbodies for epoxy minnows.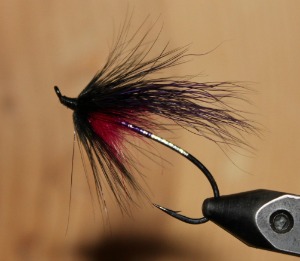 This salmon fly was tied using gift-wrap and a Halloween wig.
2. Halloween Wigs


Wigs don't only make great tying material; they are a blast to shop for. Aside from trying on each wig for its visual appeal, I like to look for wigs that have been died bright colors and have long fibers. These synthetic fibers can be used for a multitude of minnow or baitfish imitations.


Tiers can layer the materials to create very realistic and attractive patterns. Synthetic wig materials do not absorb a lot of water, they are very colorful, and with a bit of epoxy applied at the head of the fly, they become very hard to destroy.


3. Birthday Balloons


Here's another material that you can find in stores, and possibly around the house, all year round. Balloons are available in almost any color, but the new glow colors add an interesting twist to existing flies. Balloons in yellow, tan, green, or glow white make good larval bodies for nymphs. If you can't get the exact color you need, permanent markers can help doctor them up.


Balloons are useful in creating shellbacks for scud patterns. The stretch gives them a realistic look for scuds and makes them relatively easy to use.
The tighter you stretch the material, the smoother it will look. On other patterns, a tight stretch also gives you the opportunity to add hackle barbs or legs in successive wraps.


Just like the gift-wrap, use a razor and ruler to cut the balloons, rather than scissors. If you are able to cut your balloons thin enough, the strips can be used as rubber legs in streamers or designed as claws for crayfish patterns.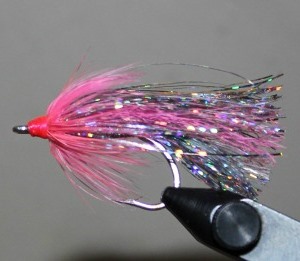 The shimmer of gift-wrap was combined with dubbing made from carpet to create this flash fly.
4. Carpet Samples & Scraps


Carpet fibers, if cut from the backing and blended, are great for all standard nymphs, dry flies, and streamers.  Add a bit of sparkle yarn when blending dubbing if you want some flash. Just cut fibers from the backing, then spin, stack, and tease them out to create dense heads for minnow patterns.


5. Envelope Windows


Envelopes that feature plastic windows are typically accompanied with credit card bills, bank statements, and junk mail. Their negative connotation will quickly disappear when you realize these little beauties are fantastic for wing-cases and shellbacks on nymphs or scuds. They are great for being epoxied over as they don't absorb the adhesive.  


If you are going to be tying large dry flies like Hexagenia, envelope windows are perfect for simulating the large transparent wings. Use a black pen to make a checkerboard on them for an extra layer of realism—but that is more for the angler than the fish. If you have trouble shaping the wings correctly there are cutter sets available that allow for a more precise pattern.


Take a look around you, and discover potential fly tying materials almost everywhere.  When you find a potential material, experiment with different fly patterns and techniques. You will be amazed at what using some non-traditional materials can do to bring life to your old flies.