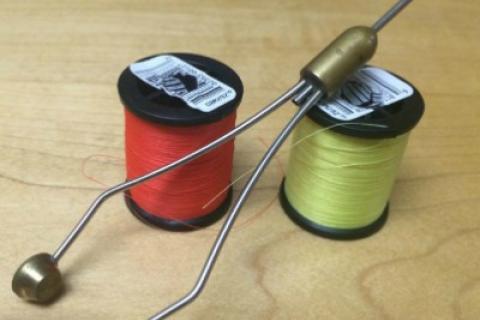 Over my years in fly tying, I have been lucky enough to test nearly all fly tying bobbins. There are so many different varieties and styles of bobbins on the market today, it amazes me that fly tiers can actually find what they need. From cheap to expensive, automatic to manual tensioning; bobbins have come a long way. What do you actually need in a bobbin to tie flies? Below are the basics that you should look for when purchasing a bobbin.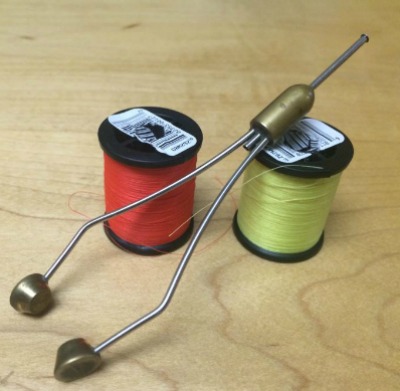 When shopping for fly tying bobbins, one of the first considerations is buying a tool that fits standard-sized spools.
1. Sized to fit standard thread spools
Not all thread company's spools are the same size or shape. One of the most common diameters for spools is 7.9 mm (0.31″) and the bobbin you choose should definitely fit those, but being able to accept a few different sizes of spools will make it easier for you to use varying thread companies. Another good point to consider is the bobbin you select should be sized so that thread spools fit on securely. If they don't, there will be an opportunity for the thread to foul up and tangle as you work.


2. Internal finish that protects the thread
As you tie flies, you will be putting varying pressure on the tying thread coming out of the bobbin tube. These tubes need to be flared, polished or have ceramic inserts so that you do not fray or break your thread as you tie. Cheap bobbins are notorious for fraying thread at the point where the thread exits the tube, and this problem will drive even the most patient tier over the edge.


3. Thread tension control
The bobbin you select might have basic (manual) or advanced (automatic) tensioning for the thread. Personally I like being able to handle the thread with my hands and apply the tension I want, but if you have tension problems (regular thread breakage), then the auto devices might be a way to solve it. Whichever you choose, the bobbin should have a smooth feeling to the drag, allowing you to let out or collect thread as needed.


Selecting the right bobbin is something that every fly tier should be able to do with confidence and ease.  Keep in mind these few simple points, and you will find a bobbin that will satisfy your needs for years to come.


Bass Pro Shops carries bobbins and all the other fly tying tools you need.