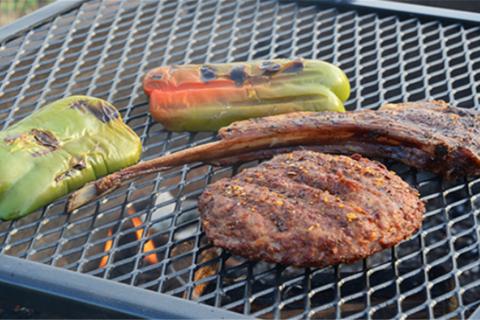 A Portable, Versatile Way to Cook Over a Campfire
Searing a steak or burgers over a glowing bed of coals from a campfire is the ultimate in outdoor cooking experiences, but it takes the right setup to do it right.
Perhaps the most important piece of equipment is a sturdy cooking surface. We've found one that works great in the form of the Adjust-A-Grill.
This portable grill consists of a 24-inch steel stake and 16-inch by 16-inch square steel grate. The removable grate slides onto the stake via a steel sleeve and secures in place with a heavy-duty thumb-screw.
Simply pound the stake into the ground, set the grate at the level you wish to cook and fire up the wood or coals. With some care, you can swing the grate over or off the fire to help control heat or load the grate easier.
The pole and grate have a heat-proof finish that we found stands up to some pretty hard use. You can expect both the finish and overall construction to last for many seasons.
We use ours on a permanent fire ring in the yard, but it's just as versatile to use as a portable grate for camping, and comes with a travel bag for just such a purpose.
Tip: How to Build Your Perfect Camp Kitchen - infographic
As many customer reviews have noted, the grill could come with a longer stake. For most uses it will work fine, but on taller fire pits, like ours, the grill barely clears the top. In loose or sandy soil, the stake also needs to be pounded in fairly deep for the most stability. However, set over a simple campfire or, better yet, a glowing layer of coals, the Adjust-A-Grill is great, stable option for outdoor cooking.
Check out the Video Recipe: Quick & Easy Grilled Corn on the Cob