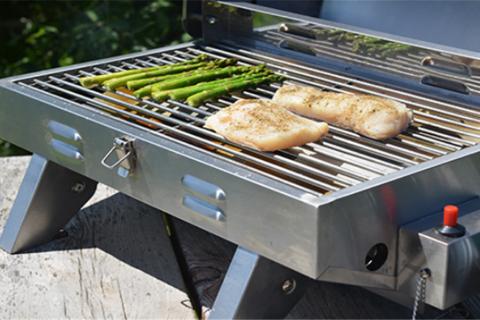 Experience a Lot of Cooking Power With the Cabela's Portable Tabletop Grill
Our first impression out of the box is Cabela's Stainless Steel Tabletop Grill is heavy duty.
The all-stainless-steel construction is sure to stand up to the kinds of abuse that come along with on-the-go grilling.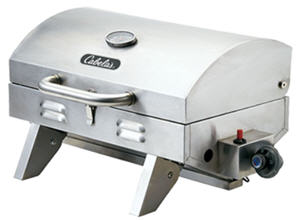 There is a bit of assembly required, but it's very basic. For shipping purposes, the handle comes from the factory mounted on the inside of the grill; it just takes a few minutes with a Phillips-head screwdriver to flip it. The regulator also comes detached, but screws on easily with the included half-inch wrench. We went from the box to cooking within 10 minutes.
The burner, at 12,000 BTU, isn't a jet engine, but it provides more than adequate heat for any grilling application and heats well in excess of 500 degrees when set to high. A sloped heat shield sits between the burner and the stainless steel grate to keep flames from reaching the food and direct grease away from the burners ups. There are some slots in the heat shield, so flare-ups can happen, but we found they were greatly reduced over open-burner style portable grills.
The grate measures 18½ inches long by 11½ inches wide, providing more the 210 square inches of cooking space. That's enough for a couple of steaks, plus a foil pack of potatoes or a mixed grill of fresh summer vegetables. Note the grill is not nonstick, but preheating the grate and wiping it with an oil-soaked paper towel before cooking does keep food from sticking.
Cabela's Stainless Steel Tabletop Grill features a full-length stainless steel drip tray that removes easily, almost too easily in fact. We wish it had a tab or other lock to keep the tray securely in place during transport, but with a little care you're not going to lose the 1-inch square, 18-inch long tray.
All in all, we couldn't ask for a better option when it comes to grilling on the road, whether from the tailgate at sports events or at the campground. Heck, it would even make a great grill for the apartment dweller or anyone looking for a smaller option to cook great meals outdoors.