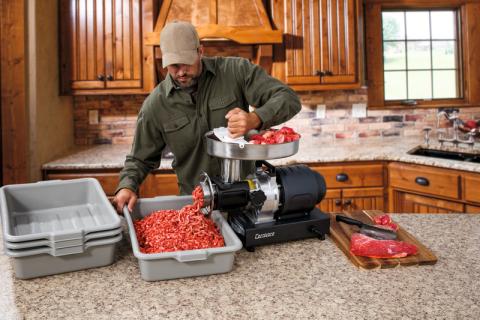 Meat grinders bring many advantages to whatever kitchen or hunting camp is lucky enough to own them. There are, however, a variety of options and features at a number of price points. How then should you go about choosing the right meat grinder for your situation?
As with many things in life, higher end meat grinders will be more powerful and have more functions. They will also cost more. Choosing the right meat grinder for your situation involves balancing the performance, ease of use and output you need from a meat grinder with the price point that you are comfortable with.
For many, the first step is to consider how you plan to use your meat grinder. If you plan to process multiple deer every year, you'll likely need a professional or commercial grade grinder.
If you are new to grinding or plan to use it occasionally, you might have more options. That said, the professional and commercial grade units can not only handle higher workload, but are also easier to use, produce higher quality grinds, grind meat faster, and offer a greater variety of grind sizes and sausage/snack stick making applications.
How to Choose the Right Grinder for You
Before getting into the specifics of each model, we have created the following list to make comparing different meat grinders easy. As a baseline, you can evaluate meat grinders on the following attributes: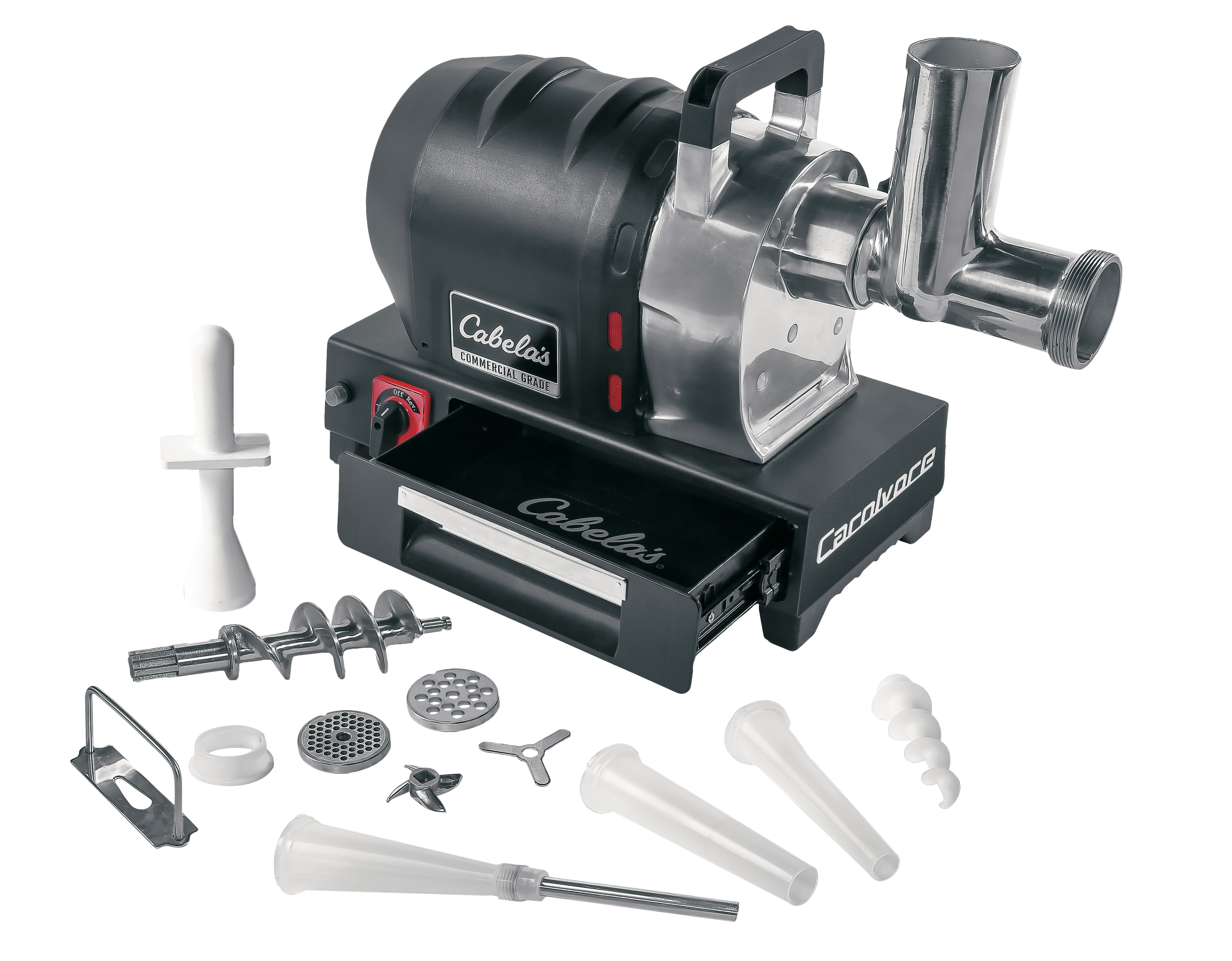 Volume of Output - Generally expressed in terms of pounds of meat ground per minute.

Technical Innovations - grinding meat produces quite a bit of heat. Higher end, commercial grade options—like the Carnivore—are built to hold up to heavy use. Lower end units might cost less but could heat up and require breaks during long grinding sessions.

The Carnivore features a permanently lubricated housing, an air-cooling system for the motor and a Cool-Tek Gel Ice Pack that fits around the grinder's neck to prevent diffusion of heat into the meat that you are grinding. All of these features are included to support heavy work loads and longer grinding sessions.

You will want to consider your prospective workload when purchasing a grinder. If you are not sure how much you'll use it, you might be better off going on the high side rather than the low.

Size of Motor - The following range from 400 watts to 1/2 horsepower. All else being equal, the larger the motor, the more powerful the unit.
Grind Size Options - Higher end meat grinders will often support a wider array of grind sizes. Different grinds are better for different applications. The more options you have, the greater variety of products you can make. You might prefer our burgers to be shaped from coarse grind. Fine grind might be your favorite method of making snack sticks.
Composition of the Unit - The models described in the article range from aluminum, to die cast aluminum to steel.
Grinding Modes - Basic models might only have forward and reverse. More advanced models will feature forward, reverse, stuffing, and half speed modes. The greater the variability, the more your grinder will be able to do—but the more it is likely to cost.
Accessories - Higher end meat grinders will likely come with more accessories. These tools—like different sized funnels for making snack sticks, sausage and summer sausage—make it possible for you to use your meat grinder to create all manner of tasty venison products.
The Cabela's Line Up of Meat Grinders
What follows is a breakdown of three of our favorite Cabela's meat grinders. Each includes a discussion of what the grinders are best at doing and what type of person would be benefit from owning each model.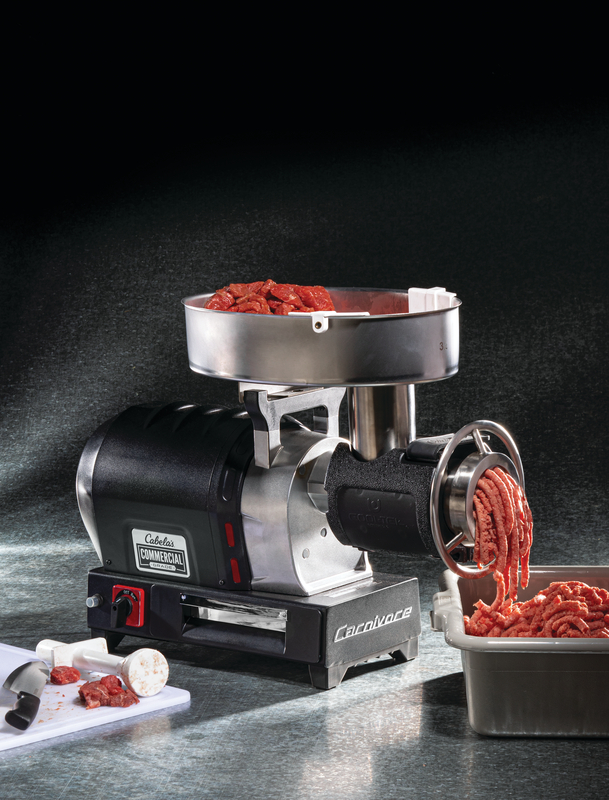 If you are someone who processes multiple deer each year or need a grinder for hunting camp, your best bet likely lies with the Carnivore line. Composed of stainless steel, featuring ETL Sanitation certification for commercial use, and infused with a number of innovative technical features (patented auger pull handle tool and Cool-Tek gel Ice Packs to reduce heat transfer in the neck of the unit, and more), the Carnivore is available in models ranging from 1/2 to 1.75 horsepower.
Carnivore Commercial-Grade Meat Grinders are top of the line. Carnivores incorporate cooling technology in the motor to support a heavy work load. The Cool-Tek Gel Ice Packs fits snugly around the grinder's neck to prevent the transfer of heat from the unit to the meat that you are grinding.
The half horsepower model can grind up to seven pounds of boneless meat per minute. It can also handle your sausage and snack stick making needs. The Carnivore is not only built well and made to last but is designed for easy disassembly and clean up.
When you are done grinding, you simply remove the neck, twist off the grinder plate, remove the auger and blade. You can then rinse off any residual meat or scrap and pop the cutting parts, meat tray and neck into the dishwasher. Wipe down the body of the unit and you're done.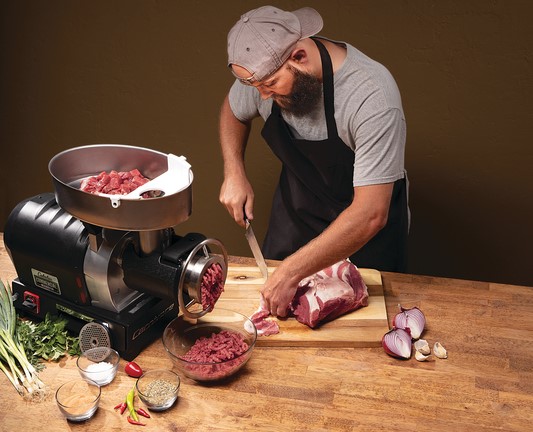 It is priced higher than other units but depending on where in the country you live (and what options you select from the processor) the 1/2 Horsepower Carnivore costs less than sending one deer to the processor. From this perspective, purchasing the Carnivore once not only saves you time and money for years to come, but provides you unlimited options to turn your harvest into exactly what you would like.
Benefits to Owning the Carnivore
The Carnivore is perfect for people who regularly grind meat and those who demand high performance from the products they use. Ideal for hunting camps or high-volume applications—people who like to hunt and like to grill.
Top of the line. High performing and made to last.
High volume output.
Designed for ease of use. Not only does it cleanly and efficiently grind meat, but it is easy to disassemble, clean and reassemble.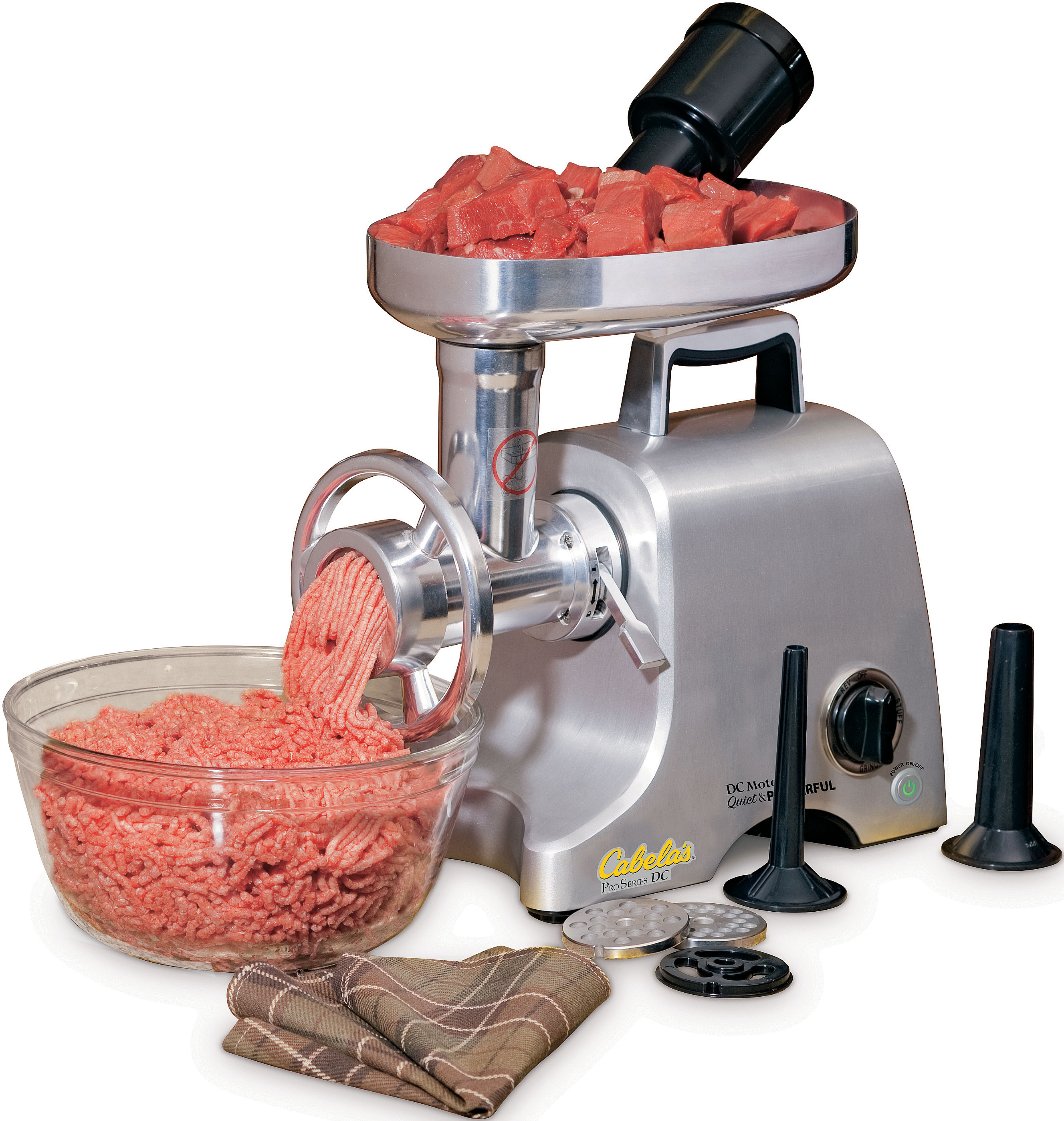 The Cabela's Pro Series DC Grinder is quiet and powerful with a half horsepower DC motor. It can grind up to seven pounds of boneless meat per minute.
Composed of die cast aluminum, it has four grinding modes and can perform all of the functionalities you'd need from a grinder—including stuffing and reverse modes. With a mid-tier price point, the Pro Series offers a great value for the performance it brings to the table.
This model is designed for ease of use and easy clean up. This grinder features a cam-action grinder head release tool makes it easy to remove the head, grinding plate, blade and auger for clean-up. The neck of the grinder comes off with the pull of a lever.
Once disassembled, the meat processing equipment can be rinsed and put into the dishwasher for easy clean up. With the neck and meat tray removed, the unit is not much bigger than a standard toaster—making it easy to store between grinding sessions.
Benefits to Owning the Cabela's Pro Series HD Meat Grinder
It is a sturdy and powerful at home meat grinder. It's ratio of high-volume output to price makes it a great, versatile and reliable choice.
Great Combination of Value and Output
Designed for easy clean up.
Quiet and powerful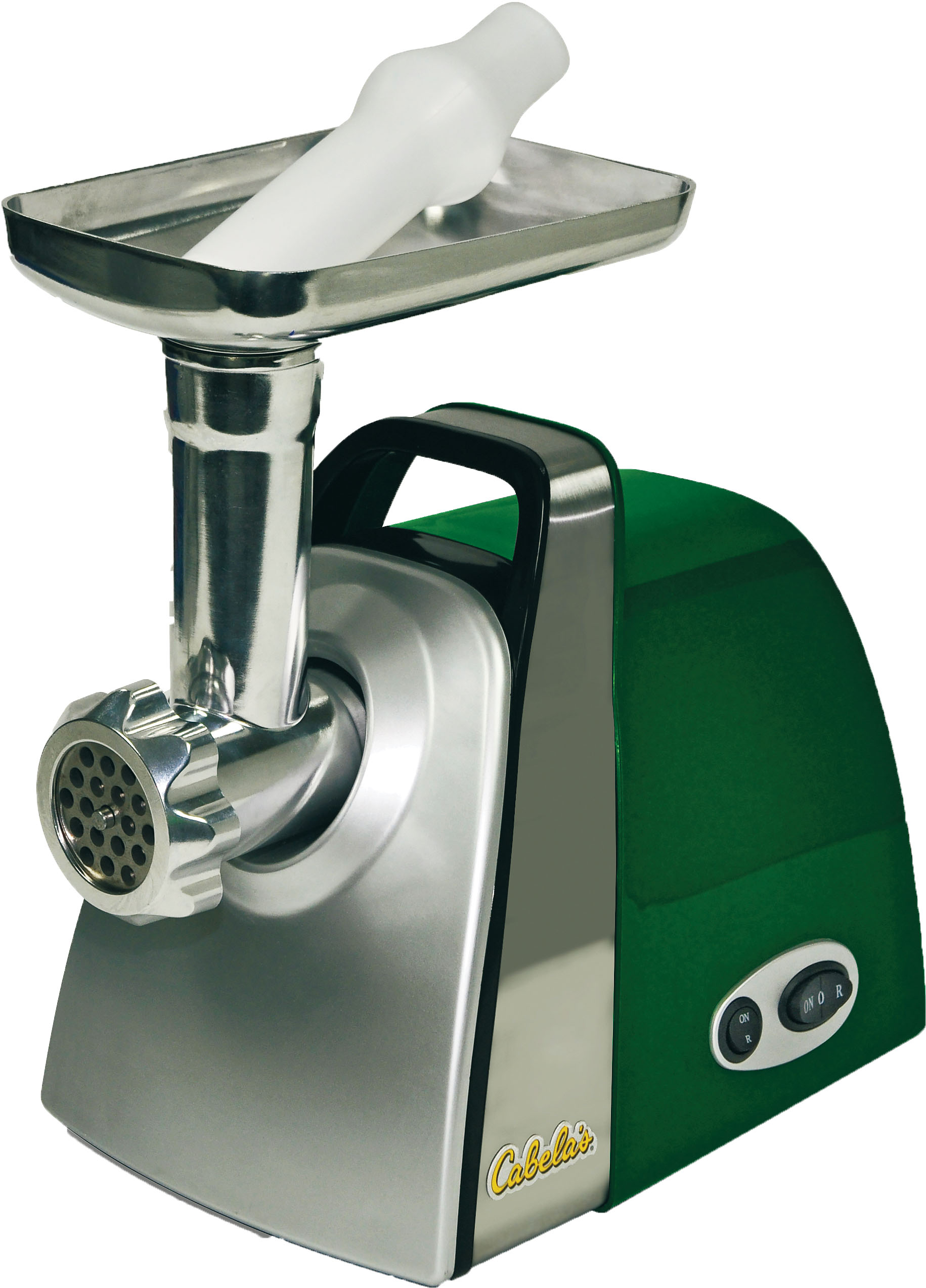 The Cabela's HD #5 Meat grinder is powered by a 400-watt motor. It comes with two grinding plates—fine and medium grind—and is composed of aluminum.
The #5 comes with three sizes of funnel, a stomper, stuffer, and a stuffing star. It features three modes—grinding, stuffing and reverse. This model is a great starting point for the meat processing line up.
The neck is removable with the press of a button, making disassembly a straight forward process. The auger, blade, grinding plate and head are all easily taken out for clean-up and reinserted for use.
Benefits to Owning the Cabela's HD Series #5 Meat Grinder
It is a capable, easy to use meat grinder. It is a good choice for someone who is new to meat grinding and would like to see what it's all about.
Introductory level price point.
Performs the basic functions well.
Great starting point for someone who wants to explore meat grinding.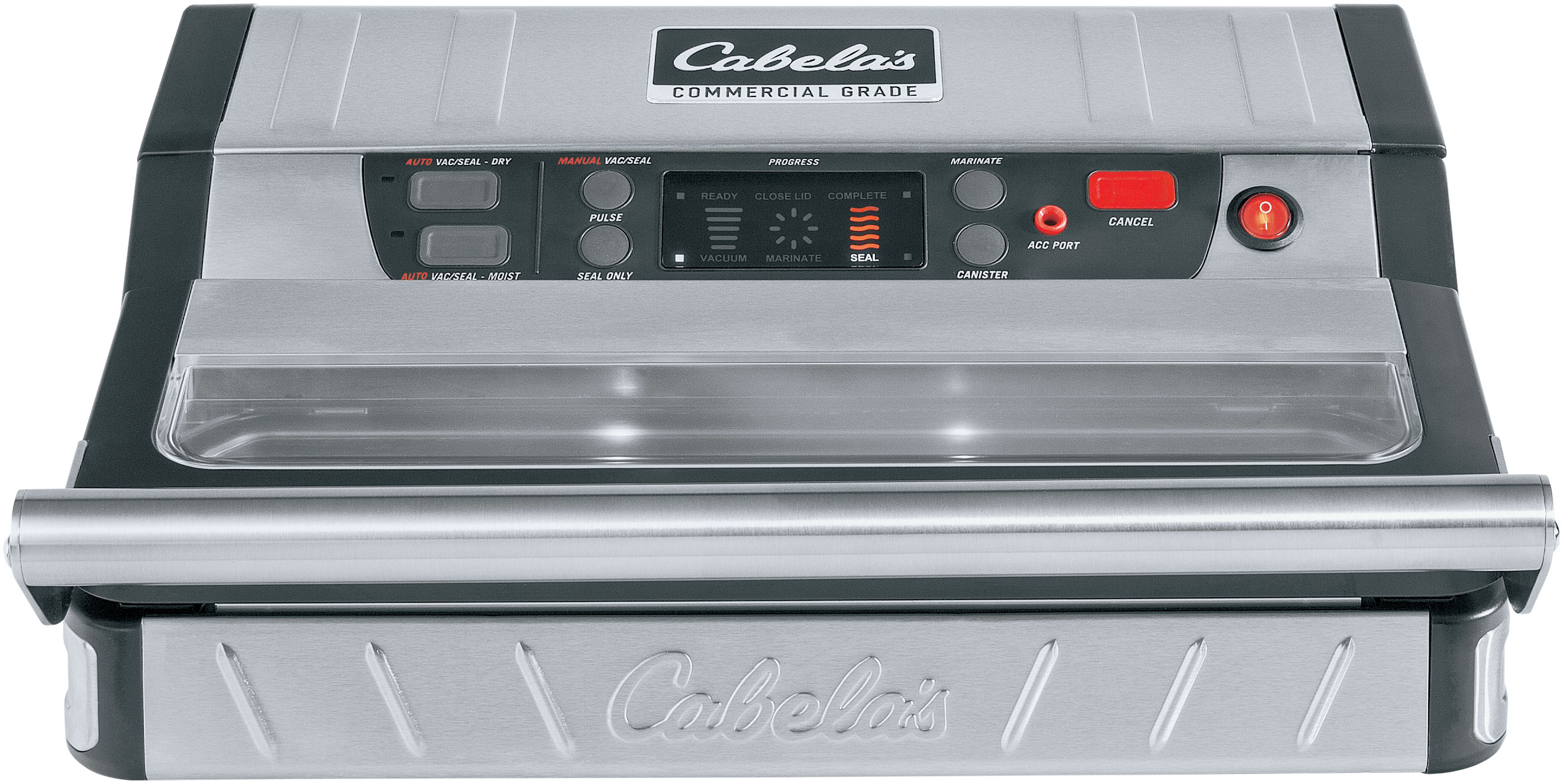 Vacuum Sealer: The Meat Grinder's Best Friend
No matter which route you decide for your new meat grinder, you'll want to pair it with a vacuum sealer. Vacuum sealers make meat storage quick, efficient and easy.
Because they remove the air from the package and create a durable seal, vacuum sealers also create longer shelf lives for your ground meat. Best of all, you can customize the size of ground meat packages to whatever serving size best suites your situation.
The Cabela's 12" Commercial Grade Vacuum Sealer is a great, versatile and durable choice that can handle the needs of most hunters and anglers.