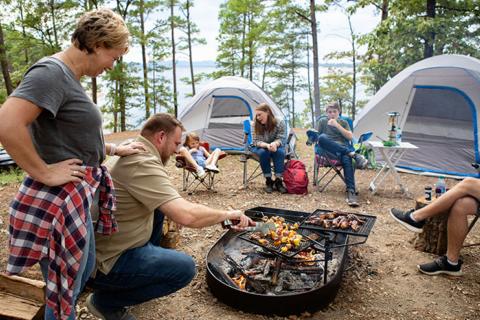 In this how-to guide, the theme is on the basics of camp cooking and the equipment and supplies you will need to make great meals over the campfire as a family.
How You Can Have the Perfect Camp Kitchen
What Will be Your Cooking Source? Grill, Smoker or Campfire Stove?
Cooking while camping can be done on a camp stove, smoker, even a tube pellet smoker, portable grill, or over a campfire. Campfires are not efficient, seldom convenient, and in some cases against the law because of fire regulations. Plus in bad weather, it can be difficult. The solution is a camp stove.
Tip: Whether you need a camp stove, smoker, or grill, shopping at Bass Pro Shops for a great selection of camp stoves and cookware or shopping at Cabelas for a wide selection of camp cooking and camp dining equipment you'll have lots of products to choose.
Tip: Click here to print step-by-step instructions for building your own rocket stove
Once you determine your cooking source, you will need to gather all of your camp cookware and utensils, pots, pans, tongs, cutting boards, knives, etc. Think about your kitchen and all of the cookware and utensils you use at home daily.
Tip: The following is an illustrated infographic guide with "pros & cons' to selecting and setting up a camp kitchen to serve you well in nearly any situation.
Read: How to Build Your Perfect Camp Kitchen
Camp Kitchen Working Surface: Where will you prepare your food? No matter where or how you camp - even in a camper trailer, work surfaces are at a premium. Your working surface needs to be easily cleaned and large enough like the Bass Pro Shops Deluxe Camp Kitchen to hold everything. Plastic folding tables are a great choice as they can be packed and moved quickly.
Refrigeration: Keeping your food cold while camping is essential, especially during the hot summer months.  The last thing you want is your food to spoil and ruin. Also, the weather, number of people, and how many meals you will be providing will determine your refrigeration needs. Today, there are many options including traditional camping coolers, roto-molded, soft-side, and even powered coolers. Typically, the go-to refrigeration source are air tight molded coolers like the popular Cabela's Polar Cap Equalizer 40-Quart Cooler as they don't need electricity.
Food for Camp or on the Trail: Now that you have your cooking supplies and equipment, you need food. When considering food, you need to know whether you are backpacking into a location or camping in an accessible campground.
Shop Camp Food at www.basspro.com
Common choices for backpackers are high nutrients lightweight freeze-dried foods (dehydrated fruits and beef jerky) with them, so they do not have to cook. While in a campground setting, you can prepare a Thanksgiving dinner with some planning.
Camp Cleaning Supplies: Once dinner is done, you will need cleaning supplies to clean up just like you do at home. Dish soap, rags, sponges, and a container to wash dishes should do the trick.
Now that we have covered some of the necessary camp cooking supplies and equipment options, we will be focusing on cooking over a campfire with foil packs, pie irons, and Dutch Ovens. For each of these, the first thing you need is a campfire.
Are you a Campfire Super Hero? Take this Quiz to Find Out
3 Things You Need to Make a Fire are Fuel, Heat & Oxygen
Fuel is what burns, without fuel, the fire will go out. Just like a car needs fuel to drive, a fire needs fuel to burn. For a campfire, wood is the main source of fuel. There are three types of fuel required to make a successful campfire.
Fuel Type 1: Tinder; This is the smallest and first form of fuel used to start the fire.  The tinder catches on fire easily due to its size but also burns up quickly. Tinder includes cotton balls, pine needles, dry leaves, paper, etc.
Fuel Type 2: Kindling; Kindling wood varies to what you can find. Look for about 1/2 inch to 1-1/2 inches in diameter. The length varies as well. Look for kindling about as long as your elbow to your fingertips.
Fuel Type 3: Wood; Wood is the most significant fuel and keeps the fire burning for extended periods. These logs or wood pieces measure over 3 inches in diameter or the size of your wrist, or larger.  The wood should not be larger than your fire ring, as it creates a higher chance for the fire to spread out of control. Length can be about as long as your arm.
Heat to Ignite Fire: Fire starters produce the heat or the spark that ignites the fuel to make a fire. Matches and lighters are the most common forms of heat. More primitive types are strikers, bow drills, and rocks.
Read: 4 Ways to Make a Fire Without Matches or Lighter
Fire Needs Oxygen:  As Smokey the Bear says, "Air contains about 21 percent oxygen, and most fires require at least 16 percent oxygen content to burn. Oxygen supports the chemical processes that occur during fire. When fuel burns, it reacts with oxygen from the surrounding air, releasing heat and generating combustion products (gases, smoke, embers, etc.)" Air/oxygen can be created by blowing or fanning the campfire.
Tip: Print infographic on How to Build a Campfire from ScoutmasterCG
Tip: Be aware of firewood restrictions in your camping area. There are tree killing insects and pathogens that can be moved from place to place in firewood. For more information on insects and diseases that can lurk in firewood, check out Don't Move Firewood.org.
Important Fire Safety: When creating a fire, always keep a bucket of water or sand nearby to extinguish the fire. When putting out a campfire, you need to stir the ashes and pour water or sand to cover the ashes. They should be cold and completely covered.
Watch a fun video about fire tinder choices
Read: 10 Easy Steps to Making an Upside Down Fire
Watch Video: How to Build Upside Down Fire
Now that we have covered the basics of building a campfire, let's learn about a great way to engage the whole family in camp cooking.
Read: Kid -Friendly Fun and Delicious Camp Cooking Ideas
How to do Camp Cooking With Foil Packs
Foil Packs are easy as wrapping a variety of ingredients in foil and tossing it on a campfire. They can easily be prepared at home, ready to cook upon arrival. Or you can allow everyone to make a masterpiece with a wide variety of ingredients.
Dinner foil packs can include hamburger meat, chicken, green beans, potatoes, corn, broccoli, squash, mushrooms, and much more.
The keys to making a successful foil pack at camp are
Cooking Spray or butter will prevent sticking.
 
Don't skip on the foil quality. Heavy Duty or double it to prevent tears and holes.
 
Completely seal the foil pack that it, preventing the heat from escaping.
 
When placing the foil pack on the heat, make sure that you turn it often to avoid burning.
Tip: Foil packs work well at home in the oven or on the grill.
Another great way to involve the whole family in camp cooking is by using pie or the Double Camp Fire Iron at Bass Pro Shops or the Bass Pro Shops single campfire iron or use a pudgy iron.
Pie (Fire) Irons are great for kids as they allow for creativity and are easy to use. Keys to successful cooking are
Cooking Spray is a Must- This will prevent your dinner from sticking
"Hot pan, cold oil, food won't stick."
Butter your bread inside and out
Variety is the Spice of Life
Change up the filling and bread (Dessert, breakfast, lunch or dinner recipes)
Pie irons (or pudgy irons) are for more than sandwiches - try desserts like S'mores Pudy Pie
Check out the popular Pie Iron Recipes Cookbook
Avoid Hot Spots in the Campfire
Keep the pie iron moving- to prevent burning and uneven cooking
Learn a few basic savory and sweet fire iron recipes in this video
Let's take a look at another great way to cook over a campfire that requires a little more finesse and knowledge.  
4 Helpful Tips You Should Know About Dutch Oven Cooking
1. What is a Cast Iron Dutch Oven?
A Dutch oven is a cooking pot with a tight-fitting lid and thick walls, which dates back to the early 1700's. Dutch Ovens are usually made of seasoned cast iron. They come in all shapes and sizes, with legs, a bale handle on the body of the pan, a small loop handle on the lid, and a lipped lid.
Lodge Dutch Oven Gloves

The legs- allow hot coals/charcoal to be placed under it while remaining steady in placement. Flat bottom Dutch Ovens are great for home use on the stove.
Bale handle- allows you to remove the Dutch Oven from the heat more comfortable and safer.
Loop handle- allows safer removal of the lid when hot. Using a lid lifter, hook the loop, and lift.
Lipped lid- Holds hot charcoal/coal pieces on top of the lid, which provides a second heat source.
Fun Fact, History of the Dutch Oven
Read: How to do Dutch Oven Cooking Plus Five Recipes
Beyond your Dutch Oven, you will need a lid lifter, Dutch Oven Chimney starter, and heavy gloves like Lodge Dutch Oven Gloves, which can all be found at www.basspro.com or in the store.
2. Seasoning a Cast-iron Dutch Oven is Very Important.
Before cooking, you will need to make sure your Dutch Oven is seasoned. Lodge cast iron cookware such as the Dutch Ovens come pre-seasoned and ready to use, which is a considerable benefit as it allows you to begin cooking right away.
Tip: Shop cast iron posts, pans & accessories here
Seasoning is the process of cooking oil onto the surface of the Dutch Oven to prepare it for use. This procedure prevents the Dutch Oven from getting rusty, as well as creating a non-stick coating.
DOWNLOAD: Lodge Oil and Smoke Table Printable PDF
3. Once Hot - Cast Iron Stays Hot for a Long Time
When the goal is to cook your meal using a lower temperature slowly,  a Dutch Oven fits the bill perfectly.  The reason cast iron works well is that it is a poor conductor of heat. Once a Dutch Oven gets hot, the pot stays hot for a long time.
When choosing a Dutch Oven size, you will need to consider how many people will be eating dinner. A 10 or 12-inch Dutch Oven is the most versatile for families.
Here is an excellent Baking Temperature Chart for Dutch Oven Cooking  that comes in handy as you learn to cook with your Dutch Oven. Using the table, you can control the cooking temperature based on the number of coals placed on the top and under of the oven.
DOWNLOAD: Printable PDF - Charcoal-Briquette Distribution & Temperature Chart for Dutch Oven Cooking
4. How to Care and Clean Pie Irons and Dutch Ovens
Dutch Ovens and Pie Irons made of cast iron, are non-stick because of the seasoning from cooking oil they take on with use. The key to cleaning is that you want to be sure to keep that seasoning coat. Begin cleaning by scraping out anything that's stuck on, and wipe them with hot water, dry thoroughly, and re-coat lightly with oil. It is okay to use a little soap to help in the cleaning process if needed. It is important not to soak cast iron in water for extended periods. Always wipe them dry to prevent rusting.
Read: How to Care and Season Cast Iron Cookware (video)
Watch Video: COOK WITH CABELA'S - Simple Dutch Oven Bread