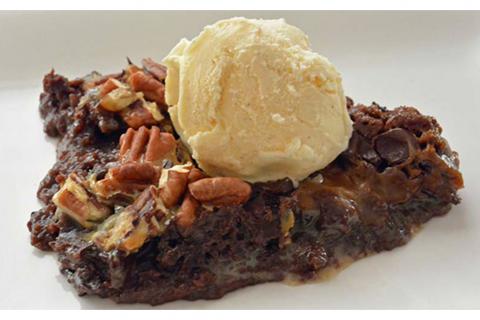 Prep Time: 10 minutes 
Cook Time: 50 to 60 minutes 
Servings: 12-14
INGREDIENTS
1 box chocolate cake mix

1/3 cup melted butter

2/3 cup boiling water

2 tbsp. instant coffee

1 14-ounce can sweetened condensed milk

1 cup dark chocolate chips or chunks

1 cup chopped walnuts or pecans (optional)

10 wrapped caramels, unwrapped and cut in fourths
DIRECTIONS
Be it chocolate peanut butter, chocolate mint, chocolate cheesecake, coffee chocolate, praline chocolate or another s'more creation, so many things pair well with chocolate.
This cake was created using some of the best chocolate combinations. Sweet and gooey, this cake doesn't need frosting.
A few serving suggestions are a dollop of whipped cream right from the carton or a scoop of vanilla ice cream.
Around camp it can even be served on top of a graham cracker for a more portable treat.
1. Preheat 10- or 12-inch Dutch oven for 15 minutes using eight coals on bottom and 10 coals on top.
2. In a medium bowl, dissolve instant coffee in boiling water.
3. Add cake mix and melted butter, stirring until thoroughly combined.
4. Remove Dutch oven from the coals and place liner in the bottom, spraying with non-stick cooking spray. This cake can be made directly in the Dutch oven but should be served immediately.
5. Fold parchment paper over the sides if necessary, use an oven mitt as oven will be hot.
6. Evenly spread cake mixture on to the parchment paper.
7. Place Dutch oven on six to eight evenly spaced coals and cover.
8. Evenly place 12 to 15 coals on the lid.
9. Bake cake 20 to 25 minutes or until partially set.
10. Remove lid and, using a wooden skewer, poke 20 to 30 holes in the top of the partially baked cake.
11. Pour sweetened condensed milk over the cake.
12. Sprinkle chocolate chunks, nuts and caramel pieces evenly over the cake.
13. Place oven back on coals and cover, keeping 12 to 15 coals on the lid. Refresh coals if needed.
14. Bake an additional 15 to 25 minutes or until chocolate and caramels have melted and cake has set.
15. Keep cake warm, with three to four coals on top until ready to serve.