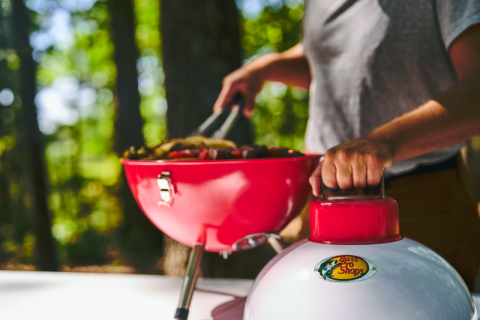 Camping is not only about exploring the great outdoors but also indulging in delicious meals cooked over a campfire. There's something truly special about the flavors and experiences that come with cooking on a campsite. In this article, we will delve into the art of campsite cooking, providing helpful methods for cooking different foods and suggesting useful equipment to make your culinary adventures more interesting. Whether you're a seasoned camper or a first timer, get ready to elevate your campsite cooking game and create unforgettable meals in the wilderness.
Setting up the Campsite Kitchen
Before we dive into the cooking techniques, let's start with setting up a functional campsite kitchen. Consider the following essentials:
Camp stove: Opt for a compact, portable stove that runs on propane or butane. This will provide a reliable heat source for cooking.
Cookware: Pack lightweight, durable pots, pans, and skillets that are suitable for campfire cooking. Choose non-stick options for easy cleaning.
Utensils: Don't forget to bring a set of cooking utensils, including a spatula, tongs, knives, and a cutting board. A can opener and a corkscrew may also come in handy.
Food storage: Invest in airtight containers or coolers to keep your perishable items fresh and safe from wildlife.
Cleaning supplies: Bring biodegradable soap, a sponge, and a dish towel for cleaning your cookware and utensils.
Ascend 3-Piece Stainless Steel Cutlery Set
The Ascend® 3-Piece Stainless Steel Cutlery Set goes everywhere you go, for compact, reusable camping utensils. This Ascend cutlery set includes a knife, fork, and spoon and is made from long-lasting, lightweight 18/8 stainless steel. And since it's washable, there's no trash or impact on the earth when you use it again and again.
BioLite Prep and Grill Toolkit
Pack all the tools you need for cooking with fire thanks to the BioLite Prep and Grill Toolkit. These super-lightweight grill tools make your outdoor cooking easy no matter where your adventure leads. The long handles mean you won't burn your knuckles while flipping the burgers, and the durable rust-resistant food-grade stainless steel construction ensures they last season after season. A slotted spatula boasts an integrated bottle opener, the tongs lock for storage, and a Santuko knife provides a myriad of uses.
Cooking Methods for Different Foods
Grilling: Grilling is a popular cooking method that adds a smoky flavor to your meals. Consider grilling marinated meats, vegetables, and even fruits for a unique twist. Use a portable grill or cook directly over the campfire using a grill grate.
Foil packet cooking: This method involves wrapping ingredients in aluminum foil and cooking them over hot coals or on a grill. It's perfect for preparing delicious and easy meals like foil packet fish, vegetables, or even dessert.
Dutch oven cooking: A Dutch oven is a versatile cast-iron pot that allows you to cook a wide range of meals, from stews to baked goods. Master the art of Dutch oven cooking by trying different recipes like campfire chili, cornbread, or a cobbler.
Skewer or kebab cooking: Skewers are a fun and interactive way to cook food over an open flame. Thread marinated meats, vegetables, or even marshmallows onto skewers and enjoy a tasty campfire feast.
One-pot meals: Simplify your campsite cooking by preparing one-pot meals. These hearty dishes, such as campfire chili, pasta dishes, or stir-fries, require minimal cleanup and are perfect for feeding a hungry camping crew.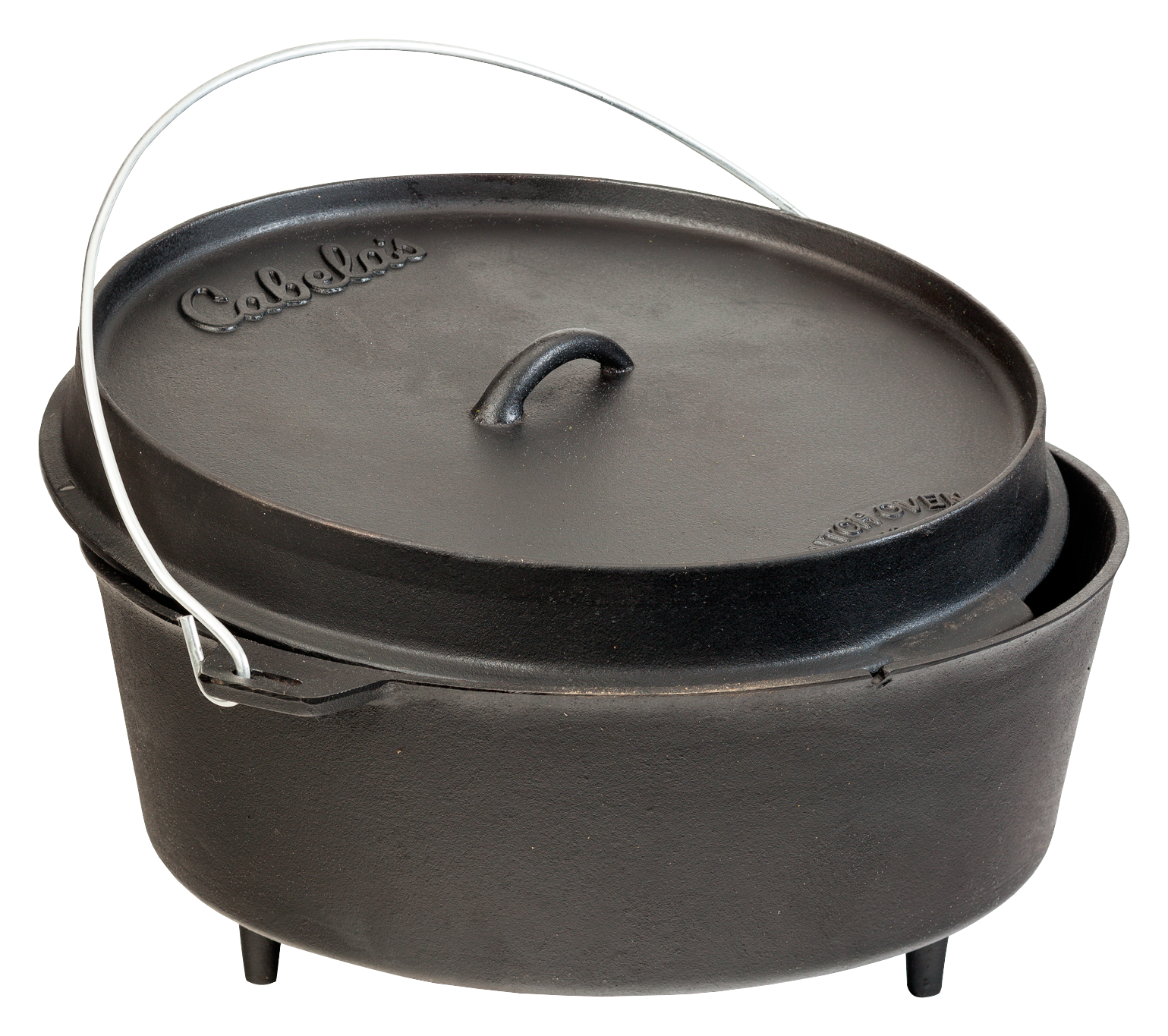 Cabela's Outfitter Series Cast-Iron Tri-Leg Dutch Oven
A versatile solution for cooking at the campsite or in the backyard, the Cabela's® Outfitter Series™ Cast-Iron Tri-Leg Dutch Oven gives you great open fire cooking ability. This Dutch oven can hang over a fire by its bail handle or sit perfectly over the hot coals of a campfire or fireplace fire thanks to its 3 integral legs. Smooth cooking pot gives campfire chefs the incredible heat retention and distribution of cast iron cookware. Integrated thermometer slot allows you to check the internal temperatures of your food without removing the lid. Preseasoned cast iron oven comes ready for use right out of the box. Simple wire bail handle for easy carrying.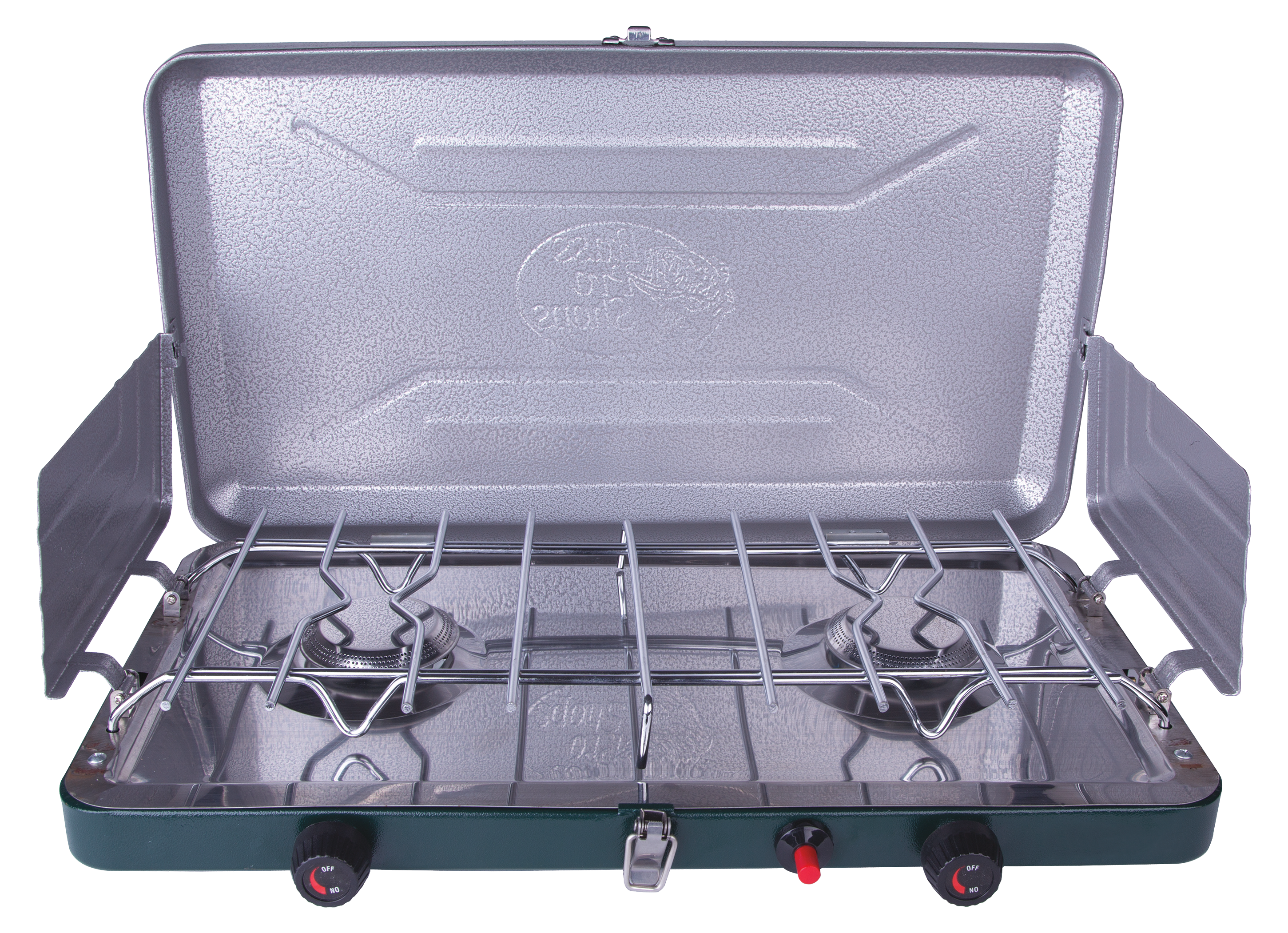 Bass Pro Shops 2-Burner High Output Propane Stove
Enjoy big cooking power at your next campout with the Bass Pro Shops® 2-Burner Propane Stove. This camp stove delivers great heating performance with its two 10,000 BTU stainless steel burners for full cooking power you can take anywhere. This high performance camp stove features a Piezo electronic ignition for match-free lighting and a high pressure regulator for consistent performance at any altitude. Durable frame features a stainless steel top and wind screens for optimal heating. Heavy-duty, double strength cooking grate offers lots of room over its 22"W x 10-3/4"D cooking surface, while the stainless steel drip pan makes cleanup afterwards easy.
Must-Have Campsite Cooking Equipment
Campfire grill grate: A sturdy grill grate allows you to cook directly over the campfire, giving your meals that classic smoky flavor.
Dutch oven: A versatile and durable cast-iron Dutch oven is a must-have for any campsite chef. It distributes heat evenly and allows for various cooking techniques.
Portable stove: Invest in a reliable portable stove that offers precise temperature control and stability. Look for models with multiple burners for added convenience.
Campfire tripod: A tripod with a hanging chain or hook is great for suspending pots or kettles over the fire, giving you more cooking options.
Cast-iron skillet: A cast-iron skillet is a versatile piece of cookware that can be used for frying, searing, and even baking. It retains heat well and is perfect for cooking breakfast favorites like bacon and eggs.
Utensil set: Pack a dedicated set of camping utensils, including a spatula, tongs, knives, and a can opener. Opt for durable, heat-resistant materials like stainless steel or silicone.
Collapsible sink: A collapsible sink or basin makes cleaning up after meals a breeze. It saves space when not in use and allows you to dispose of wastewater responsibly.
Portable coffee maker: For all the coffee lovers out there, a portable coffee maker is a game-changer. Enjoy a freshly brewed cup of joe amidst the beauty of nature.
Campfire popcorn popper: Treat yourself to a batch of freshly popped popcorn over the campfire. A campfire popcorn popper ensures even popping and adds a touch of nostalgia to your camping experience.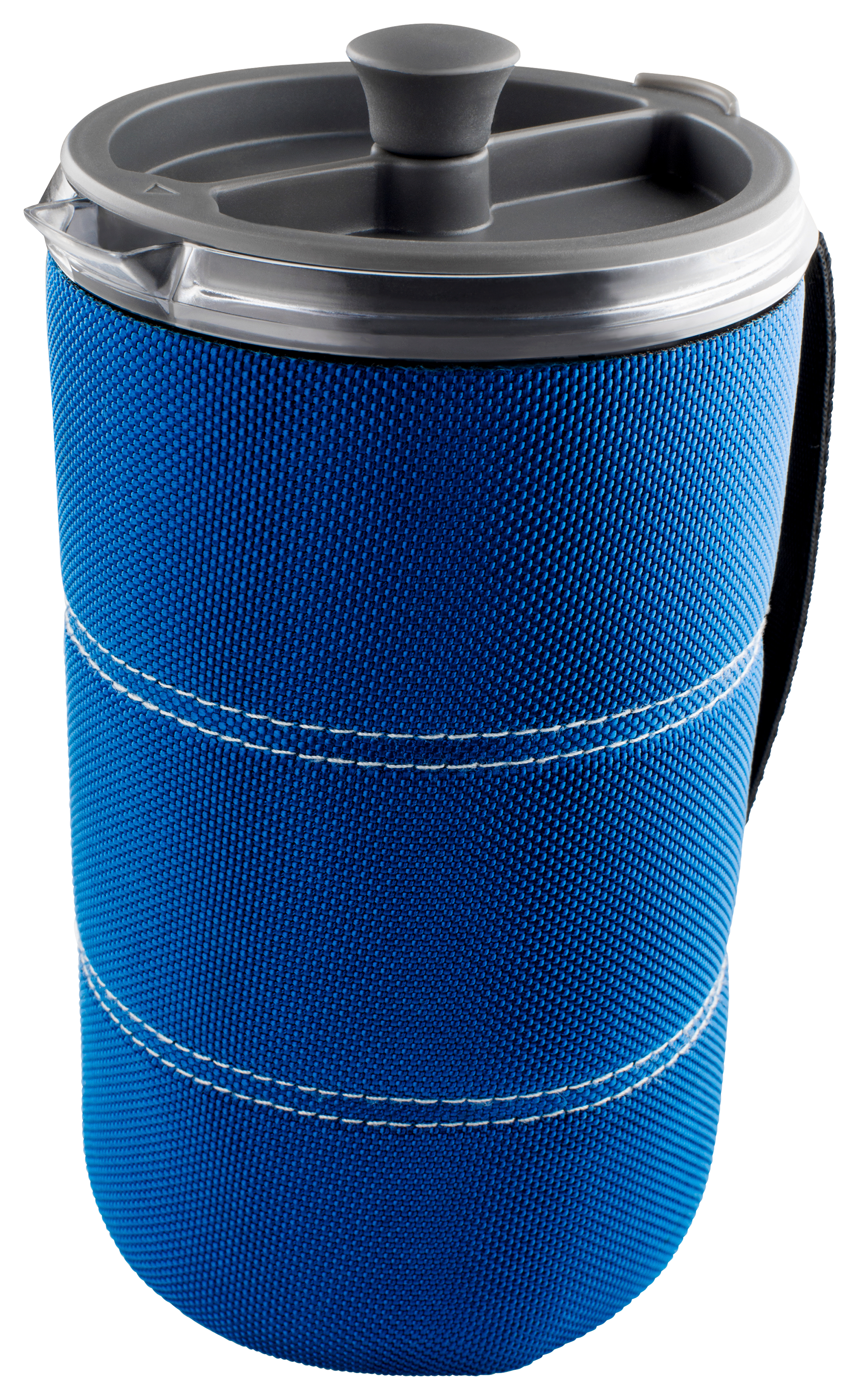 GSI Outdoors JavaPress Portable French Coffee Press
Enjoy the delicious taste of french press coffee anywhere you go with the GSI Outdoors® Javapress Portable French Press. This ingenious 30 oz. portable french press coffee maker combines a lightweight and shatter-resistant, BPA-free carafe with a double-walled, insulated lid and ballistic nylon-wrapped cozy to keep your coffee hot longer. A silicone ring plunger seals off nearly all the coffee or tea brewing in the water when pushed to the bottom, virtually eliminating 'blow-by' for flavorful, ground-free coffee or tea.
Coghlan's Collapsible Sink
Make quick work of washing the dishes at the campsite with the Coghlan's Collapsible Sink. Durable, food-safe thermoplastic resin (TPR) and polypropylene (PP) plastic construction and a collapsible design ensure dependable service and frustration-free storage, while hanging holes in the rim ensures convenient storage and quick drying after use. Volume: 9L. 14.76" dia.; 5.5" deep when expanded, 1.96" when collapsed.
Tips for Successful Campsite Cooking
Plan your meals: Before heading out on your camping trip, plan your meals and create a shopping list. This will ensure you have all the necessary ingredients and prevent last-minute stress.
Prep ahead of time: Prepare ingredients in advance, such as chopping vegetables, marinating meats, or pre-cooking certain elements. This saves time and makes cooking at the campsite more efficient.
Pack spices & seasonings: Don't forget to bring a selection of your favorite spices and seasonings to enhance the flavor of your meals. Consider packing them in small, labeled containers for convenience.
Use disposable or reusable foil: Foil is a versatile tool for campsite cooking. Use it to wrap foods for grilling or create foil packets for easy cooking and cleanup. Opt for reusable foil alternatives to reduce waste.
Embrace local ingredients: If you're camping in an area known for its local produce or wildlife, take advantage of it. Experiment with regional ingredients and incorporate them into your campsite meals for a unique and authentic experience.
Practice fire safety: Always follow fire safety guidelines and regulations when cooking on a campfire. Clear a safe cooking area, never leave the fire unattended, and ensure it is fully extinguished before leaving the campsite.
Leave no trace: Respect the environment by practicing Leave No Trace principles. Properly dispose of waste, minimize impact on natural resources, and leave the campsite as you found it.
Cooking on a campsite is a delightful adventure that combines the joy of outdoor exploration with the pleasure of delicious meals. By setting up a functional campsite kitchen, mastering various cooking methods, and equipping yourself with the right tools, you can create mouthwatering dishes that will satisfy your appetite and enhance your camping experience. Remember to prioritize safety, respect the environment, and embrace the simplicity and beauty of campsite cooking. Gather your ingredients, pack your cooking gear, and embark on a culinary journey in the great outdoors. Happy camping and bon appétit!