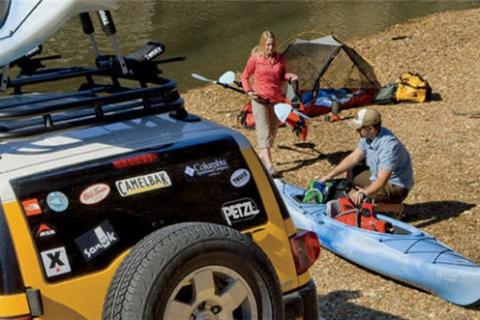 We all know that kayaks are easy to transport--that's one of the big pluses. But transporting them safely and without damage takes the right equipment and the right preparation. Here are a few tips from experts I've been fortunate enough to fish with:


 First, if your vehicle does not have a roof rack with crossbars, you'll need one. Factory-installed racks are best, by far, but an add-on like the Malone VersaRail Cross Rail System solves this issue at an affordable price. Suction cups and tie-down straps hold it in place, and it can be removed quickly in the off-season.


Which Roof Rack is the Right One?
Whatever roof rack you have, consider buying a complete mount like the Malone Sea Wing Carrier, which includes a pair of composite cradles as well as tiedown straps. It secures via wingnuts to the roof rack of most vehicles. Two of these will fit on most SUV's, allowing carrying a pair of 'yaks safely.


The Malone AutoLoader Car Kayak Carrier loads 'yaks on their side, giving added space on narrower vehicles. A built-in "boarding ramp" on the J-style cradles makes loading and unloading the kayak easy, while the AutoLoader's multiple strap slots make it easy to secure different sizes and types of loads.


It's best to invest in a quality rack with a secure mechanical connection to the roof, but if money is tight you can get by with something like the OMC Outdoor Kayak Carrier Block system, with foam blocks that fit over the cross rails of most factory roof racks. These require added effort in loading and tying down, but they are inexpensive and also easily removable.


If your rack does not come with tiedowns, choose nylon web strapping, at least 1.5 inches wide--the wider strap distributes the load and reduces the chances of warping the hull. Cam-locking buckles are best, but always back them up with a half-hitch or two on the strap. Cheap tie downs like bungee cords are not adequate for carrying your 'yak at speed on a highway. These cords stretch, which allows the boat to shift, which in turn makes the bungee come loose--along with the boat.


Whatever rack system you use, it's smart to add a backup tiedown line from the bow and from the stern, running to tie downs at the front and back bumpers. This keeps the bow from lifting at high speeds, and also gives that extra bit of assurance in case your main tiedowns work loose. Nylon rope 1/4 to 3/8 in diameter is best for this--avoid poly ropes, which tend to slip and also deteriorate in sunshine.


Near Saltwater? Consider This
If you are cartopping around saltwater, remember the saltwater left on the hull after a trip can quickly corrode your car's paint--carry along a towel and give it a quick wipe before loading up, or wait until the hull is at least drip-dry.


Last but not least, remember that the racks are designed for transport, not storage--particularly in hot weather, it's not wise to leave a kayak strapped down tightly on a rack--warping is likely to occur.