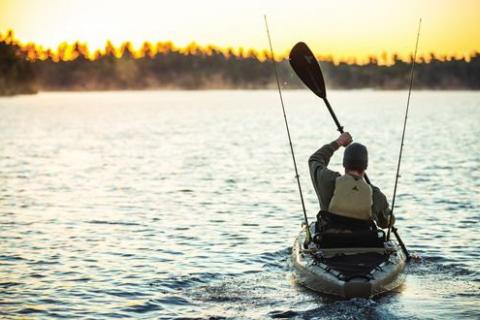 Finding fish in extreme shallows is made a lot easier with a kayak, canoe or jon boat that can almost float in fresh dew, but what about those months when the fish are deep offshore? To be versatile year 'round, your paddle-craft or other flyweight boat needs some electronics to search out the depths.


The obvious problem is electrical power--most sonar/GPS units run on 12-volt power. No big, heavy 12-volt battery, no power. And who wants to lug along a battery that weighs almost as much as their boat?


Fortunately, several companies make portable depthfinders that can eliminate this issue--a lightweight built-in rechargeable battery keeps them running for hours.



TIP: How to get your kayak fishing ready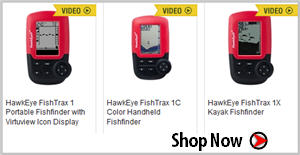 Hawkeye FishTrax Series Fish Finders
The FishTrax series fishfinder comes in three versions: HawkEye FishTrax 1 Portable Fishfinder with Virtuview Icon Display delivers excellent and precise imagery of fish, fish depth, water depth, bottom contour, underwater structures, and even rock outcroppings. FishTrax 1X Kayak Fishfinder, makes a perfect addition to your tackle box, kayak, or glove compartment so you always have fishfinding power ready. Great as a spare unit and ideal for intermediate angler looking for advanced features. The HawkEye FishTrax 1C Color Handheld Fishfinder which includes transducer has a full color display showing vibrant, clear sonar returns.


Humminbird Fish Finders
The Humminbird Helix 5 Sonar PT Fishfinder is perhaps the largest portable fish finder on the market, with a 5-inch color screen in horizontal format making it easy to track terrain as well as fish and bait movements. It comes in a soft-sided case and includes a dual-beam transducer that allows both extremely sharp images and wider area views at the user's choice. A charger and a transducer with suction mount are included.


The Humminbird PiranhaMax 4 PT Portable Fishfinder is a smaller, 4.3-inch screen model that does not include a battery. but it operates on a small portable 12-volt like the XPS Power Series Rechargeable Sealed Lead Acid Marine Battery. The 4 PT includes a convenient tilt-mount base, 320' Down Imaging® and mount and comes in a carry-bag.


Garmin Fish Finder
The Garmin Striker 4 Portable Fish Finder/GPS also comes in a carrying bag that includes a rechargeable battery and a portable mount for the CHIRP transducer, either for any flat section of the vessel or for a trolling motor lower unit. The GPS system provides precise speed over the water as well as all the other usual waypoint selection info.


Lowrance Universal Portable Pack
Lowrance takes a slightly different approach to portability, offering the Lowrance Universal Portable Battery Pack, a rechargeable but lightweight power system that can power most of the company's 4 and 5 inch sonar/GPS units. It comes in a travel bag that includes a mount for the sonar plus tackle storage, and also has a suction-cup type transducer mount.


Raymarine Fishfinder, GPS & Sonar
The Raymarine Dragonfly-4 Pro is a  fishfinder, chartplotter, and GPS navigation device featuring a 4.3" all-weather, anti-fog, high-definition LED-blacklit display for sharp color and wide angle viewing. This unit includes ball-and-socket swivel mount and has built-In Wi-Fi allows streaming straight to your smartphone.



Raymarine has an interesting take on small boat sonar with their Wi-Fish Wi-Fi CHIRP DownVision Sonar, which is basically a "black box" plus transducer that links to cell phones and tablets--there's no separate monitor or screen. Of course, you'll want a waterproof housing for your device if you use it this way, but since all of us are so familiar with operating this technology today, the company says the learning curve is minimal.


Transducer Brackets
You may also need some sort of a transducer bracket to fit anything other than a jonboat transom, since flat spots on most canoes and kayaks are hard to find. The Scotty Kayak/SUP transducer arm mount and Sully transducer bracket, among others, make aftermarket mounts that can be fitted to most 'yaks and canoes.


Whichever sonar you choose and however you mount it, having underwater "eyes" on board will greatly increase your odds of angling success for anything from bass to catfish to crappies to walleyes on lakes across the country.