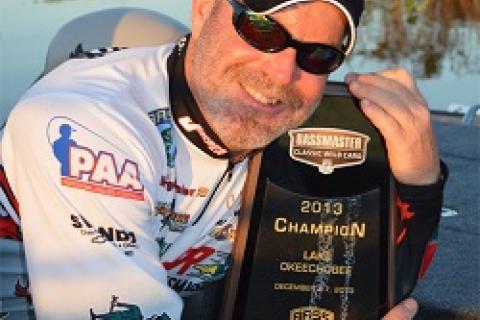 Plano/Mercury Marine Pro Morgenthaler is the Man
When the final day of the Bassmaster Classic Wild Card kicked off this morning, most pundits thought the leader at the start of the day, Shaye Baker, was in position to run away with the win and gain a berth into the 2014 Bassmaster Classic. Funny thing, nobody told Plano pro Chad Morgenthaler.
Trailing Baker by almost 6 pounds to start his day, Morgenthaler knew the odds were not in his favor, but Okeechobee is a big bass factory and big sacks of fish are very possible. Thanks to a 20 pound 12 ounce final day limit upping his three-day total to 63 pounds 13 ounces, Morgenthaler won the event and secured his entry into the Classic next February.
In second was Jesse Tacoronte weighing 59 pounds 11 ounces. Slipping to third was the previous leader Shaye Baker with 59 pounds 8 ounces. In fourth was Big Bites Baits pro Russ Lane with 59 pounds 2 ounces and in fifth was Yamaha pro Keith Poche who brought in 56 pounds 7 ounces of bass.
Morgenthaler jacked.
"Man, this is a dream come true," said Morgenthaler. "I'm so excited I can hardly talk. This has been a dream week. I found my fish during the first two hours of the first day of practice. The next day I watched boats spray the area I fished and I almost died. I thought the fish were gonna be gone. On the first day of the tournament, I decided to fish a secondary spot instead. Then I moved back to check out the area the boats had sprayed for weeds. The bass were still there. I found them there every day. I just had to move around to catch them."
"I really love this lake. I've had more Top 10's here than anywhere else. Plus, it's nice and warm here. My wife sent me a picture from home. It's our truck with snow on it. I'm not sure I want to go back there."
Chad nearly missed the Wild Card.
"I was gearing up, getting prepared for the 2014 Elite season," said Morgenthaler. "I wasn't gonna come here and fish. It was going to be financially taxing for me. I contacted my sponsor, Jasper Engines, and asked if they could get me here. I told them I thought I would do well. I'm so glad I asked them. It shows what a great sponsor they are."
Tacoronte stuck with one method.
"I flipped the entire time I was here," said Tacoronte. "In the six days I fished, including practice, I flipped isolated mats. I didn't get any big bites until today. I used a Bitter Beaver in black and blue. Today I found the fish on the edge of the hyacinths."
Baker's half dozen.
"I had an awesome week," said Baker. "I was punching hyacinth mats all week. Most of the Top 12 were fishing the same areas I was fishing. "I made a mental error today and brought in 6 fish. That cost me two pounds in weight. I still didn't catch enough to win. When my time comes to win, it will be even sweeter."