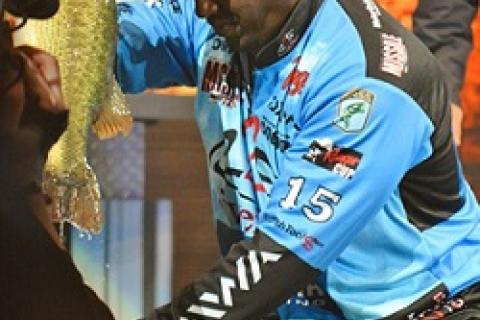 Ish needs to fish


When the 2014 pro-bass season was about to start, there were several big-name anglers signed up to fish both the Bassmaster Elite Series and the FLW Tour. The list included Brett Hite (who won an event in each league), Randall Tharp (qualified for both championships), Greg Hackney (won on both tours and took home the B.A.S.S. Angler of the Year title), Jason Christie (won an Elite event), and Casey Ashley (won an FLW event), Steve Kennedy and Ish Monroe among others.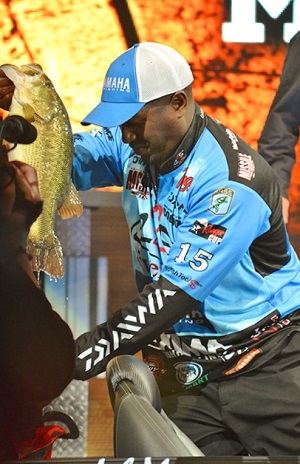 Out of those who've been listed, only one stands out, but not for success. That angler is Yamaha pro Ish Monroe. Known as the "Big Bass Specialist" on the Bassmaster Elite Tour, Monroe is usually heading to the bank after each event he fishes. Cashing checks, winning an event every few years, being in the running for the Angler of the Year (AOY) title and qualifying for championships is what Ish is about. Not in 2014. By far, this year was Monroe's worst as a pro, but that doesn't have him down. Monroe plans to unleash his skills once again in 2015 and make it back to the top of the heap.


More fishing for Ish.
"I need to fish more tournaments," said Monroe. "A lot of people have suggested I fish only one pro tour and concentrate on that, but that doesn't work for me. This year I fished the fewest amount of tournaments I've ever fished as a professional angler.


"I was distracted with business. Instead of working for my sponsors by kicking butt on the water and then promoting for them after the events were over, I did what I consider to be a mistake for me. I was putting the promotional side ahead of the pro sport side. I was taking interview calls, heading to local sponsor promotions and whatever else I could do to promote during tournaments. That was a total distraction.


"For me, the best way to provide sponsors with what they need is to perform at a top level at events and when they are over, work on promotions. There will be plenty of opportunity to work my butt off for my sponsors surrounding events this year.


"I'll be fishing the FLW Tour, Elite Series, all three B.A.S.S. Open division and maybe a Rayovac event or two."


Fun equals danger for Monroe's opponents.
"My health is good," said Monroe. "I have no excuses to not perform well in 2015. I'm hitting the gym and eating healthy preparing for the upcoming season.


"My goals are to double qualify for both the FLW and Elite championship and to win an AOY title. Of course, winning an event or two along the way is on my radar as well.


"I just need to get out there and fish to get in my groove. I wasn't having fun during the 2014 season. I put business before fishing. In 2015, its back to fishing first during the tournaments. It's back to having fun fishing tournaments for me. When I am having fun its trouble for the other anglers."