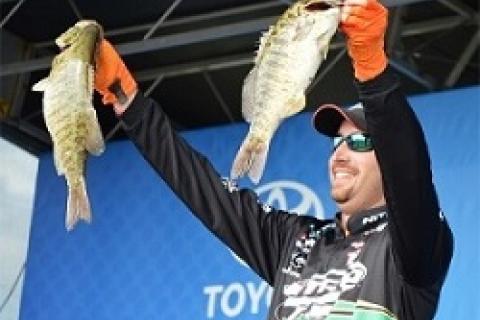 Your intrepid team of truth seekers at Bass Pro Shops 1Source has once again unearthed facts about a pro angler previously shrouded in mystery. An angler who bears the nickname similar to a savage beast. An angler who is so notorious on the Bassmaster Elite Series that others quake at the thought of him! Okay, okay, it's actually Rapala pro Ott DeFoe, not some savage beastie.
1S - What is your favorite sport?
OD - I don't really watch or follow any sports like football, baseball or basketball. I love bass fishing. That is my favorite sport. I like it because it doesn't have to be a team sport, whether you are fishing at the Elites or just for fun. There are so many variables in the sport. Sure, you need to beat other anglers, but the real challenge is you against the fish. They are wild animals. That adds a totally unstable element to the sport. You can never truly tell what they are going to do. Until we can talk to them, we won't know exactly what they will do.
1S - Has your family been supportive of your fishing career?
OD - Absolutely. My wife has been totally supportive. My dad has been a 100 percent supportive from the start. My mom was a little shaky at the start, but she got on board when things started to come together for me. My family travels with me to about half of the events on the Elite Series. I try to have my family at as many events as possible. The support is great.
1S - If you could be a musician, who would it be?
OD - Kenny Chesney. I like his music and he is originally from East Tennessee, close to where I am from. I like how his life is reflected in his songs. Also, I believe he lives on a yacht for half the year. That would be pretty cool.
1S - What was your favorite vacation as a kid?
OD - A few come to mind, but the one that stands out to me is the one that lit the bass fishing fire in me. I was 9 and my family went on a trip to Lake Okeechobee in Florida. We hired a guide and went out into this completely wild and foreign place to me. That was the end of it. All there was to me from then on was bass fishing. Okeechobee is still like that. Once you get onto the lake, it's so wild. You don't fish any man-made structures. When I was a kid it was like being out in a jungle, totally lost.
1S - If you had a meal named after you what would it be?
OD - Sushi. A big plate full of sushi. I'd have a rainbow roll. A spicy tuna roll wrapped with avocado with more spicy tuna and some hot sauce. A yummy yummy roll that has flash fried spicy tuna in it. Lots of other things, too. I think I'm gonna get sushi today. The plate would come out with the sushi arranged in the shape of my logo, an otter.