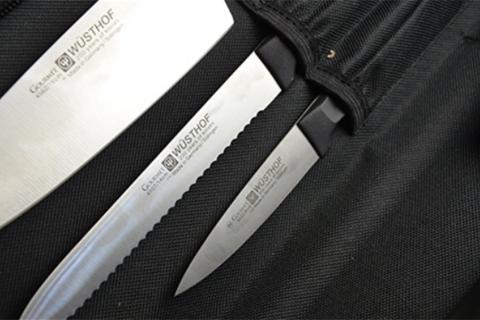 Everything You Need for On-The-Go Food Preparation
You do not have to be a chef to own a roll of favorite knives. In fact, home cooks can benefit from having a small kit to carry when they are on the road. Great for a camp chuck box or the cabin, this seven-piece set of basic kitchen cutlery ensures you are ready to tackle all but the most complex kitchen tasks.
The Wüsthof Seven-Piece Traveler Set include three knives from its Gourmet series, which combined will cover most cutting duties. Each knife in this line is stamped from high-carbon stainless steel, creating a thin, lightweight blade that offers the durable edge retention and ease of sharpening of high-carbon steel, while remaining resistant to corrosion and wear - something essential to knives that are bound for on-the-trail adventures. Because of their construction, they are a bit flexible, but I do not consider this a detriment unless I really need to put a lot of pressure on them.
Wüsthof Gourmet series knives come factory sharpened, but you can easily put an even keener hone on them with just a couple quick swipes through the fine side of the included sharpener. You will feel the burrs disappear and the pull-through smoother with each pass. Do this before and after each use and you will always have a sharp knife at the ready at camp or on the road. The diminutive sharpener also has a coarse groove for reshaping damaged edges.
The Traveler Kit includes Wüsthof model 5558 shears, measuring eight inches overall with three inches of sharpened edge on each blade. They come apart for easy cleaning and are dishwasher safe (though with any edged utensil, hand-washing is the preferred cleaning method). The scissors are lightweight and comfortable, although I prefer the Wüsthof poultry shears with the notched blade for breaking down feathered game.
All this, plus a handy tool with lever-action wine opener and handy foil cutter, is packed in a zippered case. The ballistic nylon is durable and keeps everything in its place, plus is compact enough to stash easily in a tote or duffle.