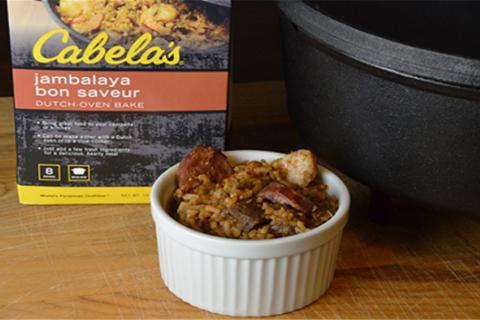 At the cabin, in hunting camp or around a campfire, a Dutch oven is versatile piece in the cook's arsenal.
To make camp cooking even easier, Cabela's has introduced a line of prepackaged meal kits designed to be cooked in a Dutch oven.
These Dutch-Oven Bakes require just a few simple steps and some additional ingredients to create masterpiece meals for friends and family.
No Dutch oven? No problem, as each box comes with instructions for making these meals in a slow cooker instead. Whichever method you choose, the directions are simple and straightforward.
It is worth noting, however, these aren't just dump and bake meals. Most require a few additional ingredients, so be sure to check the directions when packing up your cooler or camp box before heading afield.
They also take a few steps, adding ingredients at different times throughout the baking process, but not so much that you have babysit the meals as they cook.
We sampled the Jambalaya Bon Saveur meal and found it quite tasty, with just a hint of Cajun spice.
The recipe calls for diced poultry or waterfowl and we opted for the latter, using several teal breasts that had been the freezer since last season.
That, along with some venison and kielbasa and a catfish fillet (in place of the called-for shrimp due to a shellfish allergy) rounded out the protein.
In just a little over two hours in our Dutch oven set in a 350-degree oven we had a large and hearty meal that easily could have served a big family or several hungry hunters. The box listed the number of serving at eight, though with that much rice and meat, it could have easily fed a few more than that.
With five different meals available, ranging from a delicious Bourbon Beef Ragout to Rio Grande Chile, there's sure to be a meal or two to satisfy even the most discriminating camp guest.
And, somewhat surprisingly, the ingredient lists are straightforward with a limited number of preservatives, making them a wholesome choice for those who pay attention to such things.