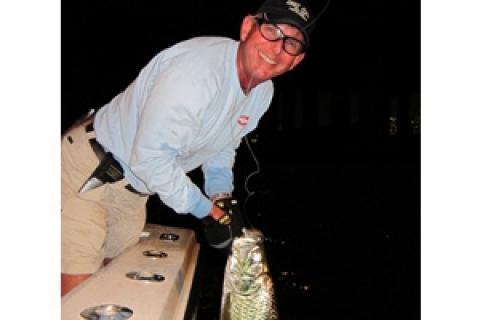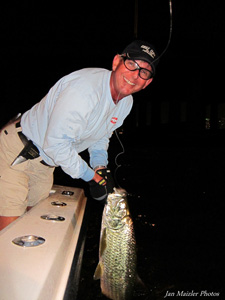 Although travelers worldwide know of Miami as a tourist Mecca, very few among them are aware that the magic city boasts a year-round fishery for tarpon. Many of the fish can top one hundred pounds, and the epicenter of the action is often in Government Cut. This inlet is the entrance to the Port of Miami — one of the largest cruise ship ports in the world.
While there are always tarpon to be had at some nook or cranny of this huge port, the fish really peak in numbers and size from the winter months to early May, when some of the fish begin to migrate down to the Florida Keys flats. The secret to this fishery is that the Silver Kings feed on the big plumes of shrimp that pass through "the Cut" during the cooler months.
And veteran tarpon guides like Captain Dave Kostyo on the Knot Nancy use two methods of shrimp fishing for tarpon that meets with success time and again. Fishing this area in the low light hours produces a bit more action for tarpon than bright daylight hours. If the tarpon are rolling in the deepest part of the cut — sometimes 50 feet — Captain Dave uses a breakaway sinker to get the live shrimp to the bottom where most of the tarpon are lying. Since he uses a circle hook, he places his rod in the holders, where the tarpon often hook themselves solidly.
If the tarpon are further inside the cut in Biscayne Bay, the fish generally stage on the uptide sides of the bay bridges particularly on the outgoing tide. Captain Dave first searches for these tarpon by approaching them from the downtide side in his boat and gazes into the shadow line caused by the bridge lights above for feeding fish. If he spots some tarpon, he comes around to the uptide side of the bridge and anchors his vessel with his stern towards the shadow line. In this case, he deploys large live shrimp on a single hook but with a large balloon 3 feet above the bait. The balloon helps him to see where the shrimp is via-a-vis the shadow line and it also serves as a strike indicator. Often, the balloon explodes with the vicious strike of a big tarpon.
This magic fishery is always best approached by going out with a guide the first few times. It's also nice to know that when you're done fishing a million attractions await you in one of the world's most popular cities.