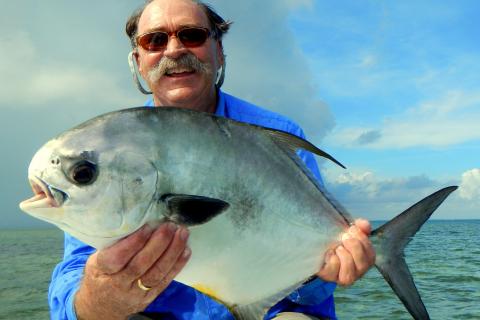 There are many ways to pursue the elusive Atlantic permit.  Anglers will often tip the odds in their favor by casting a permit's favorite food, live crab.  Others find that duping one into biting an artificial jig is an even more unique challenge, and many agree catching a permit on the fly represents a truly great angling achievement.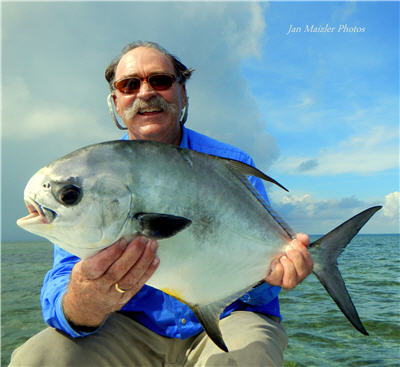 The right combination of current, structure and presentation can lead to landing more permit like this one.
Whatever your saltwater tackle and bait choices, there are a few basic tips that Captain Bob Branham suggests for consistent permit success. Captain Bob Branham is one of the marine angling world's prominent authorities on fishing for the Atlantic permit. He has decades of experience fishing Florida's Permit Coast, which stretches from Miami to the Marquesas. On a recent trip with him, he parlayed these factors into my landing and releasing two out of three hooked permit in only two hours.
Incoming Tide
Permit are deep-bodied fish, which means they require a deeper water column when coming inshore to forage on the flats. While each flat fishes differently, an incoming tide always provides an expanding water depth, which gives permit the comfort and ability to forage higher onto the flats.
Fast Current
The fastest current occurs on the full and new moons. These are referred to as spring tides. The velocity of the moving water tends to dislodge and accelerate a moving conveyor belt of crabs across the expanses of the shallows, channels, and open ocean.
Captain Bob especially likes the compression of current between two keys where the speed of the water is often stronger. He is constantly on the lookout for certain crab-tumbling seams and boils the permit love. He suggests focusing closely on current boils and meanders that are obvious on the water's surface.
Structure: Basins, Wrecks
Permit are well-known for their tendency to fin out over structure such as sandy basins and wrecks. This is because these two areas attract the kind of crunchy forage that permit love to feed on. This includes not only all manner of crabs but sea urchins as well. Many anglers do not realize that permit feed on these spiny treats. Although urchins are not useful as bait, their presence does attract permit. Spiny urchins hide in the same rocky crevices as crabs and lobster.
Eye Level Presentation
The best place for your presentation is the permit's feeding level. When you fish to a sighted permit, get your fly, lure, or bait exactly at their eye level. If the permit is tailing, your presentation should be right on the bottom alongside the fish.
If you are blind casting to likely areas under a cloudy sky or  deep water, use a live crab. Begin by casting up tide and slowly let your bait drift down tide on the surface. Control the depth by elevating the angle of your rod tip. Your next cast should let the crab drift deeper and down current with your rod tip lowered and your reel in free spool or open bail.


Permit fishing can be a challenge but by keeping an eye on these four key factors, you will consistently catch more fish. Casting to, hooking, fighting and releasing a permit is always a cause for celebration.