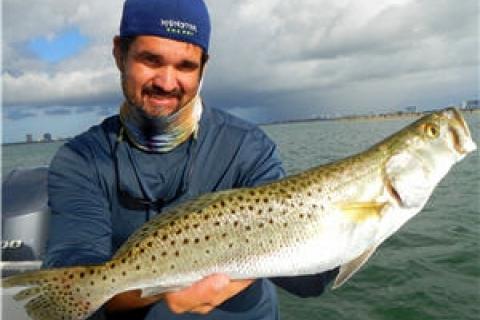 Anglers who travel may think of Miami Beach as a sparkling fun destination. Indeed, the only time they might visit this hip city is for the annual Miami Boat Show. But the undisputed and overlooked truth is that north Biscayne Bay, which lies between Miami Beach and the mainland, has some of the best tarpon and seatrout fishing in the United States.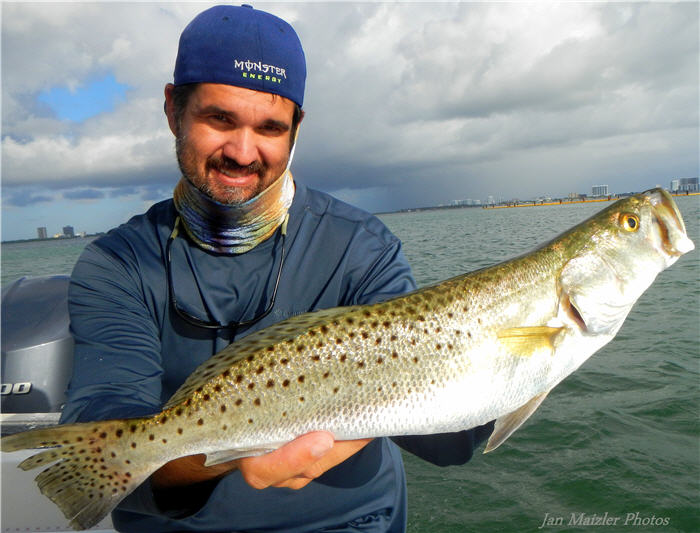 The fall bait migration is a smorgasbord of pilchards and finger mullet that big seatrout can't resist. Knowing when and where to fish are key for taking advantage of this autumn opportunity.
Miami Beach's inside waters particularly light up with action when the fall baitfish migration streams through. While the local tarpon and seatrout go berserk over the hordes of pilchards and finger mullet, the baitfish also attracts big schools of jacks and snook as well. It was during this magical migratory period that I met up with Captain George Amores of No Games Charter Fishing in the wee hours of the night to begin our adventure. Before we casted off our dock lines, Jorge filled the huge livewell aboard his boat with loads of pilchards and finger mullet.


The first spot we fished was a lit-up dock no more than 50 yards away. As we quietly eased towards the structure, we could see tarpon blasting bait. The melee was also punctuated by the pop of an occasional snook. George had my 20-pound spinning rod at the ready, and he baited a big pilchard onto the circle hook as we got to the light. He told me to just reel quickly when a fish struck the bait, and then slightly strike it when the fish was solidly on the hook. My first cast was immediately taken and soon we had a 30-pound tarpon alongside the boat. During the next action-packed three hours, I caught and released a total of three tarpon for 11 strikes at various dock lights. As the sun rose, the action started to die down.


George said our next move would be to hit the grassflats to the south during the low light dawn hours for seatrout. As we made our run towards Broad Causeway, George netted more fresh live pilchards, and we enjoyed some action under the birds on jacks, blue runners and ladyfish. But our time there was brief since we were keeping to a low light schedule.


We reached our spot in another 20 minutes and George used his GPS to carefully get to his exact spot before anchoring. He first threw out some live pilchards as chum to get the action going. And that action came soon! My first pilchard was inhaled instantly as I brought in a large mangrove snapper. My next fish was a big seatrout, which we posed with for a photo. After an hour elapsed, the seatrout bite predominated over the snapper, and we caught as many as we pleased. After another hour of this magic action, I was happily tired and willing to end the trip.  On our way back to the dock, George told me we'd have to make another trip during this fall bait run for big snook in some other spots. This was a prospect I could surely look forward to.


Gear up for your next saltwater fishing adventure now at Bass Pro Shops!
For more tips on fishing the flats visit Travel Blog: Tips for the Traveling Flats Fisherman at Bass Pro Shops 1Source.