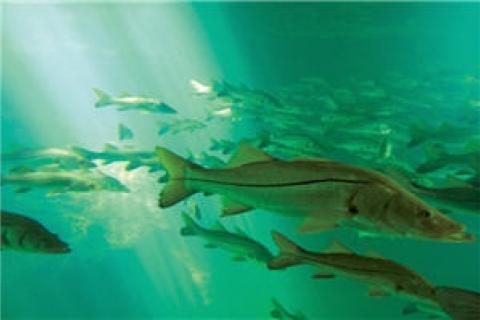 The snook fishing on the west coast of Florida from Tampa south can be stupendous. One major key to finding lots of feeding linesiders is to follow their movements in response to weather and seasonal changes.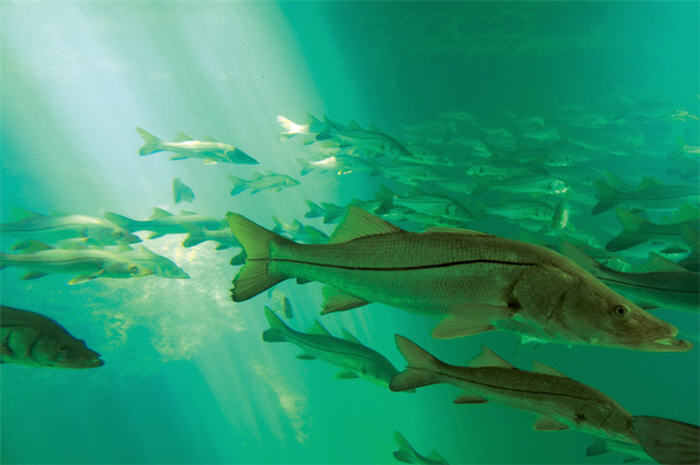 A key to finding snook is to keep your radar tuned to changes in the weather. A cold front can drive this "tropical fish" to deeper water columns in search of warmth.
And it was right on the cusp of the season's first cold front that friend Alan Williams and I had traveled to Sarasota to fish with renowned snook expert Captain Dave Pomerleau.  Cold fronts are complex phenomena that feature temperature changes, barometric alterations, and shifts in wind direction and velocity. Florida snook are "tropical fish" that naturally abhor the cold and will respond to water temperature drops by moving into a deeper water column to seek warmth. Captain Dave was sure we would enjoy success since the evening we were fishing offered the early stages of the front with higher winds but not the dropping water temperatures that were inevitable a day or two later.


Since the winds were gusting to over 25 knots, Captain Dave chose the protected canals and waters of Venice, Florida. He said that this urban habitat had loads of docks and underwater lights that aggregate snook in large numbers. Though Dave was in the process of having a brand new 25-foot, center console vessel built, he arrived with another boat that had the huge livewell necessary to successful snook outings. Little did I know that the snook fishing in the next few hours would be so phenomenal that we would be able to stick to lures the entire evening with smashing success.


After we all met at the marina, Alan and I watched Dave set up three basic tackle types. The first were heavy spinners rigged with lipped swimming plugs for seawall trolling for large snook. The second were medium rods rigged with a single hook for casting live shrimp. The final rigs were light spinners rigged with Dave's own design of a marvelous bucktail fishing jig.


Darkness fell and Dave launched his vessel and fired up the engine. Our first spot was a dock light no more than a hundred yards away. The snook were popping as Dave eased the vessel within casting distance, and I hooked up to a snook immediately on a jig rod. Alan followed suit moments later on the same kind of rig. And that began an evening of nonstop action. I do remember that Dave had counted over 50 snook released as I humorously begged for the mercy of a warm bed. Leaving snook in a feeding blitz would ensure — for me, at least — the cementing of memorable moments.


Fly fishing for linesiders is another way to have a great time on the water. Check out this blog post to learn the finer points of fly fishing for snook at Bass Pro Shops 1Source.