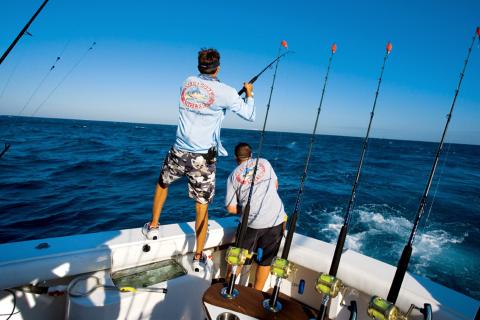 Rare is the light-tackle angler who doesn't talk about, or at least dream about, saltwater fishing the vast and fish-filled waters of coastal Louisiana.
Newbies to the Cajun Coast usually talk about Venice, which is often the target town of folks heading to that region for their first fishing fling.
While Venice is a great fishing spot, Louisiana is loaded with many places offering superb Gulf of Mexico fishing.
One such spot is the so-called east marsh, located south and east of the town of Chalmette.
The Chalmette region has tens of thousands of acres of tidewater marsh available less than a 60-minute drive southeast of New Orleans. Chalmette is easy to reach by highway, and its labyrinth of inshore creeks and marshes are not difficult for anglers to work on their own, fishing from bay boats, flats skiffs, even shallow-draft jon boats.
There is so much fish-holding marsh anglers rarely have to run more then 45 minutes from the marina to catch all the redfish and seatrout they want.
The Key to Good Marsh Redfishing is Falling Water
Tip: Shop fishing gear at Cabela's Gonzales store
When tide is high, redfish go far back into salt marshes to scatter and feed. But when the tide falls, everything's coming out of the marsh. So reds station at creek run-outs to feed on crabs and baitfish, and anglers can reds, flounder, some black drum and at times spotted seatrout.
Timing fishing to tide phase is vitally important because there's only one high and one low tide every 24 hours. And good, hard-running tides around the new and full moons are choice times, because of the increased flow.
Good red drum fishing in the Chalmette marsh begins in April and lasts until freezing weather moves into the region, which usually doesn't occur until February, and sometimes not at all.
Freezing weather pushes reds out of shallow marsh creeks and bays and they head to deep water, often in dredged canals made by the oil and gas industry. This is prime time for spotted seatrout, and for anglers who fish jigs in holes 10 to 20 feet deep, catching cold-weather trout on every cast is not unusual. That can happen with redfish, too, and catches of over 100 reds per day is possible then.
Tip: Shop fishing gear at Bass Pro Shops Denham Springs store
But Warm-Weather Seatrout Fishing Can be Exceptional, Too
Generally, the best trout action is in more open, salty, clear water than where redfish are found. But trout are so abundant, that any shell bar or tight cut between islands or around points are prime spots for waylaying east marsh fish with grub jigs.
Standard 1/4- to 3/8-ounce jigs with bright-color grub bodies work well, and many Louisiana anglers tie them in tandem, so double-headers on trout are common. Fishing jigs or soft plastic shrimp imitations a few feet under a popping cork or float also is highly effective.
Tip: Shop saltwater lures online at Bass Pro Shops here
Many oil rig platforms are near shore in the area, and daybreak fishing from May through August is often productive for limit catches of seatrout. Jigs and imitation shrimp lures like the Berkley Gulp! Saltwater shrimp work around rigs, but live croakers and shrimp are most commonly employed by local anglers wanting to fill coolers fast with fat trout, which average 2 to 5 pounds.
The fishing can be so good around rigs in summer that anglers can collect limit catches of seatrout (25 per person) by midmorning, then can be fishing inside the sheltered marsh for redfish well before noon.
From Brenton Sound Marina (the east marsh jump-off spot, the run to prime oil-rig summer-trout hotspots is about 30 miles. Much of the run is sheltered in the Mississippi River Gulf Outlet canal, with about 15 miles of open water Gulf of Mexico running required southeast of the canal mouth to productive rigs.
Some of the best summer rig-trout fishing is found in 15 to 20 feet of water. Lures or baits work, and choice spots have a hard-shell bottom, placed on the Gulf floor as a rig platform base that rises several feet above surrounding bottom.
There are hundreds of rigs great for trout, reds and other fish. Run to a rig and look at it with a depthfinder. If there's a shell bottom, the depth will noticeably rise a few feet around the rig, and trout should be there.
Trout live around rigs all summer, then move inshore in cool weather, closer to the east marsh.
by Bob McNally