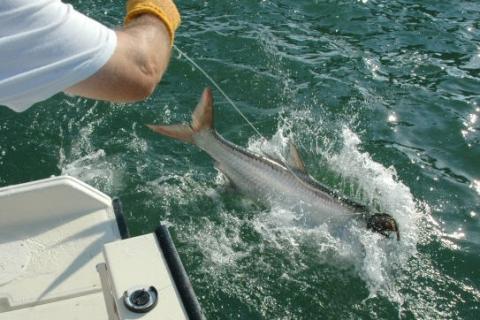 Tarpon fishing is rarely easy, but persistence and the right gear can lead to a gill-rattling, 6-foot silver king busting through the surface on the end of your line.  Even the threat of that experience is enough to give anyone the itch.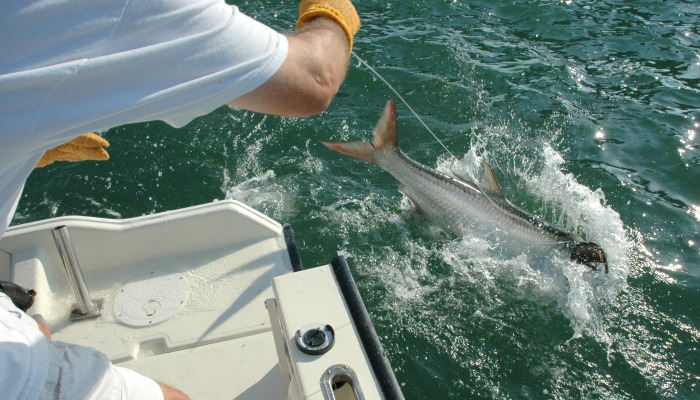 A length of fluorocarbon leader in 60- to 80-pound test is a must to control the fish at boatside.
Prime tarpon season typically begins around April 15 with the best sight-fishing along the beaches continuing through the first big rains that usually arrive in mid-June. There's still plenty of action in late summer and all the way to mid-October in some areas, but this is often "black water" fishing, where sight-fishing is difficult and live or cut bait surpasses artificial offerings.
The easy way to find tarpon is fishing from a boat just off the beach.  Wind direction is everything in these setups.  You want a wind blowing out from the beach, which creates a section of flat water near shore.
The fish typically cruise up and down the beaches in pods of 10 to 100 fish, anywhere from 100 yards to a full mile off the beach. Taking advantage of the calm, anglers in anything from kayaks to flats boats can put themselves in range of these fish. These pods also have been known to pass within reach of some of the longer beach piers, though this is a much less successful strategy.
Tackle for your first tarpon is pretty straightforward. Here's a possible setup: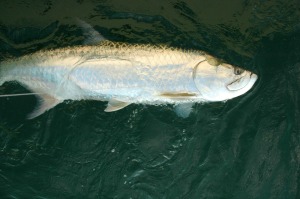 Tarpon grow to huge sizes in Florida these days, with the average fish exceeding 95 pounds and many approaching 150. It takes strong tackle to handle these giants.
A stout, two-hand spinning rod such as the Offshore Angler Ocean Master, a 7-footer built to handle lines up to 50-pound-test, will allow long casts plus tremendous pressure when you have to pump the fish up from the depths.


A spinning reel such as the Shimano Saragosa 10000, which holds over 400 yards of 50-pound braid and has a butter-smooth drag.


Braided line in 50-pound-test: Bass Pro Shops XPS 8 Advanced Braid and many other brands are excellent.


A Mustad Tarpon Hook or similar from VMC or Gamakatsu, in size 5/0 to 7/0, depending on the size of your bait. These are made from triple-strong wire designed to handle the force a big tarpon can exert.


Fluorocarbon leader in 60- to 80-pound test. Most anglers use 3 feet or more of this "hard" leader to protect against the rough jaws and gill plates of tarpon. It can also act as a handle for controlling the fish at boatside.


Live bait is the most certain offering.  A pass crab is the ideal bait. They can be scooped up along the surf line and also from tide rips at many of the major passes on falling tides in spring and early summer.  Large threadfins and scaled sardines are also highly effective on the west coast, whereas many anglers prefer finger mullet on the east coast.
There's never been a better time to connect with one of Florida's giant silver kings, thanks to some 20 years of protection via the state's tarpon tag and the conservation ethic inspired by groups such as  the Bonefish & Tarpon Trust.  Use these tips, and you just might hook into the fish of a lifetime.
Find more information about springtime tarpon fishing here: http://1source.basspro.com/index.php/component/k2/18-saltwater-fishing/2463-travel-blog-miami-springtime-tarpon-gator-trout