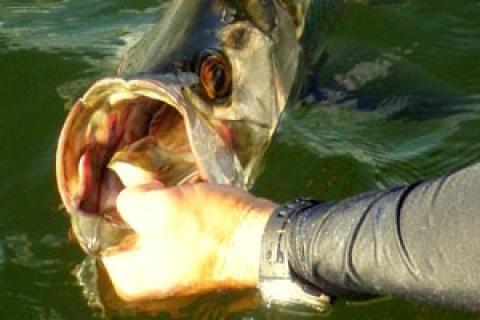 Campeche, Mexico, has some great tarpon fishing. Here's what you need to know about traveling and fishing in this tourist destination.
Firstly, all of the reputed bad press about cartels and criminal activity in Mexico are located far to the north of Campeche along the border with the United States. Campeche lies on the Yucatan peninsula, far from all of this danger. Given Mexico's huge size, that leaves an enormous swath of vacation destinations happily awaiting tourists and travelers. Campeche lies on the Gulf of Mexico side of this peninsula. Generally the vast majority of air traffic arrives on the Caribbean side in Cancun, or less frequently, inland in Merida.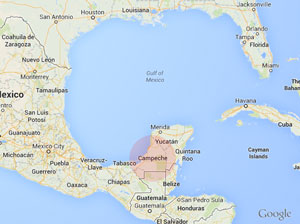 Those worried about traveling to Mexico can rest easy that Campeche is located in the Yucatan Peninsula and not in northern Mexico.
I have been to this peninsula many times, and found the security good and the people friendly. And this certainly does not preclude common sense and precaution, but that is a universal practice for seasoned travelers.


Use a Good Fishing Outfitter
When I travel to Campeche, I use Tarpon Town Anglers. Under the able guidance of Raul Castaneda, this operation features a nice fleet of sturdy but comfy pangas run by some of the most experienced guides in Campeche. They are comfortable and competent fishing either fly or light tackle anglers. It is quite possible that this city has one of the largest populations of small tarpon on planet earth.


Tarpon Locations
Generally, the tarpon are located to the north of the city with about a half hour run. Some of the largest schools appear rolling offshore in large groups from a few hundred yards to about a mile. One simply presents their lure or fly either ahead of the school or off to one section if they are circling while rolling. Chances for pinpoint casting to laid-up fish exist in spotting one or a few fish along the shoreline or deeper into the cathedral-like canals in the mangroves.


Tarpon Fishing Tackle
You can bring the same tackle (8-weight fly; 10-pound spin) you would use for small tarpon or snook anywhere else like Florida. It's best if you use three-piece travel rods that you can bring aboard the plane as carry-on luggage.


Other Activities
Campeche has some of the finest restaurants in Mexico, serving Mayan and Yucatecan specialties of which the seafood offerings are just delicious. There are ample sightseeing opportunities in the city and the ruins at Edzna are not to be missed.