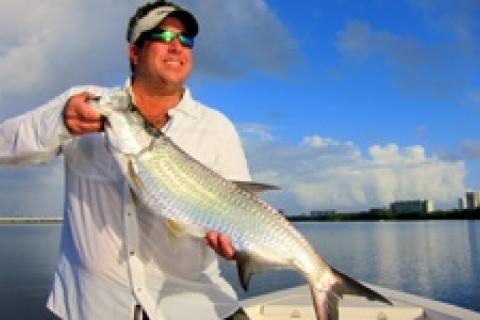 My journey in the sleek silvery jet from Miami was nearing completion. The pilot announced that he'd begun our descent, which would take us over Old San Juan and the lakes that surrounded the airport.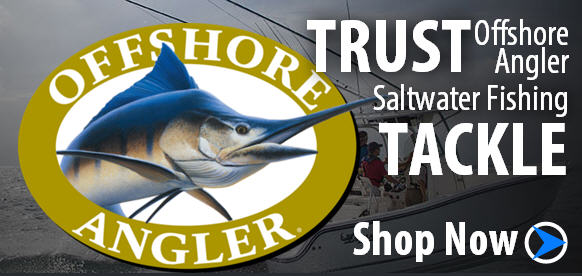 The plane banked to the left, and a view of oceanside Puerto Rico sprang into view. The island was bathed in a patchwork pattern of yellow-white globs of sunlight offset by the round shadows of fair weather clouds and cradled by the immense sapphire expanse of the mighty Atlantic.


As the plane straightened and eased down into its approach to landing, I saw the clustered streets of the Old City whiz by. Not far beyond lay the mocha-colored lagunas where I'd be fishing for tarpon the next three mornings. Most traveling anglers would agree that there's nothing quite like an aerial preview of the fishing grounds, itself an exciting prelude.


The pilot put us down with a soft marshmallow landing. As we debarked to pick up our baggage, it was a pleasure knowing that our posh lodgings — the Verdanza Hotel — lay five minutes away and my guide, tarpon maestro Captain Omar Orraca was located only a few miles to the east. As I breathed in the salty air caressing me through the cab window, I reminded myself that an angling destination need not be far flung to be exotic!


My wife and I were greeted at the Verdanza's front door by staff bearing ice-cold sherbert as a traveler's refreshment as we proceeded to a brisk check-in. Our room was excellent and offered a delightful view of the Hotel Row.


Later in the day, we had some good wine at the hotel's wine bar and looked forward to a triple-headed in-house cuisine choice of Asian dining at J.H. Yee's; Caribbean-inspired bistro dishes at hip Eighty20 Bistro and authentic Puerto Rican fare at Coladas. We happily chose the latter and dined on seafood appetizers, roast pork, rice, beans, yucca, and a creamy flan for desert.


Sleep would come early, as I would be meeting Captain Omar at nearby Cangrejos Marina at 6 a.m. I knew from my prior discussions with him that the first hour after leaving the dock would be taken up catching two kinds of live bait.


Time With Fishing Captain Omar

The night passed slowly because of my customary restless anticipation. I took one of the many cabs on call for the Verdanza bellman at 5:45 a.m. and was whisked to the oceanside gates of the marina within ten minutes. I walked in and saw Omar waving from the bow of his sleek Pathfinder. As I came aboard, we shook hands. Omar turned the ignition key and his Yamaha 200 H.P. four-stroke came alive in its' wonderfully silent way.


Omar's tackle was absolutely first class. Sitting in his upright rod holders were six gleaming medium- size spinning outfits. They were composed of top-line Star rods and Shimano Stella reels. When I asked Omar about his line and leader choices, I was thoroughly impressed with his thoughtfulness. Omar said he only used Sufix monofilament line. Like me, he felt that the non-stretch of braid caused way too many thrown hooks and slingshotted lures when tarpon jump and that mono was far more forgiving. His leader construction was inspired. After he doubled his running line with a Bimini Twist, he added a length of red line, which would help him and his anglers to better see how much line to have off the rod tip when the tarpon were alongside the boat for photos, de-hooking, and release. Omar was able to then add a lighter 25-pound fluorocarbon leader, because the Owner 5/0 Motu light circle hook kept the leader out of the tarpon's mouth by the nature of the hook's tendency to sink in the corner jaw hinge.


The bait netting came to fruition quite quickly with Omar's throwing skills and the boats' two livewells were filled threadfin herring and "anchovies" respectively. In seemingly no time, we were en route through a myriad of bays that tapered into rivers, compressed into a canal, and then rapidly widened into a huge bay. I looked into the distance at a long flagged bridge that I had seen through pictures in recent years past.


Omar continued cruising through the bridge itself and headed to the two o' clock position until he saw some fishing rolling about 100 yards away. He slowed down his skiff about fifty yards upwind of the rollers and cut his engine, fully knowing that the moderate breeze would take us into the area of active fish.


He hooked a livey onto my rig and told me to cast out into the upwind direction. In barely thirty seconds my bait was engulfed in a huge strike, and Omar yelled, "Reel fast." I was already doing so and the rod bowed deeply as the circle hook found the jaw hinge corner to dig in. Up flew a marvelous tarpon of about 60 pounds, which I quickly bowed to. The battle became a dance of give and take between myself versus the Silver King with coaching by Omar in my corner as to when to fight the fish with side pressure or when to perform the "down and dirty." We had the fish alongside for photos and release in 15 minutes. I recall thinking that Omar really knew his tarpon.


Omar hooked me up with a threadfin and I cast the live bait thirty feet into the wind. In a minute the bait grew fidgety, and disappeared in an explosion moments later. I reeled fast, the line came tight and the rod heeled over. Since there was no ensuing jump and less drag going out, Omar said, "snook," which indeed was right. We posed the fine specimen of 12 pounds and released it. Soon, I caught another snook. Omar said, "Let's move or we'll catch them all day." We made the move and chased some huge rolling tarpon all morning long but they were reluctant to strike.


Days 2 and 3 saw more jumped fish. Omar hooked a huge Silver King, which threw the hook. A half-hour later he released a 40-pound specimen. Tarpon — being what they are all over the world- would disappear from our boat only to appear a hundred yards away. We jumped a few more fish, while avoiding those pesky snook. While Omar wanted more, I was ready to call it quits by lunchtime of day 3. But I was glad to tell him the story was signed, sealed, and delivered barely an hour into Day 1. On our way back to Cangrejos Marina, I'd already begun planning my return trip with Captain Omar.


Captain Omar's phone number is 787-396-8346 and his e-mail is tarpon@fishinginpuertorico.com.


The Verdanza Hotel
Besides being five minutes from the airport, ten minutes from Captin Omar's boat slip, the Verdanza is smack dab in the middle of Hotel Row and all its' activity. As stated before, to be greeted with sherbet in a chic lobby graced with three different restaurants, a wine bar, and a cookie bar gives travelers a welcomed and excited feeling.


Within feet of the check-in is a super-friendly concierge desk, which will offer you and yours any trip and venue in sunny Puerto Rico that your heart will desire. One afternoon, my wife and I took a wonderful offering composed of a trip to the Bacardi rum plant, the old forts, and a tour of Old San Juan where we roamed and then dined on pork tapas and drank fine rum.


The rooms themselves have all the appointments and the beds offered superb pillows and mattresses. The air conditioning was responsive and crisp. The large picture window gave us a marvelous vista of Hotel Row. We could also look down on the expansive pool and deck that part of the hotel was wrapped around.


Imagine yourself fighting a silver king topping one hundred pounds in a vast mangrove- adorned lagoon...and only a few miles away at the Verdanza, your spouse munches a hot cookie on the pool deck while the kids frolic in the pool a few steps away. Not bad? You bet!


Puerto Rico Facts
The island of Puerto Rico is a very popular tourist destination because of its location, rich history and warm atmosphere.
Puerto Rico is located in the Caribbean, between the Caribbean Sea and the North Atlantic Ocean, east of the Dominican Republic about 1,000 miles southeast of Miami.
Puerto Rico is the smallest of the Greater Antilles and consists of the main island of Puerto Rico and several smaller islands and keys, including Vieques, Mona and Culebra.
Puerto Rico is approximately three times the size of Rhode Island.
Culture — Puerto Ricans love their country, and at the same time accept the free association with the United States, always emphasizing loyalty to their own culture, folklore, hospitality and way of life. Though the primary language is Spanish, English is commonly spoken as well.
Currency — Since Puerto Rico is part of the United States, the island's currency is the U.S. dollar.
Cuisine — Puerto Rico has some of the finest and colorful cuisine in the entire Caribbean.