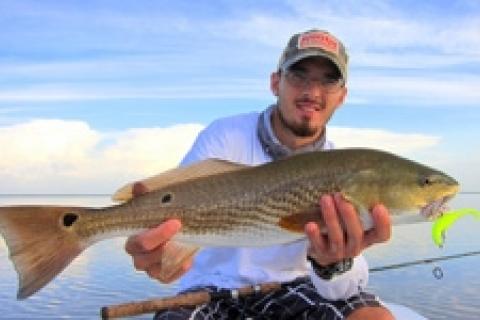 Captain Steven Tejera's extensive experience "throwing plastics" on the shallow flats and channels of the Everglades National Park has pointed the way to the creation of ideal tackle for this fishing specialty.
Captain Steven Tejera shows off a snook caught with a soft plastic bait.
Captain Steven Tejera's extensive experience "throwing plastics" on the shallow flats and channels of the Everglades National Park has pointed the way to the creation of ideal tackle for this fishing specialty. The use of soft plastic lures demands that the fishing line and rod, as well, possess strike sensitivity and power transmission for solid hooksets. Tejera employs the finest braided line spooled to capacity on his spinning reels. He contends that "I feel the slightest bump on these great lures with braid ... and its lack of stretch lets me drive the hook home in a more deliberate and effective way than monofilament."
A stiff graphite rod also doubles down on feeling the strike of a snook or redfish and setting the hook through the "meaty" plastic. He rigs the business end of his braided running line with a 24-inch length of 30-pound fluorocarbon. He then rigs the soft plastic bait — such as a Money Minnow — to the leader with a Homer Rhode or Uni-loop knot.
Casting plastics in these often shallow waters is done by sight fishing to a specific seen fish or casting to likely-looking strike areas. Snook will generally be encountered as a "seen" target either cruising, "laid-up" (sitting still) or pushing surface water as it swims. Redfish do the same with the addition of "tailing" (tail out of the water) and "crawling" (back out of the water).
Snook "crawl" too but far less often than redfish. When it's necessary to gaze into the water column for "cruisers", put on your best polarized glasses. Looking for fish movement that breaks the surface (film of the water) often occurs early and late in the day or during very low tide. At those times it is not necessary to have on sunglasses for sighting fish. Remember that after the sun comes up, put your sunglasses on for eye protection — even if it's still simple to spot tailing redfish with your uncovered eyes.
Likely-looking strike areas are generally large potholes in the middle of the flats, drop offs and the deeper moats that surround islands. Occasionally, Tejera encourages his anglers to also cast the plastics next to structure like potholes or submerged trees where the snook like to lie in wait to ambush baitfish. It is of interest that as a possible hotspot one submerged tree or rock may produce nothing, while the same structure mere feet away may yield many snook and reds. In order to best see these underwater honeyholes it is best to wear polarized glasses with a green tint.
Rigging Plastic Bait
Tejera prefers using a hook featuring a "keeper" corkscrew pin as well as a sinker on the shank. These two items firstly keep the plastic in place on the hook, and secondly, position the hook to ride in the up position. The final step is to rig the hook "weedless" in order to avoid snagging floating grass and underwater structure such as branches and weed clumps. This is accomplished by burying the hook point slightly into the plastic surface so there are no protruding points to stick anything and become snagged.
In those rare moments of moving over a very deep channel and/or fishing days nearshore that are very windy, Tejera advocates changing the rig over to rigging the soft plastic tail to a standard jighead of perhaps as heavy as 3/8 ounce, depending on the severity of the conditions.
Shapes, Scents & Colors
The soft plastic bait has a variety of linear shapes but should always have some kind of moving tail which is very enticing. The variety of tails on the market staggers the imagination. Tejera advocates keeping a variety of shapes in his tackle bag, just in case that one type is slightly producing better. My own personal favorite is the paddle tail. Many anglers believe that redfish and snook hit the overall shape and silhouette of the lure. I maintain that a moving or swimming tail makes something good even better and the Captain agrees. And, moreover these swimming tails make Tejera's job easier (and yours, too) since the only retrieve needed is a steady reeling in.
Captain Steven Tejera found success with hot color plastics, like this Money Minnow.
Tejera sometimes uses scented plastic, particularly if the fish need more stimulation. I use some scent more often than not — either impregnated in the plastic itself or by application through a plastic bottle — because I want to be sure the fish's sense of smell is stimulated as well as its sense of sight and lateral line vibration. And, the range of scents — from ladyfish to mullet to shrimp as well as composites — makes a quick application hard to turn down when seeking a great day of action on these shallows.
Colors
When I fished with Captain Tejera, I was impressed with his use of hot colors like yellow, white and yellow-white combos. Never once did I see him using the natural earth tones that mimic shrimps or crabs. And clearly he did not need to, as the snook, redfish and jacks blasted these colors with gusto.
As an aside, we now know that in a foot or two of water, fish can distinguish color. Yet Tejera was dialed into the fact that these game fish often strike colors that don't look like forage. It became obvious that these white and yellow lures were easily seen during all the light level phases of the day. I must have sight cast to over a hundred snook and redfish that day and there were no refusals if the cast was well-placed about 2 feet in front of the fish.
We both deduced that a good cast and retrieve seemed the deciding factor. My guess is that those colors coupled with those wiggling tails triggered a reflexive strike from fish actively hunting across the shallows. This would be in contrast to a snook suspended under a dock watching and waiting very carefully in ambush mode.
Vessel Plays a Role
None of this would really be possible without the proper platform to fish from. Since this is a sight-fishing shallow water enterprise, Tejera chose a 16-foot Dolphin Renegade boat. This vessel floats in mere inches of water and is equipped with the kinds of raised decks and platforms that make sighting redfish and snook much easier as you cast that soft plastic lure, awaiting that explosive strike.