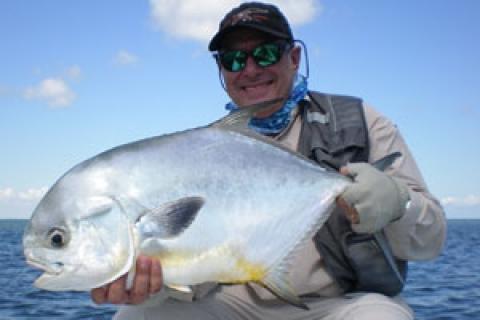 There are a small number of fabled destinations for fisherfolk who ply marine salt - waters: Key West exemplifies one of these special places that belong in the lifetime and memories of every angler. One big reason is that our "southernmost city" has an offering of fishy habitats that few other cities in the US can match. Let's take a look.


Accessibility for Tarpon Fishing


Key West harbor offers some of the planet's most accessible tarpon fishing mere minutes from Old Town. Not far from the cruise ships and hip harborside hotels, you can charter a sleek center console vessel to hook silver kings topping one hundred pounds. If you're lucky, perhaps a jig and crab combo dropped to the bottom can nail you a large permit as well.


Abundant Flats for Fishing


There are hundreds of square miles of flats from right across the harbor all the way west to the Marquesas and north of Key West into the Gulf flats. This enormous swath features some of the best permit fishing in the world during the warm and temperate months. There is also a superb tarpon fishery during the spring and early summer. Expect to catch some nice bonefish close to the city with a minimal run. There is some of the best flats fishing for barracuda and giant sharks out of Key West. The shallows here offer fish every month of the year.


Gulf of Mexico on One Side


If you fish alongside one of the shrimp boats culling their catch, expect to hook bonito, blackfin tuna, crevalle jacks, cobia, mackerel and a host of other gamesters. Many of the guides chum with the shrimp boat bycatch and use lures to hook the game fish attracted to this seafood buffet!


Atlantic Ocean on the Other


On the south side of the island are the reefs, lighthouses, drop-offs and blue water that can easily deliver big kingfish, pot-bellied grouper, big mutton snappers, blackfin tuna, colorful sailfish and so much more. If your captain goes far enough, trolling up a nice blue marlin or drifting for swordfish are productive ventures.


Places to Stay, Things to Do


Key West has some of the finest guest houses, motels, and hotels in the world. Give yourself a treat and stay in Old Town at one of the historic and well-appointed guest houses. The restaurants here are outstanding and are in walking distance of or sit right on Duval Street, the epicenter of culinary and entertainment action. There are plenty of famous attractions on the island, but be sure to tour the Ernest Hemingway House and enjoy a libation at Sloppy Joe's.


Getting There


You can catch a direct flight to Key West from Miami that takes less than an hour or you can make a scenic drive that will take you through the entire fabulous Florida Keys.