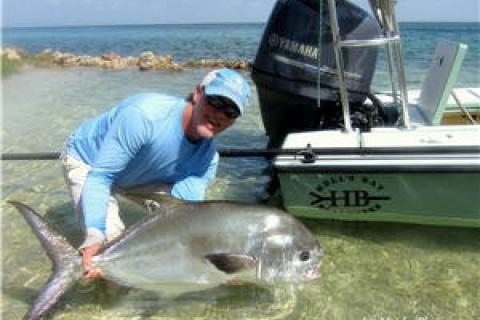 There are many wonderful flats habitats where anglers can enjoy bonefish, tarpon, and permit fishing at the same time. Such places include the Bahamas, Yucatan's Quintana Roo coast, Belize, Roatan, Little Cayman, and Florida's stretch of water from Miami to the Marquesas. For many American anglers, fishing the flats of foreign shores can be a somewhat more expensive and complex undertaking than achieving the same stateside. Miami is blessed with Biscayne Bay, which is home to some of the largest bonefish, tarpon, and permit in the Western Hemisphere. From that perspective, it could well be that Miami has the world's most convenient habitat for fishing the Big Three: bonefish, tarpon, and permit. A traveler could land at Miami International Airport and literally be getting into a guided flats boat within 60 minutes!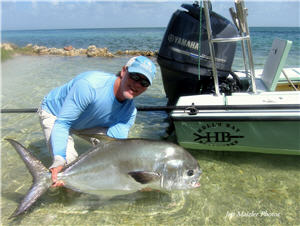 Anglers

don't have to fish in a foreign country for the big 3. The flats habitats on Miami's doorstep hold impressive numbers of big permit, bonefish and tarpon. 
Though my home waters are in Miami, my angling travels often take me away from the Magic City. So it was with great pleasure when I arranged a shallow water adventure with Captain Carl Ball of AWOL Fishing Charters right in my backyard within sight of downtown Miami's skyscrapers. Carl and I were quite specific about the tidal profile of the exact day. Firstly, this would include a spring tide (new moon or full moon) with high velocity. Secondly, we wanted a midday high tide, which would keep the sun at our backs for better visibility. While we could not control the weather overhead, we did chose a day based on the ten day weather forecast, and we had fair skies when the day arrived.


Since I wanted this to be a trip that would produce released fish, Carl had live shrimp and crabs aboard his flats boat. Correspondingly, I'd be using spinning tackle to get the job done as quickly and efficiently as possible, so the released fish would survive once we took pictures and said goodbye.


Once we were underway, Carl ran south for about 30 minutes to the first spot. We immediately started seeing permit swimming across sandy holes — and they were big ones.  As we poled downtide to the next huge sandy spot, a massive permit appeared not 20 feet from the bow. I flipped an underhand cast of a live crab to the beast, which gulped it down and simultaneously rocketed away from the boat. I quickly set the hook and the battle was on. With proper fighting technique and great boat handing by Carl, we had the monster permit alongside the boat in 40 minutes. By our reckoning, it was well over 30 pounds. Starting the day with a fish like that is a wonderful thing. So with some massive pressure off us and much to be grateful for, Carl and I spent the rest of the morning casting to, hooking, and releasing good-sized spinner sharks with plugs, jigs, and cut bait.


And all of this, within sight of the Magic City!


For more tips on fishing the flats for permit visit Permit Fishing on the Flats at Bass Pro Shops 1Source.