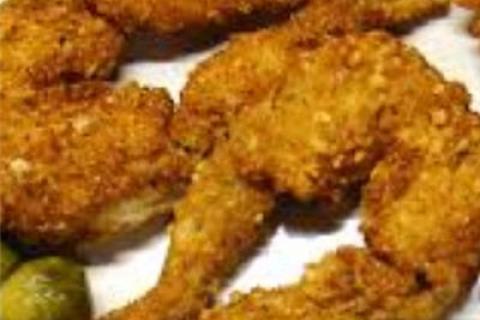 Frog gigging is a great way to spend your nights, but what's next once you've reached your limit and it's time to pack it in for the evening? 


After all that hard work, a frog legs feast is in order.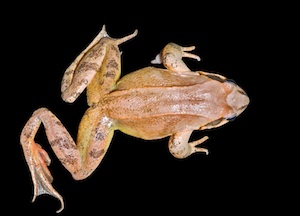 Frog legs, considered a delicacy in many cultures, are a vitamin- and protein-laden food that some say tastes like chicken wings, while others will say they've got a fishier taste.


Either way, frog legs are a delicate protein that are well-suited for preparation in many cuisine styles, from Southern to Asian to French.


Next time you've filled your cooler on a frog gigging trip, try out some of these recipes below, compiled from AllRecipes.com, Saveur and the Missouri Department of Conservation.  



Tip: Learn more about How to Frog Gigging Plus Recipes and vide0-here

Fried Frog Legs
via http://allrecipes.com/recipe/fried-frogs-legs/
Servings: 6
Ingredients:
24 frog legs, skin removed

1 (4 ounce) packet saltine crackers, crushed

1 cup all-purpose flour

1/2 cup cornmeal

1 teaspoon minced onion

2 teaspoons salt

1 tablespoon ground black pepper

2 eggs

1/2 cup milk

2 cups vegetable oil for frying

1 cup peanut oil for frying
Method:
Rinse the frog's legs and pat dry; set aside. In a large resealable bag, combine the saltine cracker crumbs, flour, cornmeal, onion, salt and pepper. Shake to mix. In a shallow bowl, whisk together eggs and milk.


Heat the vegetable oil and peanut oil in a large skillet over medium-high heat. The oil should be about 1/2 inch deep.


Dip the frog's legs into the milk and egg, then dip into the cracker mixture until evenly coated. Carefully place them in the hot oil. Cook until golden brown on each side, about 5 minutes per side. If the legs start to brown too quickly, reduce the heat to medium. Drain on paper towels before serving.


Sautéed Frogs' Legs
via Saveur, Savor a World of Authentic Cuisine
Servings: 4
Ingredients:
12 pairs of frogs' legs (about 12 oz.), fresh or frozen and thawed

1 1⁄2 cups milk

Kosher salt and freshly ground pepper

1 cup flour

16 tbsp. clarified butter

2 cloves garlic, finely chopped

1 tbsp. fresh lemon juice

1 tbsp. finely chopped fresh parsley



Method:
Snip apart each pair of frogs' legs. Combine frogs' legs and milk in a bowl and refrigerate for 30 minutes. Transfer legs to paper towels, pat dry, and season generously with salt and pepper. Put flour on a plate and, working in batches, coat legs with flour, shaking off excess, and transfer to another plate.


Heat 6 tbsp. butter in a 12" skillet over high heat until sizzling. Add half of the frogs' legs and cook, flipping once, until golden brown, 3–4 minutes. Transfer legs to a plate and set aside; wipe out skillet; repeat with 6 more tbsp. butter and remaining legs.


Discard butter in skillet; then add remaining butter and the garlic and cook, swirling constantly, until mixture is fragrant and garlic is lightly browned, about 1 minute. Remove skillet from heat, add lemon juice, and season with salt and pepper.


To serve, place frogs' legs in the center of a serving plate, drizzle sauce around edge of plate, and garnish with parsley. Serve with sautéed potatoes and tomatoes, if you like.


Grilled Frog Legs
via Missouri Department of Conservation
Ingredients:
12 large frog legs

1/2 c. vegetable oil

Grated peel & juice of 1/2 lemon

3 T. minced purple onion 1 tsp. salt

1 tsp. dried basil leaves 1 tsp. dry mustard

2 T. chopped parsley Vegetable oil

1/4 c. butter or margarine 1 clove garlic, minced


Method:
Arrange frog legs in single layer in baking dish. Combine oil, lemon peel & juice, onion, parsley, salt, mustard and basil. Measure out 1/3 cup marinade, cover with plastic wrap and chill. Pour remaining marinade over frog legs, turning to coat. Cover with plastic wrap and chill, for 3 hours, turning occasionally.


Brush grill with vegetable oil. Drain frog legs and discard marinade. Grill frog legs at medium heat, covered, for 3 minutes. Turn frog legs, cover, and cook for an additional 3-4 minutes or until meat is no longer pink and begins to separate from the bones.


Combine reserved marinade with butter and garlic in saucepan. Cook over medium heat for 1 to 2 minutes or until hot and butter is melted, stirring frequently. Pour over cooked frog legs and serve.


What frogs legs recipes are at the top of your list? Let us know in the comments section!


Happy frog gigging!
Watch Video: MISSOURI DEPARTMENT of CONSERVATION - Bullfrogs