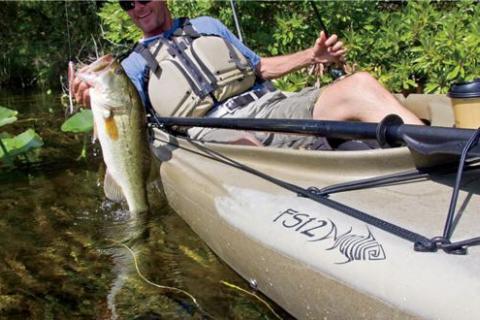 by JD Pate -
Bass fishing and kayaks are a match made in heaven, and a great choice is the Ascend FS128T Sit-On-Top Angler Kayak, which includes almost everything you need to get started kayak bass fishing. This advanced fishing craft sports a comfortable, removable, and adjustable seat; a rod tender and four recessed rod holders; multiple watertight storage hatches; and many more features to make bass fishing easy and fun.
 

Click kayaks here - and listen to a segment on kayaks on the Bass Pro Shops Outdoor World radio. The hour-long radio show airs on Saturday's at 10 a.m. and 5 p.m. ET on RURAL RADIO SiriusXM Channel 80.
 
Sure, you can race around multi-thousand acre lakes in a 21 foot speedboat looking for bucketmouths, but the truth is that big bass make no distinction between Lake Sam Rayburn and a 5-acre farm pond. In fact, some of the largest bass in history have come from small lakes: from George Perry's world record 22 lb. 4 oz. bass was caught in a tiny oxbow lake off the Ocmulgee river in Georgia. A 16+ pound lunker was pulled out of small Lake Pinkston in East Texas. And everyone knows there's an 8 lb. lunker in that little frog pond behind granddaddy's house.
 
A kayak is the perfect way to reach these big fish. Kayaking has become extremely popular in the last couple of decades, ever since manufacturers perfected an efficient and consistent method of roto-molding small watercraft that are lightweight, durable, comfortable, and affordable for nearly anyone.
 
About Ascend Kayaks and kayaking.
Here's Why You Should Choose a Kayak for Bass Fishing
Kayaks are easily portable—even on a car with the proper rack—and most adults can lift a kayak without assistance; there are also scupper carts for use in transporting the boat from vehicle to water. There's no trailer or motor to maintain, and no fuel to buy, so it's great for the environment. In a kayak, you can navigate waters less than a foot deep, letting you get way back into coves and farther into the spawning flats—and kayaks are virtually silent, so they don't spook fish. This also makes them ideal for viewing and photographing shoreline wildlife. And finally, paddling is great exercise for improving upper-body strength.
 
6 Tips for Targeting Bass in a Kayak
1. Though you don't need five rod and reel setups, you should at least have two—one rigged with a soft plastic rig like a Texas rigged 6" lizard or a weightless Stik-O, and the other rigged with a shallow hardbait like a Rapala DT 4 crankbait or an Bass Pro Shops XPS Suspending Minnow fishing lure. Many times, if a bass fails to bite one lure, she'll pounce on something that's completely different.
 
2. Get shallow in the shade. Bass will stay very shallow in warm weather when shade is available, and if you creep up into the previously unreachable backs of coves, you'll discover a lush, cool feeding ground rich with bass and all the things that bass like to eat. Cast into these secluded havens, and you're likely to bag a trophy.
 
3. If possible, cast onto the bank and drag your lure in, or cast past target cover and work your lure past it. This enhances the stealth factor, and results in a more natural presentation—plus, the splashdown of your bait won't scare off any relaxed, hungry bass.
 
4. Wear good polarized sunglasses like Maui Jim Stingray sunglasses. You can get right on top of bass in a quiet kayak, and being able to see the bass is an incredible advantage—you can drag your lure right in front of her.
 
5. Occasionally land your kayak on shorelines not normally accessible to shore anglers, walk around, and fish for a while. This gives you a chance to stretch while still fishing rarely-touched waters.
 
6. Since you'll be fishing shallower water, leave the deep-water lures at home. Bring shallow cranks, topwater fishing lures, frogs, buzzbaits, and experiment with weightless soft plastics.
 

Bonus tips
Keep a big sponge in the kayak. It's great for bailing out excess water and for cleaning up afterward.

Paracord is your friend. Use it to tether tackle boxes, coolers, and bags in case of an unlikely capsizing.

Sunscreen or protective clothing is crucial. Four hours in the open, even on a partially cloudy day, can result in painful and harmful sunburn.
 For more tips on kayak fishing check out the great kayak tips on Bass Pro Shops 1Source.