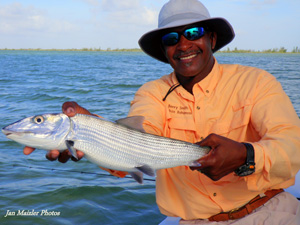 Here are a few pointers that will hopefully help you in your pursuit of Bahamas bonefish. Generally, Bahamian bones range in size from 2-5 pounds, although there are larger fish present on the islands that front oceanic depths. As a rule, plan to scale down your tackle, and go a bit lighter here: 6-pound spinning outfits and 6-weight fly rods will provide excellent battles and more enjoyment with these abundant smaller fish.
The size of bonefish schools here can range into the hundreds of fish, something south Florida anglers don't commonly see. These huge schools are often encountered tailing or mudding during lower tidal stages. If you catch the right season, you might find bonefish spawning on the surface in the thousands! In Abaco, the guides call this "dancing". In Eleuthera, they call it "bibbling." Whatever name it's called, these massive groups of bonefish provide new meaning to the word "action".
Bahamas bonefish will head deep into any available mangrove "forests" to feed during the rising tide. Therefore, a falling tide is often better in these kinds of areas, as the fish will be coming heading back out of the roots to continue their search for crustaceans. It's common to see mudding schools of bonefish working the deeper drop-offs adjacent to the flats and inevitably, these fish will be accompanied by marauding blacktip sharks. What makes Bahamian bonefish muds so different than typical keys muds is their size, which can often cover an entire acre. Although you may not see individual fish to cast to, fish these muds for a while and you will probably be surprised with some quick, delightful action.
Any kind of light tackle setup will work quite well here. The ultra shallow flats in the Bahamas can run for immense distances, unlike the typical sloping flats of the Keys. This means you can often leave your boat anchored on the edge and wade the sandy shallows for miles. Wading the flats for bonefish is extremely common in the Bahamas. Although, if you do plan on leaving your boat for long periods of time, remember to take your water bottle.
There is an abundance of bonus fish on the Bahamian flats as well. If you like, you can rig up a short wire trace and cast to countless barracuda and sharks as the tide rises on the outside flats. You may also get a shot at a permit during the higher tidal phases or along the channel edges.
Planning a Trip to the Bahamas Flats
If this is your first time, it's better to use an outfitter or travel agent to book your trip. Remember, they obligate themselves to your trip, and are extremely concerned about your having a great experience. 
If flying, back up your tackle with your carry-on luggage, in case your rod tubes or other luggage is lost or damaged in transit. Better safe than sorry should be your watchwords. Bring everything you can imagine you might need. Photo documented IDs like drivers license and passport are the optimal rule. Think about taking all your necessary medications, including first aid items. Be sure to include these in your carry-on if flying. Be flexible. Life in the Bahamas moves at a more relaxed pace, and Bahamians live their life this way. Sometimes your flight inquiry might be met with a smiling shrug, surely not the American way! However, you are encountering a way of life where things do get done satisfactorily, maybe not at your accustomed pace, but perhaps at a healthier, wiser one.
Tooling Up
It's important to realize that you should bring your own tackle and accessories as these items are generally not in hand on Abaco Island or in the balance of the Bahamas.
Below is a very brief list of what you should take if you are heading over in your own boat or simply want to rely on your own equipment to forestall any problems:
7- to 8-foot spinning outfit with 6- or 8-pound line for flats and shallow water fishin;
7-foot spinning rod with 12-pound line for barracuda;
Bonefish 9- to 10-foot fly rod, 8-weight line;
Permit 9- to 10-foot fly rod; 9-weight line;
Wiggle jigs artificial lures, flat head in various small sizes for bonefish and permit;
Tube lures for barracuda;
Various swimming plugs for inshore and offshore species;
Bucktail and nylon jigs in a variety of sizes;
Bonefish flies: Clouser Minnow #4, #6 in tan/white Crazy Charlie #4, #6 in tan/white Bonefish Special #4, #6
Permit flies: Del's Merkin Crab #1,2 The McCrab #1, #2
Hooks in various sizes for all flats species;
Leader material and extra line for all inshore applications;
Polarized sunglasses with side shields;
Hook file; and